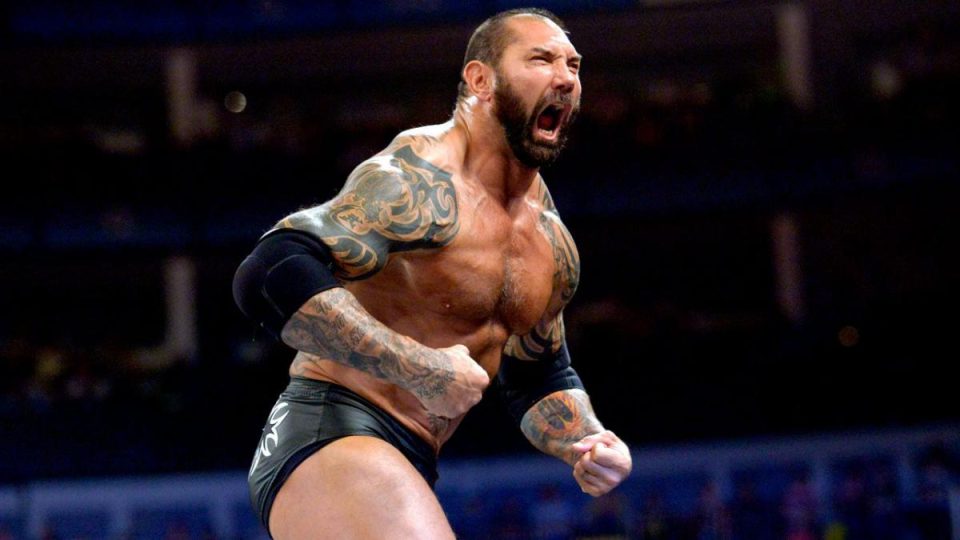 Batista has commented on speculation that he is the "Hall of Fame worthy" signing that got teased on AEW Dynamite last night.
From Ric Flair to Shawn Michaels, lots of wrestlers have returned to the ring after "retiring" over the years. According to Batista, the word "retired" means next to nothing in wrestling.
After Paul Wight teased a "Hall of Fame worthy" signing on AEW Dynamite, a fan on Twitter speculated that Batista could be this surprise signing. Batista shared the fan's tweet, suggesting that a new word is needed to describe wrestlers who have hung up their boots for real.
Implying that nobody believes that he's not returning to the ring, Batista tweeted:
"They're going to have to come up with another word that's used specifically for professional wrestlers who actually mean it when they say they're retired. Currently the word "retired" has zero credibility by professional wrestling standards. (facepalm emoji)"
This is an interesting take on wrestling careers. Countless times have wrestling fans said goodbye to a wrestling veteran, for them to make a surprise return to action years later.
Edge and Daniel Bryan are recent examples, both returning the ring after seemingly career ending injuries. Meanwhile the likes of Goldberg and Undertaker had came back to WWE to ensure that their last runs were satisfying.
Batista wrestled his last match in 2019 at WrestleMania 35. Afterwards, he made it clear that he was done wrestling and planned to focus on his acting career.
What are your thoughts on the above story? Let us know in the comments on Twitter or Facebook.