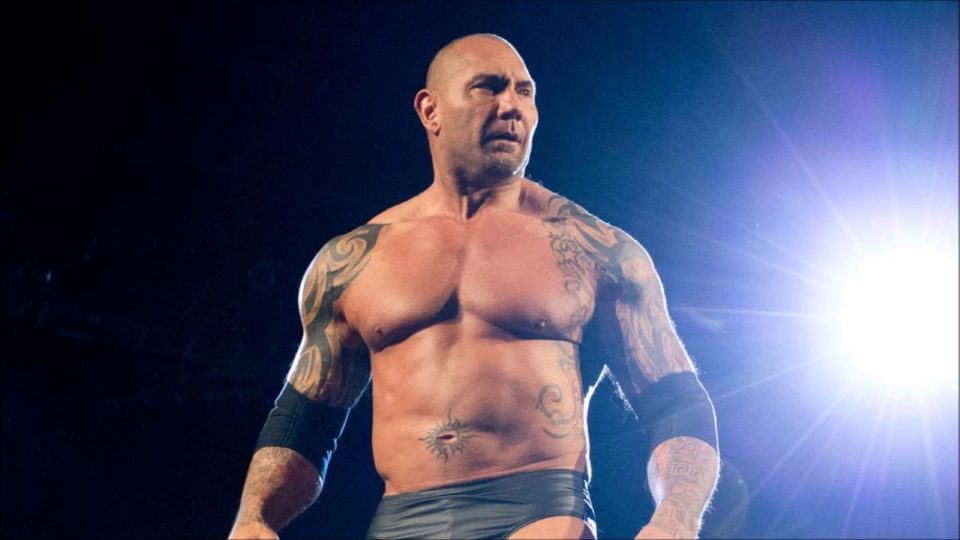 Former World Champion Batista returned to WWE in 2019 for a match with Triple H at WrestleMania 35. He ultimately lost the bout to his former Evolution stablemate, and later revealed that it would actually be his last match ever as he retired from wrestling the following day.
This was Batista's second return to WWE, after he was brought back for a few months in 2014 after leaving the company for the first time in 2010. While on a panel at the Denver Pop Culture Con, "The Animal" recalls being frustrated with WWE and explains why he made the decision to leave nine years ago:
"I was with WWE at the time, and I went and did a film. I had zero interest in acting. All I wanted to do was wrestle. I loved wrestling. I was obsessed with wrestling, and I went and did a film as a favor for a friend and I realized I was horrible, I was a horrendous actor. I was so mortified that I wanted to prove I could be better and the company, they wouldn't let me do anything outside the company. I was stuck within the company wrestling and I wanted to pursue acting and they said, 'Sorry, we need you here. We need you on the shows', and I said, 'Well, if you're not gonna let me pursue something I'm really passionate about, then I'm gonna leave', and so about eight months later I walked out the door and they didn't think I was going to and I walked out on top and I was very comfortable."
Batista is now a massive Hollywood movie star and according to The Richest has a net worth of around $13million. However, he revealed that when he initially left Vince McMahon's company he did not do so well financially:
"I was making a good living and I walked out and then I starved for three years, I went broke, I lost everything, I couldn't get a job and I said that I will never go back to wrestling until I prove what I set out to prove and that was that I could make it as an actor and then I got the role in Guardians and when I got the role in Guardians I finished the film and the first call I made after I wrapped was to Vince McMahon. I said, 'Hey man, I'd really like to come back and wrestle for a little bit."'
Batista recently starred as Drax the Destroyer in Marvel's Avengers: Endgame film which, to this point, has grossed over $2.7 billion worldwide, making it the second-highest-grossing movie in history behind 2009's Avatar. It is quite clear that Batista is now doing better than he has ever done before.
Thanks to Fightful for the transcription.