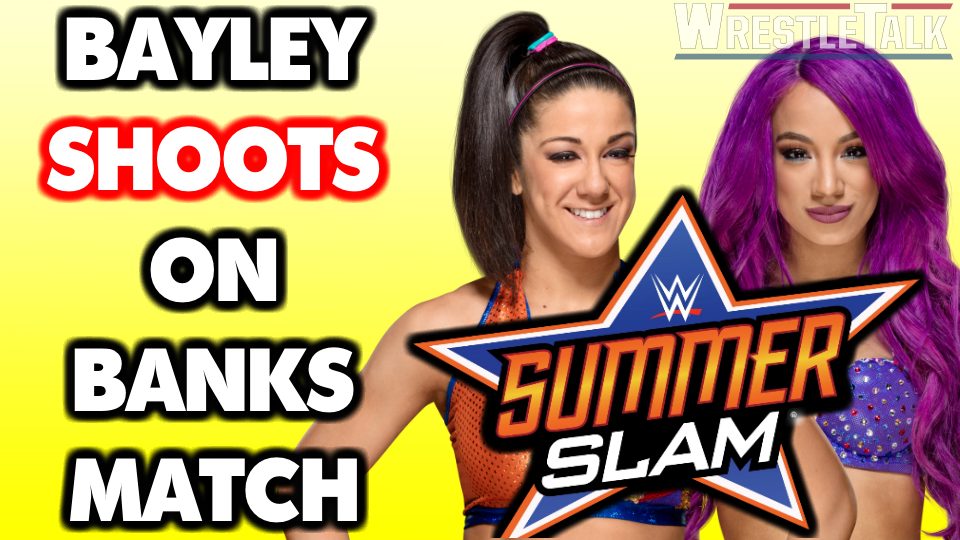 In a recent interview with Sky Sports, Bayley discussed her current program with former WWE Raw Women's Champion Sasha Banks, and considered the possibility of a match between the two at SummerSlam this August.
The tension between Bayley and the 'Legit Boss' has been a drawn out process, but seemed like it was ramping back up at Royal Rumble 2018, wherein Banks eliminated the 'Hugger' from WWE's first ever women's Rumble match.
Here's what Bayley had to say regarding the slow build in her program with Sasha Banks:
"When I was a kid watching wrestling that's kind of how it was. You had these long feuds and storylines and you just got more and more interested and you wanted to see where it was going to go. You wanted to see the big blow-off match and I like that stuff because that's what I grew up watching."
It was reported by multiple reputable sources that the plan for WrestleMania 34 was originally to have Bayley take on Sasha Banks in a one-on-one match. This seemed the case when the latter caused Bayley to be eliminated from the first ever women's Elimination Chamber match in February at Elimination Chamber 2018.
However, this didn't come to fruition, and after brawling backstage on a prior episode of Raw, the two were instead part of the WrestleMania Women's Battle Royal on the WrestleMania 34 Kickoff show, in which Bayley gained retribution and eliminated Banks, but only to come runner-up to Naomi.
The next 'big four' event on the WWE calendar is SummerSlam, and it is now being heavily rumored that the one-on-one encounter intended for 'Mania, will now take place at SummerSlam instead.
Here are Bayley's comments on that particular prospect:
"That would be incredible. Any time I get to wrestle Sasha, I always want to do it. For SummerSlam to be in that building [the Barclays Center in Brooklyn, New York], I don't know if I would be able to hold my tears back, but I'd love to do it. That's a goal. Hopefully we can do it."
A lot of WWE fans (myself included) are beginning to get frustrated that WWE have dragged the issue out for so long, only to keep going round in circles.
For instance, on this past Monday's episode of Raw, despite everything that the two have been through in previous months, Bayley actually helped Banks fend off the Riott Squad.
Bayley said the following in regards to WWE's tendencies to "rush" storylines:
"There are so many people on the roster, there's so much going on and there's so much content that we sometimes rush through things so maybe that's what we get used to and what we're expecting. I'm pretty happy with it. I'm a fan still but I'm not a viewer so perhaps I see it differently but I really enjoy what's going on. It's fun and I think it's going well."
What do you make of Bayley's comments? Do you want to see the 'Hugger' square off with Banks at SummerSlam? Do you agree or disagree with anything he said? Let us know in the comments below or on Twitter here, and as always, have a spiffing Rusev Day.