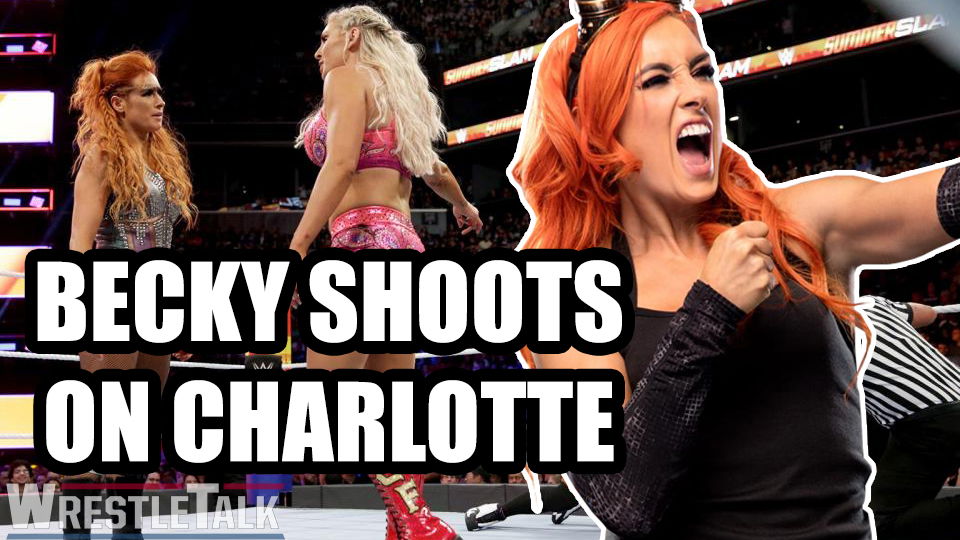 At Summerslam, newly crowned Charlotte Flair's life came crashing down when her best friend beat her like a government mule, as good old Jim Ross would say. Becky then cut a promo on Smackdown detailing her frustration for Charlotte continuously stealing her spotlight and on the recent Gorilla Position podcast, the first-ever Smackdown Women's champion questions why Charlotte just gets handed opportunity after opportunity:
"In 2017 I had one title match and it was at WrestleMania and it was a six-way? I haven't been given a fair shot at all. I am the best on this roster both Raw and SmackDown and I've proven that time and time again yet I don't get the opportunity. Why is that? Is it because I'm not blonde enough? Is that it? Is it because I don't have enough enhancements? Is that it? I'm treated like the red-headed stepchild of the entire Women's Division. Yet I have proved time and time again that I am the moneymaker — that I am the person that people will tune in to see that they will care about — that they want to see me win. Yet it's being stolen from me every single time."
In some ways, Karma has a nice way of catching up to us when we least expect it. On January 4, 2016, Charlotte attacked Lynch after the Lass Kicker defeated her in a non-title match. Later on that year after Flair beat the plucky orange haired lass, Lynch would move to Smackdown and Flair stayed on RAW.
The tides changed for Lynch as she went on to become the inaugural Women's champion at Backlash 2016 and her popularity grew throughout her time as the face of the division. The fans followed Becky along her heart-breaking journey to trying recapture the Smackdown Women's title again, with excitement in the air when she defeated Carmella in a non-title match to claim #1 contendership at Summerslam. Despite Lynch turning on "The Queen" of the WWE, fans in Brooklyn rallied on the side of the Lass Kicker in support. But according to Lynch, she revealed that maybe concentrating on what the fans wanted was part of her problem.
"I don't understand what people are saying to me when they say, 'well done' because I went in there with the intention of winning the title and I currently do not have a title. I have been burning a hole through the Women's Division on SmackDown Live for the past few months and Charlotte shows up and she gets handed a title opportunity and opportunistic as ever when I had that match won, she snuck in and she stole my victory from me one more time.

"Again she gets handed the gold and I'm left on the sidelines. So okay the crowd the cheered, but what does that mean when I haven't accomplished anything? I'm left there with one title while she's had seven — maybe eight if you include NXT — I'm supposed to be satisfied with that? I'm supposed to be happy with that? That's not enough for me."
Related Articles:
Let us know your comments below or on Twitter. You can also join us on Discord to chat with other like-minded fans, Oli Davis, Luke Owen and the WrestleTalk staff!