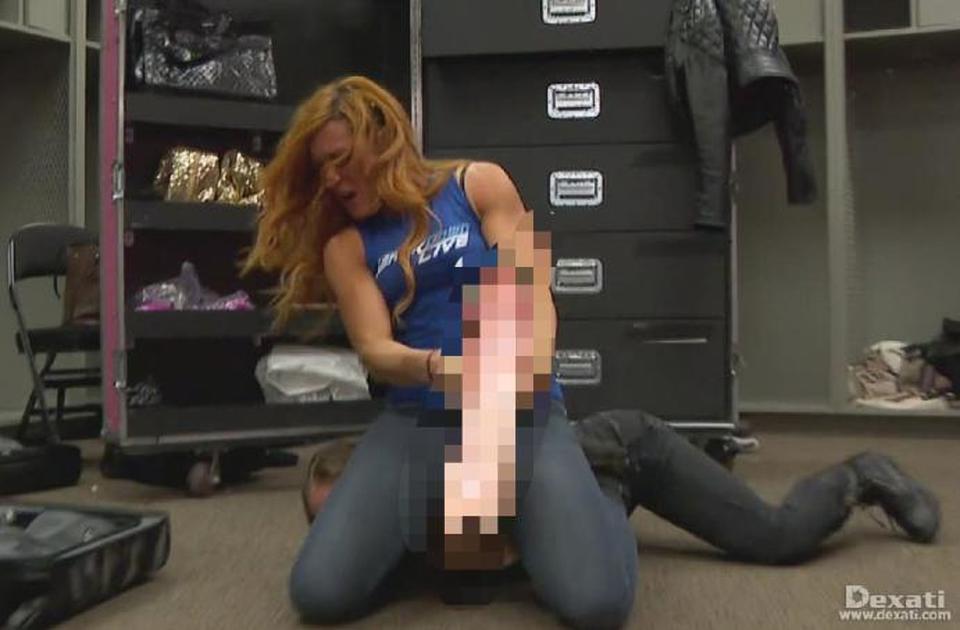 Becky Lynch is the best. If it wasn't official before, it is now. In the latest episode of 'The Man schooling Rousey on Twitter,' kayfabe took another nasty jab, professional courtesy went out the window, and Lynch used the UFC Hall of Famer's husband to cap off her penis. I know it sounds weird but please stay with me.
Let's start at the beginning. Lynch was recently "arrested" for assaulting Charlotte Flair and Ronda Rousey. The definitely real mugshots of 'The Man' were then released by WWE which she had made into her new merchandise to pay off her "bail." So far so good… as far as pro wrestling storylines go.
You'd think Rousey would know by now not to poke the scary Irish bear but nevermind. In response to a post by Lynch where she told the Raw Women's Champion to get her title back after leaving it with Stephanie McMahon, Rousey saw kayfabe on the curb and gave it a good kicking by calling the mugshots "fake." Let's call this mistake number one.
That's what I'm trying to do dumbass. You hobbling around trying to be a ginger crutch ninja and taking fake prison photos in the hallway isn't helping

— Ronda Rousey (@RondaRousey) February 27, 2019
Of course, Lynch replied in magnificent fashion.
Keep that F word out of your mouth and concentrate on getting better at this business instead of trying to remain above it. Looking forward to seeing you real soon. pic.twitter.com/i52k4sFh2X

— The Man (@BeckyLynchWWE) February 28, 2019
Mistake number two: Rousey gets angry and lashes out, clearly not knowing what is about to happen. She once again beats up poor innocent kayfabe, telling Becky her armbar makes no sense (despite it supposedly wrecking her arm/shoulder in the picture Rousey supplies).
She even goes as far as to call her own arm the "dick" Becky wishes she had… mistake number three.
F word? You mean "fake"? Fake like your non sensical BS "armbar" that doesn't even work and just looks like you're holding the dick you wish you had? pic.twitter.com/dr6OklYces

— Ronda Rousey (@RondaRousey) February 28, 2019
Then this happened.
Huh, it *does* look exactly like one now that you mention it. pic.twitter.com/bHZfEGJRPF

— The Man (@BeckyLynchWWE) February 28, 2019
Yes, friends, that is Rousey's husband Travis Browne's head Lynch has used to tip her metaphorical penis with.
Rousey has since replied with another swift kick to good old kayfabe.
Rebecca Quin, I don't care what the script says, I'm beating the living shit out of you the next time I see you.

— Ronda Rousey (@RondaRousey) February 28, 2019
Someone's a sore loser…
All hail 'The Man.'