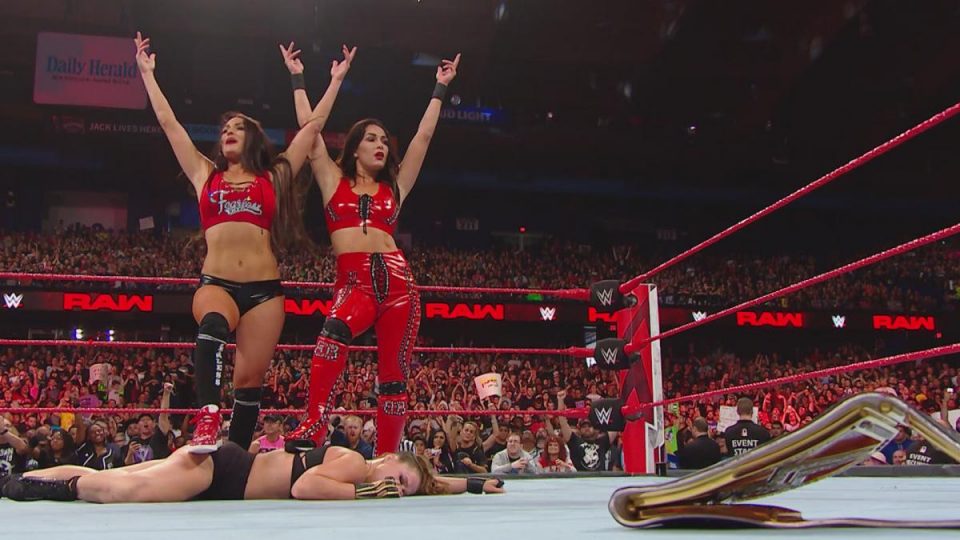 Following a victory on Raw over The Riott Squad in a rematch from the six-woman tag bout at Super Showdown (in which nobody got kicked in the face), Nikki and Brie Bella turned heel on Ronda Rousey.
It was the second turn of the night, following Lashley's post match assault on Kevin Owens earlier in the show.
WHAT. ON. EARTH. The @BellaTwins unleash an all-out MUGGING on @RondaRousey after their win over #TheRiottSquad on #Raw! pic.twitter.com/v3aHZ562HG

— WWE (@WWE) October 9, 2018
Nikki jumped Rousey from behind with a forearm to the back then both twins stomped her down in the corner as Ronda pleaded "why?"
It's a question we are all asking.
Rousey briefly fought back but was blindsided on the outside of the ring where she was sent into the ring post by Brie then hurled into the steel steps by both twins, who proceeded to stomp her again.
The attack – which had been expected by fans for a while – confirms a rumour reported several months back that Ronda would defend the Raw Women's Title against Nikki in the main event of upcoming all-female supercard Evolution. The match was made official later in the show.
Do you want to see Nikki Bella vs. Ronda Rousey? Let us know in the comments below.