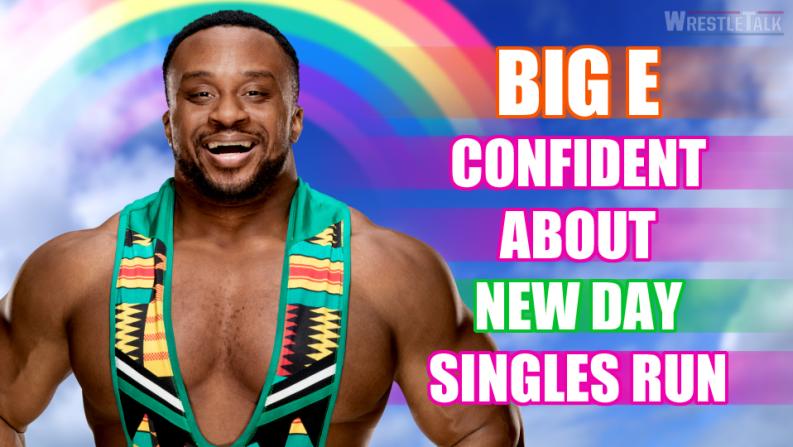 What is the half-life of your average WWE team? I'm sure there's some mathematical theorem, an equation perhaps, that could work it out. Watch out for that "H³" variable. The point is, teams in the WWE Universe come together, implode, explode, reform, and fade away on a pretty regular basis. Yet the New Day have endured for an impressive four years.
The New Day trio of Kofi Kingston, Xavier Woods, and Big E came together in 2014. Since then they have managed to become four-time tag-team champions and the longest-reigning in WWE history! That kind of longevity isn't common in WWE these days. So it's no surprise that questions about the group breaking up and who will get a singles push have followed them around like O's to a booty.
Big E addressed such questions in a recent interview with State-Journal Register of Illinois.
"The thing is when we first decided to do this (New Day) thing, we honestly saw ourselves as a faction. We had ideas of adding people along of way. But honestly I'm very glad we ended up as a trio because I can't imagine it as anything else. … But we want to be equipped to do anything, whether it's tags or singles. We definitely think that is a possibility and something we're very open to, and we do believe strongly the three of us have the ability to carry that out well."
It's absolute pandemonium in the #TablesMatch between #TheNewDay & #SAnitY at the #ExtremeRules kickoff show! pic.twitter.com/GYfkI6boyj

— WWE (@WWE) July 15, 2018
The former Intercontinental and NXT Champion continued with:
"A lot of people … are very quick to preach breaking up (the team). And there are times, even like a year and a half ago … where it seems like (people say), "Hey, these guys really haven't done anything … let's break them up.

We feel like as a trio we have legs to continue for a very long time. And that could mean we move on from the happy, clappy, gospel-inspired music … but stay a trio. Or we move on to singles. There's so many incarnations of this group that have yet to really be forged and fleshed out."
No matter the direction Big E seems certain that the members of the New Day are ready embrace it. The question about a break-up will continue to follow them until a separation occurs. Then we can all look forward to the enviable "when will they get back together again" question. Whichever direction they go, be it as a trio, a tag-team, a faction, or as singles, for Kofi Kingston, Xavier Woods, and Big E it's always a New Day!
What direction do you think The New Day should go in? Do you want a singles push, more tag action, or maybe just to see them battle The Elite in the ring instead of only in video games? Let us know in the comments below or on Twitter here. You can also join us on Discord here!