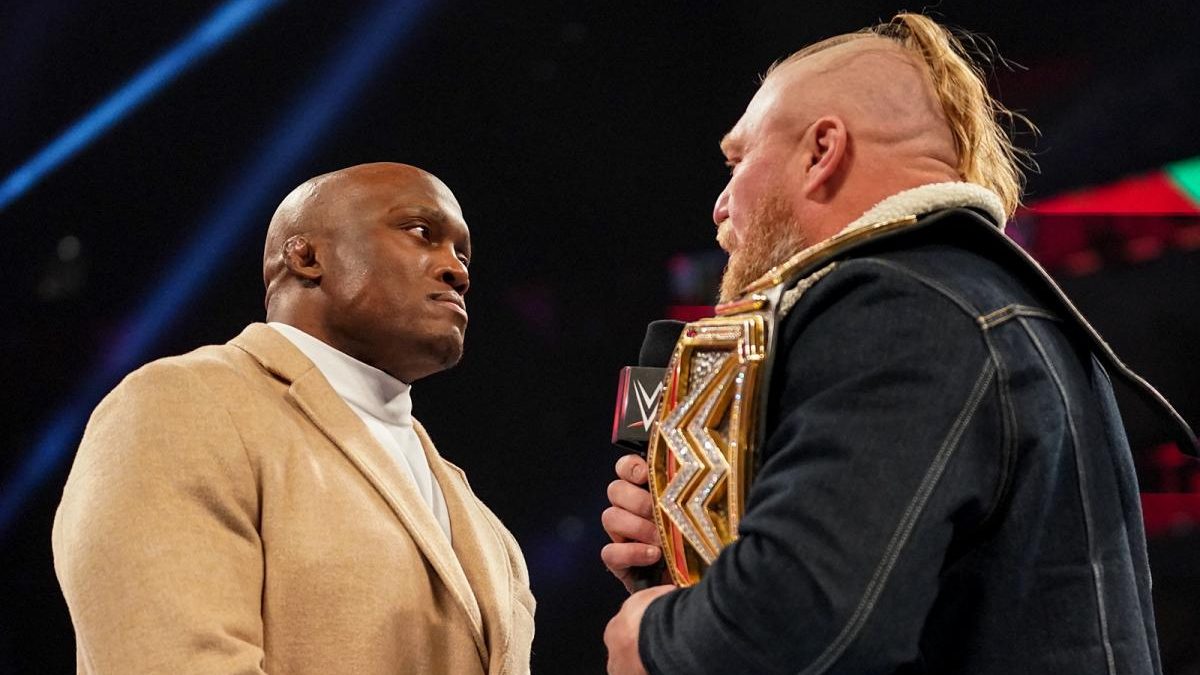 The highly anticipated dream match between Bobby Lashley and Brock Lesnar is officially set for the Royal Rumble event later this month.
The two men had their first ever face-to-face confrontation on last week's (January 10) episode of Raw, where Lesnar made jokes at the expense of his 'All Mighty' challenger.
Lashley was a recent guest on WWE After the Bell, where he spoke about the segment, and how he feels that the Lesnar feud is bringing out a different level in himself.
He said:
"When I was in front of Brock on Monday Night, I was reading him and he was telling a joke, and he was trying to get in character but every time he would come and we would lock eyes for a little bit, he would stop for a little bit. He would pause and look at me and just let me know, 'I don't have a soul'.

"Bobby was at Brock's level a long time ago. I'm at a whole different level right now and I think Brock knows that, so the same way I was saying I looked at Brock's eyes, Brock saw that I saw that Brock didn't have a soul, looking in my eyes, he saw that I enjoyed that. And I think that scared him a little bit. So when we go the next few weeks, there's going to be a lot of training going on. But then, when there's going to be a fight, there's going to be a fight, and I think leading up to this thing, there's going to be some blows thrown. Because right now, we're respecting each other, but there's going to be a time where there's going to be some disrespect, and when disrespect happens, we're both going to have to prove ourselves. So when he says, 'Bobby Who?' I'm going to say, 'Brock who?' Because that's what I want to find out."
Lashley went on to explain how Lesnar told him it 'felt good' out there during their segment. He said:
"The cool thing about it, there were a lot of things said, but there were a lot of things just said me and him looking straight across from each other, we had a lot of dialogue between us. Then when we went back, you know, he goes, 'let's go, it felt good out there!' But we had a lot of dialogue right here, and that's awesome. That's the thing I love about fighting, he can bring out something in me that I don't think anybody else could. I mean, Drew brought a level out of me because Drew was somebody that wanted to fight. Sheamus brought a level out of me because Sheamus is someone who's dirty and rotten and just loves to fight. Brock's different, and it's a different level."
Lesnar captured the WWE Championship at the WWE Day 1 event on New Year's Day, marking it the first title change of 2022. You can see the full list of 2022 championship changes in WWE here.
transcription via Wrestling Inc.
To make sure you stay updated with all the latest wrestling news, add WrestleTalk.com to your Google Discover feed and follow us on Twitter!