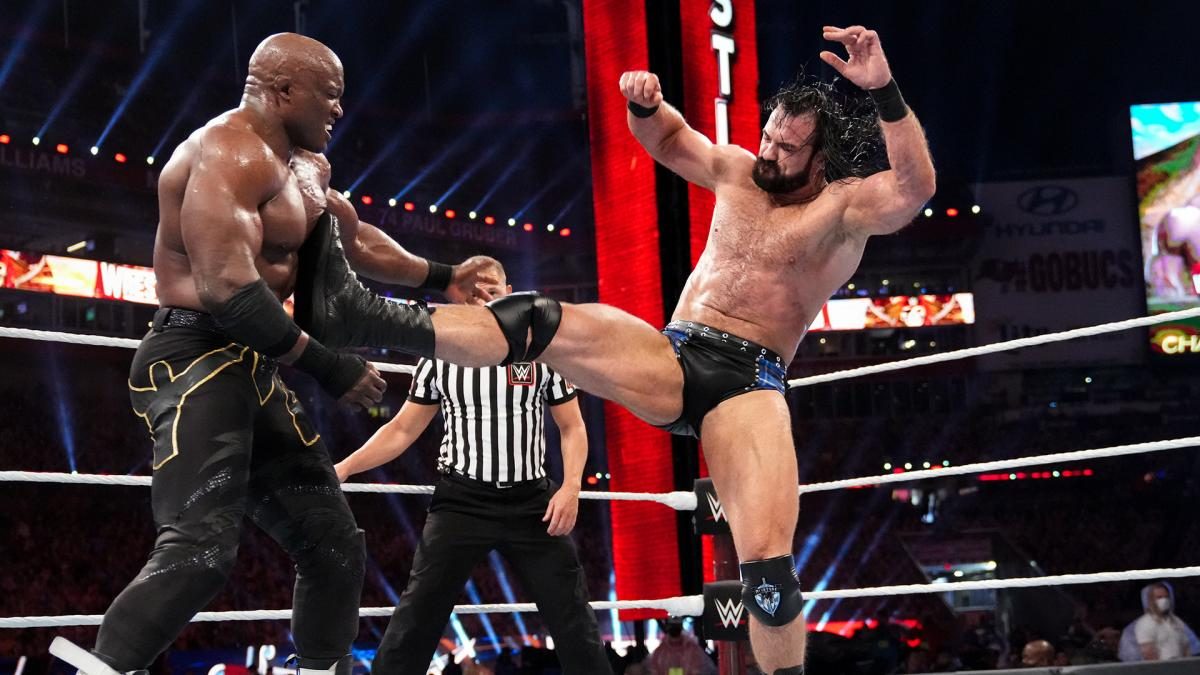 WWE Champion Bobby Lashley has opened up about the weather concerns and delays at this past weekend's WrestleMania event.
Bobby Lashley vs Drew McIntyre was the opener for night one, but ended up taking place about half an hour later than planned due to the weather.
According to Lashley in an interview on Out of Character, he and McIntyre weren't too fussed and would have done the match regardless. He said:
"I was so amped up when we walked out there. If you see me on stage I was trying to stay still but I couldn't. I was bouncing all over the place, my adrenaline was up like crazy. Some of the guys who weren't even wrestling yesterday were jumping up and down.

"So when we walked to the back it was like, 'Delay? What do you mean a delay? I'm ready now!'. I went over there and told them, 'You can just let me and Drew go to the ring. We'll punch each other until one of us goes down. That's what we're going to do anyway'. I knew they weren't going to cancel it. WrestleMania has a history of going on. This was another one of those cases where there might be a stumble here but it was going to happen, no matter what.

"I wouldn't have paused if something happened in the middle of the match. I know there were some different scenarios, like if the lightning or something would've happened. Of course we would've had to have made adjustments.

"But there was no way I was going to stop. Nobody understands the magnitude of what was going on there. Me having the WWE Championship was a dream come true. And Drew wanting it so bad. You're talking two guys chomping at the bits to get at each other. There was no way we weren't going to do it. We would've fought in the parking lot if we had to."
Lashley picked up the win but will once again defend against McIntyre at the WrestleMania Backlash pay-per-view on May 16 after McIntyre beat Braun Strowman and Randy Orton in a three-way on Raw last night.
Quotes via Wrestling Inc
What are your thoughts on the above story? Let us know in the comments on Twitter or Facebook.