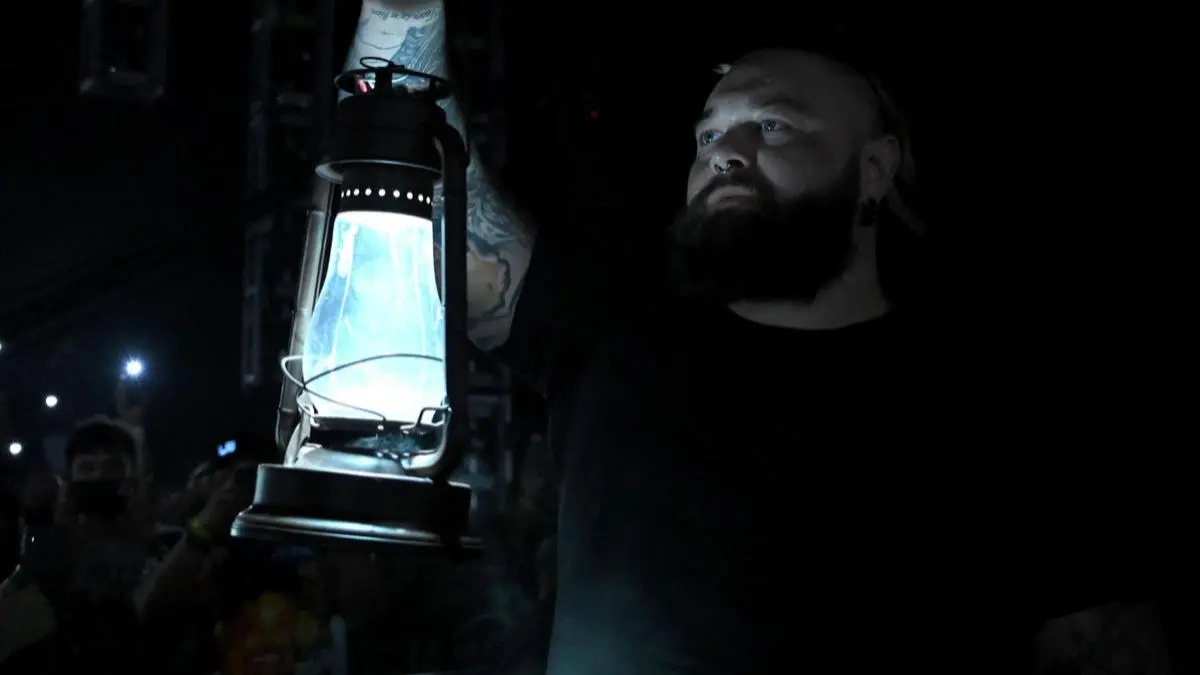 With Bray Wyatt returning to WWE for another run with the company, the popular star has entranced fans with his new theme song.
The White Rabbit
WWE first began to fuel speculation about the potential return of Bray Wyatt at the September 16, 2022 SmackDown taping, with the company playing Jefferson Airplane's 'White Rabbit' during a dark segment and dimming the house lights for the duration of the song.
WWE continued to play this song at non-televised house shows, leading to theories about a possible 'White Rabbit' reveal.
As the weeks went on, the White Rabbit hints became more obvious, with QR codes appearing during Raw and SmackDown broadcasts leading fans to interactive teases, further and further down the rabbit hole.
The WWE Return Of Bray Wyatt
Wyatt finally made his WWE return at Extreme Rules 2022, revealing that he had been behind the White Rabbit teases.
In the closing moments of the October 8 premium live event, the lights went out and various Firefly Fun House characters were shown in the crowd. Wyatt then appeared in a doorway on the stage and received a huge pop after removing his mask.
This marked the first appearance of Bray Wyatt on WWE programming since April 2021, ahead of the former Universal Champion's release that July.
On the October 14, 2022 edition of SmackDown, Wyatt made an intriguing appearance, cutting a passionate promo before his emotional segment was interrupted by a figure sporting the same mask Wyatt had worn during his Extreme Rules appearance.
Who Performs Bray Wyatt's New Entrance Music?
Also on the same October 14 SmackDown episode, Wyatt made his entrance to a new theme.
With Wyatt's two previous themes, Mark Crozer and The Rels' 'Broken Out In Love' and Code Orange's 'Let Me In' holding special places in many fans' hearts, the wrestling world has been eager to learn more about the popular star's new entrance music.
Wyatt's new theme is performed by Code Orange, the band that produced Wyatt's 2019 'Let Me In' theme. Titled 'Shatter', Wyatt's new music features some intriguing lyrics, which the band recently shared online.
Lyrics For 'Shatter' Fuel Speculation About Bray Wyatt
Code Orange recently took to social media to share the official lyrics for 'Shatter', which have fuelled speculation about Wyatt's new character.
The lyrics are as follows:
You can throw it all away,

When things break, things shatter.

Keep it written on your face, the little details matter.

Only in me, I am the coil, I am the spring.

Only in me, I am the ghost in the machine.

Only in me, recount confession give no release.

Only in me, will your stain even live to be.

Die for me brother, know not what you've seen.

Love one another, know not where you've been.

Lie for me brother, know not what you've said.

Use me for cover.

When things break, things shatter.

Just a sliver of a thought can make even a thick head clatter,

Disappear without a trace, while the whole world's laughing,

But it's only in me.
Bray Wyatt's WWE Future
Wyatt's return to WWE comes after Triple H took over creative in July as the company's Chief Creative Officer, following Vince McMahon's departure. Stephanie McMahon and Nick Khan became co-CEO's following Vince's exit.
With these changes to the WWE management team, many are optimistic about Wyatt's future in WWE. Triple H recently commented on the success of the 'White Rabbit' teases, indicating that WWE will continue to utilize 'multimedia long-term storytelling' moving forward.
A QR code on the October 21 edition of SmackDown provided more clues about the future direction of Wyatt's character.
Previous reports have revealed that WWE has a general plan for Wyatt up to WrestleMania 39 in April 2023.
Check out WrestleShop.com for all your favorite WrestleTalk merch, the WrestleTalk Magazine, wrestling shirts for grown-ups, and more!