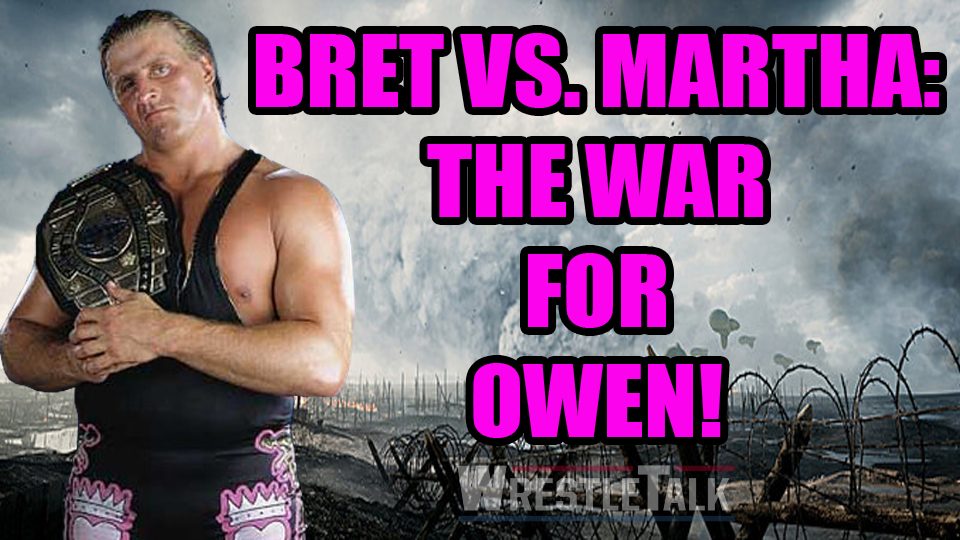 Earlier in the week, WrestleTalk reported on an interview conducted by Bret 'Hitman' Hart in which he spoke passionately about his late brother Owen being inducted in the WWE Hall of Fame. Some legitimate points were made by the former WWF Champion, but now it seems that his views have stirred Martha Hart – Owen's widow – who has widely been credited with keeping her husband out of those hallowed halls.
In comments not previously accounted in his interview with CBS Sports' 'In This Corner' podcast appearance, the 'Excellence of Execution' had this to say about his brother and Martha:
 "Martha has done more to erase my brother Owen's memory than she ever did to remember him. I think it really bothers me that the fans that loved Owen so much didn't get a chance to remember him. You do these kind of things for people who are here, left to remember them."
Bret, who went on to call Martha both "obtuse" and "square-headed" of course, is correct. Owen's absence from WWE in the present – putting aside the snippets we get now and again – is a loose end which needs tying off. Whatever his widow's views are on the company, surely us, the fans, those who paid to see him and loved him deserve that.
Responding to the comments, Martha Hart spoke to the Calgary Herald, calling Bret's comments and attitude "reckless, irresponsible, and clearly untrue." She also had this to say about the legend as well as her belief that recent annotations are brought about by her refusal to work with WWE over licensing rights for Owen's image:
 "You know, Bret has been making similar comments over the years, but just recently I've noticed his comments have become ruder and he's more brazen. But I am firm in my belief that the WWE was responsible for Owen's death. As a result, I cannot and will not support any efforts by the WWE to profit from Owen's memory."
https://www.youtube.com/watch?v=-cPnqoSjBLA
Yet again, it's hard to dispute her reasoning. However, what Martha needs to realize is that she would be in full control of any agreement and allowing her husband to be inducted into the WWE Hall of Fame wouldn't be WWE profiting from his name, rather allowing his fans to say a proper goodbye by having him where he belongs.
If necessary, a deal could be struck where Owen is inducted and nothing else. No shirts, no media release, no action figures – even though we collectors desperately want one – just twenty minutes on the night and then she can go back to holding on to his legacy with the impressive efficiency she's shown for nineteen years. Whether she knows it or not, Martha Hart has rubbed some longtime devotees up the wrong way despite her good intentions.
https://twitter.com/TheHibikiTMD/status/999257298949300225
In the years since Owen's tragic passing, she has put his memory to good use in other fields. The Owen Hart Foundation has raised more than $4 million for scholarships, low-income housing programs, and a memorial fund at the Alberta Children's Hospital. Which, quite frankly, is amazing.
In the end, maybe both parties should listen to the man himself. Because enough is enough. It's time for a change.
Let us know your thoughts on Bret Hart's comments, Martha's unwillingness to let her Owen be inducted in the WWE Hall of Fame, and the best match they ever had together. You can contact us on Twitter and Discord today.