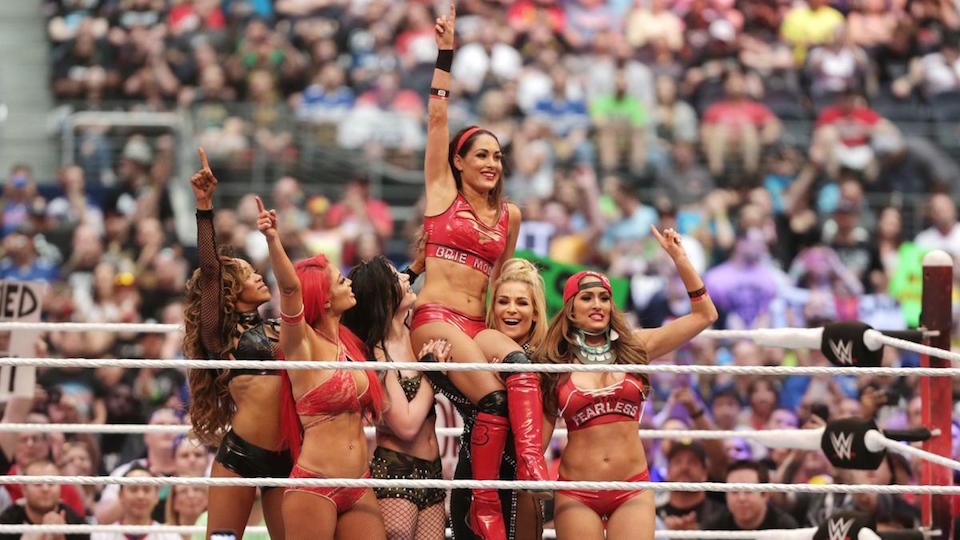 Last night's episode of Total Bella's dropped a bombshell on the WWE women's division. During the episode, Nikki & Brie Bella gathered their family alongside current WWE Champion and Brie's husband Daniel Bryan.
Brie took the time to announce to the people closest to her that she has decided to fully retire from in-ring competition in an effort to focus on motherhood. In addition, she and Bryan would be moving back to Pheonix.
The episode was taped shortly after the all-women's WWE pay-per-view Evolution which took place in October last year.
Below is how she broke the news:
"So I decided after Evolution, I'm gonna be fully retired. Fully done and that Bryan and I are looking for a house in Phoenix because we're moving back."
It took her twin sister Nikki by surprise as she thought they would always have retired together or at least talked about it. This was even more shocking as the two had just headlined Evolution with Nikki challenging Ronda Rousey for the Raw Women's Championship with Brie by her side.
Nikki's comments can be read below:
"I'm a bit shocked right now hearing Brie say that she's going to retire and move to Phoenix.

"Like talk about dropping two huge bombs. I guess retirement, I always thought that'd be something Brie and I would talk about together. I just did not expect this big change after such an incredible comeback."
During a recent episode of Total Bellas, Brie openly discussed falling into a depression after being ridiculed online for her wrestling ability during the pair's 2018 Summer comeback. At the time, the duo was appearing on Live Events and episodes of Raw.
Brie also appeared on SmackDown Live and even took part in a mixed tag team match at last year's Hell in a Cell where she and Bryan took on The Miz and his wife Maryse.
The backlash came due to Brie botching several moves such as a suicide dive as well as most notably legitimately knocking out Liv Morgan during a six-woman tag match on Raw in September.
Her last match took place shortly after on the October 10 edition of the Monday night show.
There has been no word on what Nikki Bella's status is in terms of her in-ring career.
Transcription credit: Fightful.com.