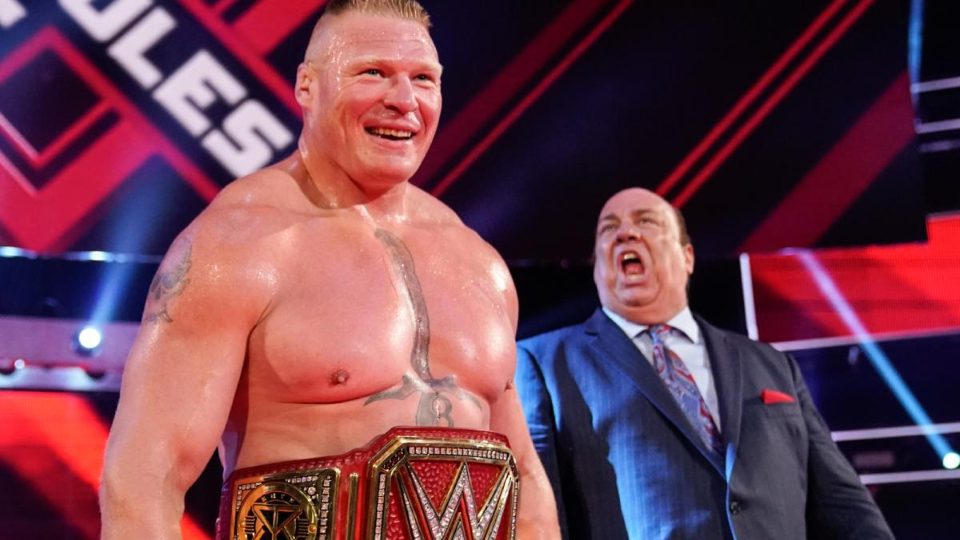 One night removed from cashing in Money in the Bank to become a three-time Universal Champion, WWE has announced that Brock Lesnar will appear on Raw tonight.
Seth Rollins and Becky Lynch defeated Baron Corbin and Lacey Evans in the Winners Take All main event of Extreme Rules last night but before the announcement could even be made, Lesnar's music hit as Heyman had promised earlier in the night.
WWE sent out an email earlier today with the announcement Lesnar will indeed be on Raw tonight (via WrestleZone):
Here's what WWE.com has to say about Lesnar being on Raw tonight:
The good news, at least, is that Kofi Kingston is safe. The bad news, however, is that Brock Lesnar came calling and obliterated Seth Rollins in Extreme Rules' closing moments, devouring The Architect and reclaiming the Universal Championship by way of a Money in the Bank cash-in. Now, Rollins, who fought his way to Brock for the better part of a year, is facing the Sisyphean task of once again working his way back up to The Beast. There's little doubt he'll be game for the attempt, but after weeks of in-ring competition and mental stress brought on by Paul Heyman's mind games, the question is whether his heart, his mind and his body are all up to the task. Tune in to Raw tonight, live at 8/7 C on USA Network.
We will have live coverage of Raw here on the site.