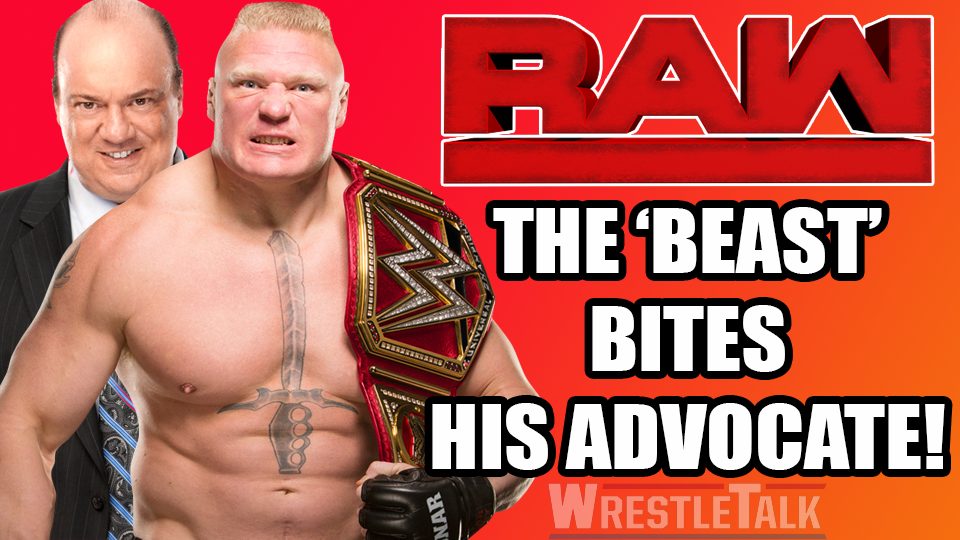 No your eyes weren't deceiving you. Brock Lesnar was on Raw and it was a performance worth waiting for.
Noticeably thinner than he was at the Greatest Royal Rumble, yes, for the exact reasons you think, the 'Conqueror' played up to the uncaring champion perfectly, forcing Paul Heyman to plead with his client. It was what came next which shocked many onlookers and threw speculation onto the SummerSlam main event.
After Paul Heyman begged with his client to go to the ring in order to save his job, the advocate was mauled by an annoyed 'Beast' who stated in no uncertain terms, that they were not friends. It was a lovely performance by both men, but didn't end there as Brock attacked General Manager Kurt Angle with an F5 and then pinned his manager to the mat with a well placed knee.
The actions of an anarchic champion have now lead many to wonder whether, combined with his loss of size, Brock Lesnar's final days in WWE are upon us. He certainly resembles a man heading towards total destruction.
With Survivor Series 2002 still fresh in the memory, will Paul Heyman be the deciding factor in who leaves SummerSlam as WWE Universal Champion? It would certainly be ironic if, after guiding Lesnar to the top and creating the monster, it was the 'Godfather of ECW' who was the man to slay the 'Beast'.
WrestleTalk would love to hear your views on last night's happenings. Would you like to see Paul Heyman turn on Brock Lesnar and cost him the title? Or maybe you think that after all those failed attempts, it's only right that Roman Reigns is the man credited with toppling the leviathan. You can get in touch with us on Twitter and Discord now.