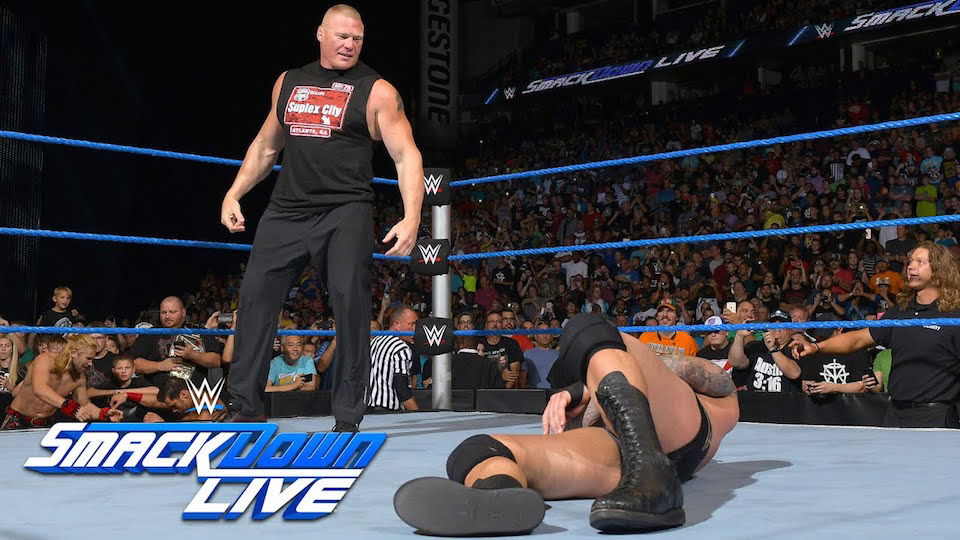 It is widely known that SmackDown Live will be moving to Fox in October this year. When the blue brand makes the jump, a more serious and competitive version of the show will be implemented.
According to a fan on Twitter, an advert for SmackDown Live featured on Fox prior to a recent NASCAR race. During the advert, it was mentioned that current WWE Universal Champion and former UFC Heavyweight Champion Brock Lesner will be showing his face on the blue brand starting in October.
@WrestlingInc Fox was promoting Smackdown before the Nascar race. They mentioned Brock Lesnar to be seen on Smackdown starting October 2019. Possible the WWE is just using his name to bring interest to their product. Interesting to see if he stick around or appears on #SDLive

— Ethan Cramer (@EthanCramer) March 17, 2019
Of course, this is simply promotional material which, coming from WWE, could be incredibly misleading. If this is the plan, however, it could be very interesting.
With the blue brand becoming more legitimate, it makes perfect sense for the former MMA fighter to move over. That said, there are several other factors that could come into play.
For starters, Lesnar's position within the company is literally always up in the air with him continuously leveraging WWE and UFC against each other to get the best deal. The latter's president Dana White has recently stated that Lesner will be returning to the octagon to face Daniel Cormier and that both men want the fight although nothing is official as of yet.
Another element that could affect this is the current brand split. A lot could change between now and October and there is every chance that the brand split may no longer be in effect. If that is the case, nothing would be stopping Lesnar making appearances on SmackDown Live.
If it is still in place, however, expect another full-scale draft to take place just before the blue brand makes the move.
Help support WrestleTalk by making your Amazon purchases through our affiliate link. Click here for the US and here for the UK.