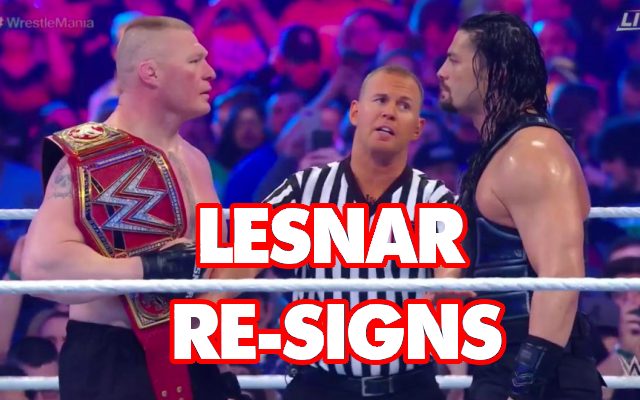 So, Brock Lesnar, the man who was DEFINITELY losing the WWE Universal Championship to Roman Reigns at WrestleMania 34 because he was DEFINITELY signing with UFC and DEFINITELY not staying in WWE after WrestleMania has just announced he's re-signed with the company, after successfully retaining his title on Sunday.
If I had sum this whole situation up in one sentence, it would be this one – I HAVE NO IDEA WHAT IS HAPPENING IN WWE ANYMORE!
Lesnar, who defeated the 'Big Dog' in WrestleMania 34's main event, will also defend his WWE Universal Championship against Reigns once more at the Greatest Royal Rumble show in Saudi Arabia. This match will take place inside a steel cage.
The Universal title bout will be one of seven championship matches to take place on the show, alongside John Cena vs. Triple H and a 50-man royal rumble match. The show is being broadcast live on the WWE Network, a first from the Middle Eastern nation, on April 27 at 12 pm EST.
The former UFC Champion re-signing with WWE is the last thing anyone expected to happen. Rumors of Brock going back to the octagon have been circulating for months and he was even recently pictured with UFC President Dana White, who was also present at WrestleMania 34.
Lesnar vs. Reigns is a huge match for Greatest Royal Rumble, which is shaping up to be one hell of an event. WWE are keen to capitalize on the media attention Saudi Arabia are getting from the massive cultural overhaul they're going through at the moment, so it makes perfect sense that they're going to stack the card.
Details regarding the particulars of Lesnar's new contract are unknown at this time, so it could be the case that his contract only extends to the Greatest Royal Rumble, where he'll lose the title to Reigns. However, after this WrestleMania, I'm done trying to predict things in WWE.
This does make things a lot more interesting at the top of the Raw card. With a twist like this already in the books, who knows what's going to happen when WWE rolls into Saudi Arabia? If nothing else, this news is going to really up the viewership of that particular show and, if the steel cage match is done right, it really could be the Greatest Royal Rumble ever.
What do you think of Brock re-signing with the WWE? Do you think he's losing the title to Reigns in Saudi Arabia? Are you just as confused as I am? Let us know in the comments section below or via our official Twitter page.