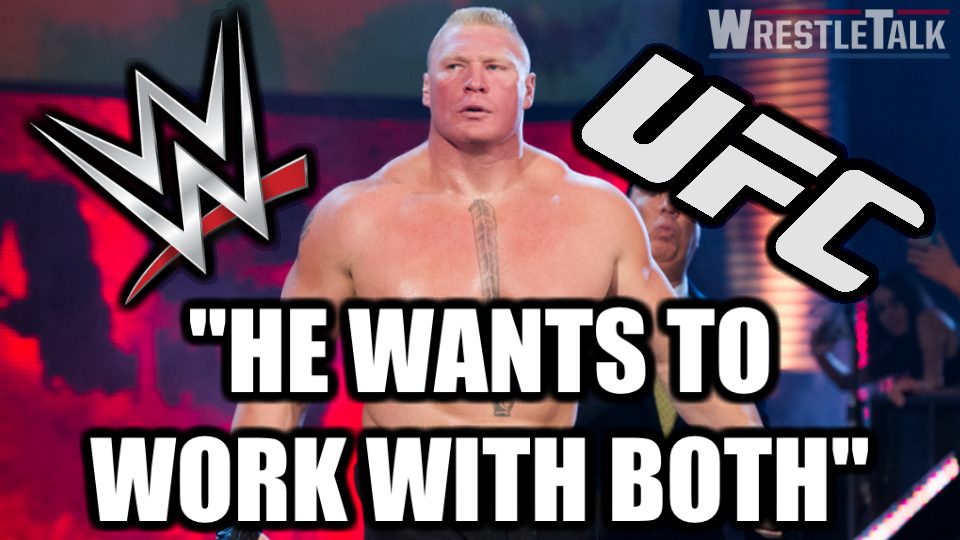 The last time we saw Brock Lesnar on Raw, he was ordering offensively overcooked steaks, catching up on his favorite issue of The Backwoodsman and almost murdering Paul Heyman.
The teased split with his long-time advocate, when considered with the heated confrontation he had with Daniel Cormier at UFC 226 last month, has led many to speculate that the 'Beast Incarnate' may be on his way out of the WWE following his WWE Universal Title match against Roman Reigns at SummerSlam in order to rejoin the UFC on a full-time basis. If recent reports are to be believed, however, that may not be the case.
On yesterday's episode of Barn Burner Radio's Fired Up podcast, Joe Peisich shared an interesting bit of news regarding a reported meeting between Brock Lesnar and WWE Chairman and Chief Executive Officer, Vince McMahon.
"I'll break some news. Brock Lesnar last week had a meeting with Vince [McMahon] and the higher ups with the WWE and he has told them that he wants to work with both. He wants to work with both the WWE and the UFC. I don't know how that's going to happen but, you know, if Brock does not lose the title at SummerSlam, you could see him then sort of working for WWE and UFC.

"Like I said, I don't know how that works. But he has approached and he has demanded – you know, he wants to work for both."
It's possible that Peisich was speaking with a degree of hyperbole, but his use of the word "demanded" is noteworthy. If Brock has indeed issued such an ultimatum to WWE, it would be interesting to see how that plays into not only the SummerSlam plans, but also Raw going forward.
It's worth keeping in mind that Brock has pulled double duty between the promotions before, most recently having fought Mark Hunt at UFC 200 in 2016 while making regular appearances on Raw throughout the year (including setting up a memorable feud with a returning Goldberg). So the idea of him doing so again isn't entirely beyond the realm of possibility.
Related Content:
Paul Heyman – Four Potential Clients
SHOCK Roman Reigns HEEL TURN Teased!
Chris Jericho SHOOTS on Brock Lesnar
Would you like to see Brock remain an active member of the Raw brand beyond SummerSlam or is it time for him to move on to the UFC? Let us know in the comments below. You can also get in touch with us on Twitter and have a chat with the whole team on Discord.