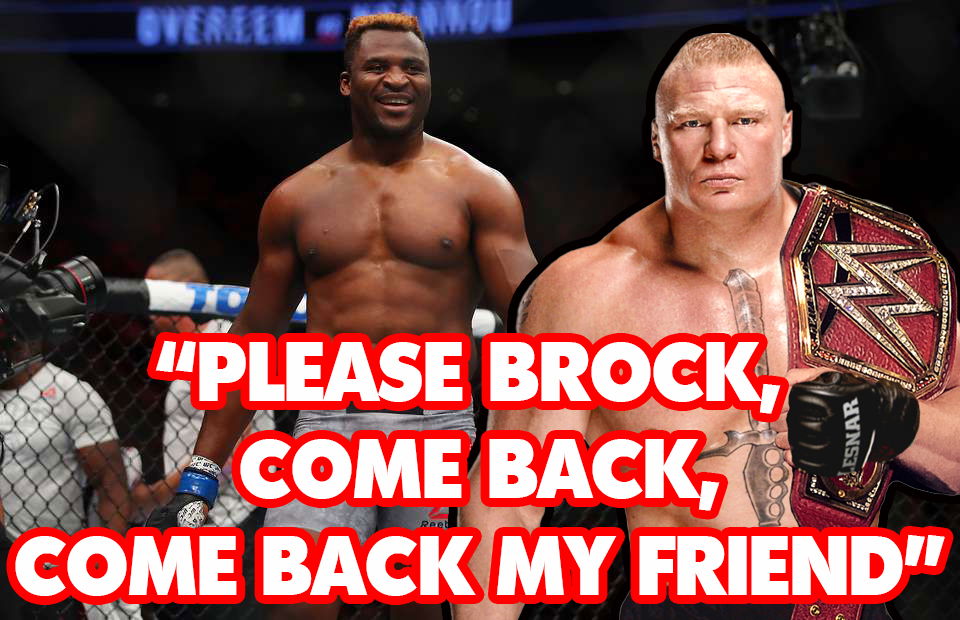 Former UFC Heavyweight Champion and WWE World Champion Brock Lesnar currently stands at a career crossroads.
His WWE Universal Championship defense at Wrestlemania 34 on April 8th versus Roman Reigns will signal an end to his WWE contract, allowing the former NCAA collegiate wrestling legend to become a free agent. And while negotiations with the WWE are on going according to scuttlebutt, rumblings and tweets suggest he might return to the Octagon with the hopes of becoming the brand's heavyweight champion again.
However, if he does, there's a massive roadblock standing in the way of his title plans in the form of Francis Ngannou.
While being interviewed on The MMA Hour this past Monday, the Cameroon-born fighter known as 'The Predator' said that he relishes the possibility of facing Lesnar at a future UFC pay-per-view. "Please Brock, come back, come back my friend," Ngannou said. "I need you to give me that f***ing fight I've been waiting for…I've been dreaming for."
Check out Ngannou's full interview with host Ariel Helwani below, where he talks about more about Lesnar, what went wrong in his UFC 220 loss against Stipe Miocic and what the future holds for him in the company:
Ngannou, 31, who is also linked to possible future bouts against heavyweights Mark Hunt and Derrick Lewis, would serve as a tough test for a returning Lesnar. Despite his recent setback at UFC 220, Ngannou is a highly praised fighter who has an amazing striking ability and a strong ground game. In his last 5 victories, 4 of them came by knockout with the fifth coming via submission — all of which either occurred in the first or second round.
On the flip side, "The Beast Incarnate" last competed in the UFC in July 2016, where he initially defeated Hunt by unanimous decision. However, after Lesnar failed pre-fight drug tests, the decision was changed to a no-contest — and shortly thereafter, Lesnar announced his retirement from the sport and his return to the WWE.
Lesnar's advocate, WWE legend Paul Heyman, responded vehemently to Ngannou's plea for his client's return to the Octagon. "Of course, everyone is going to call out Brock Lesnar," Heyman told TMZ Sports. "He is the biggest box office attraction in sports entertainment…in the UFC…in the WWE."
He added in reference to Lesnar's beatdown of Reigns this past Monday on RAW, "It's one thing to ask for a fight with Brock Lesnar. It's a whole different story when you actually have to fight Brock Lesnar. Just look at the footage."
Nevertheless, the ball isn't in his court regarding who he fights next, Ngannou said. "It's up to what [the UFC] want to give me," he said. "There are a lot of people out there who want to fight me."
He added, "There are the three ones who want me and me, I want Brock."