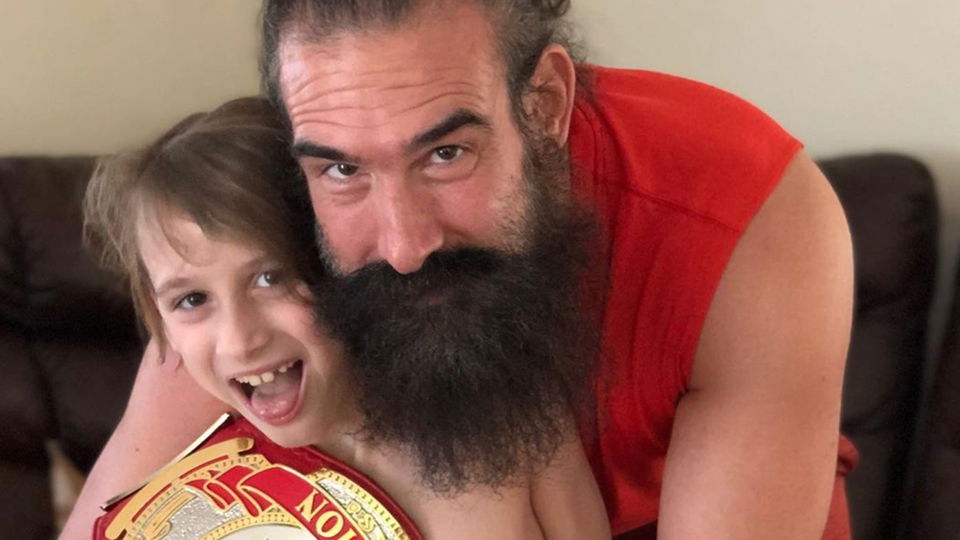 The wrestling world is still reeling from the news of the tragic passing of Brodie Lee (Jon Huber). While this is going to be a very long healing process, AEW's Tony Schiavone was able to share a very heartwarming story about Brodie's family.
On an episode of What Happened When, Schiavone spoke about the passing of Brodie Lee. He also mentioned that his 8-year-old son, Brodie Huber, was signed to an official AEW contract. He will have the opportunity to join the company when he comes of age. Here is the quote, courtesy of Wrestling News:
"Knowing that Brodie was very sick and knowing it was holiday time, and I guess knowing that for him to kick out, it was going to be, I don't want to say a miracle, but it was going to be very difficult to kick out. They had brought little Brodie to TV and wrestling is his life. He is 8 years old. He really is a great kid. They made him a member of The Dark Order. They put a mask on him. He came out with a kendo stick. He beat up a lot of people. This of course was at a TV taping with nobody in the audience.

They signed him to a contract, they legitimately signed him to a contract and when he gets of age, he will be with AEW. They have taken care of him and he follows guys around all the time in the back and he becomes a part of us. Amanda is back there. When we do TV tapings now, we will have a live show or a taped show, Dynamite, and then we will have sometimes 13 dark matches. We are there until 2 am sometimes. I was sitting back there with Amanda when Dark was going on and she said, 'I'm dead tired. I need to get back and get some sleep but he (Brodie Jr) just loves this so much, I'm going to wait.'

So, she waits until it is all over and he gets involved with the guys and sits in the gorilla position. He sometimes comes out with a mask on and does some crazy things. It just shows you how the roster loved Brodie and how we are family… When Brodie was hired, we all said, man that's a great hire because we knew he could work. Then when we got to know him, we thought, not only is this a great hire talent-wise, but he is a great hire because he is a great person backstage. It was a tough day when we got the news and it still is."
Since his passing all anyone has said about Brodie Lee has been how much he loved his family. Stories like this just make that all the more evident.
What are your thoughts on the above story? Let us know in the comments on Twitter or Facebook.