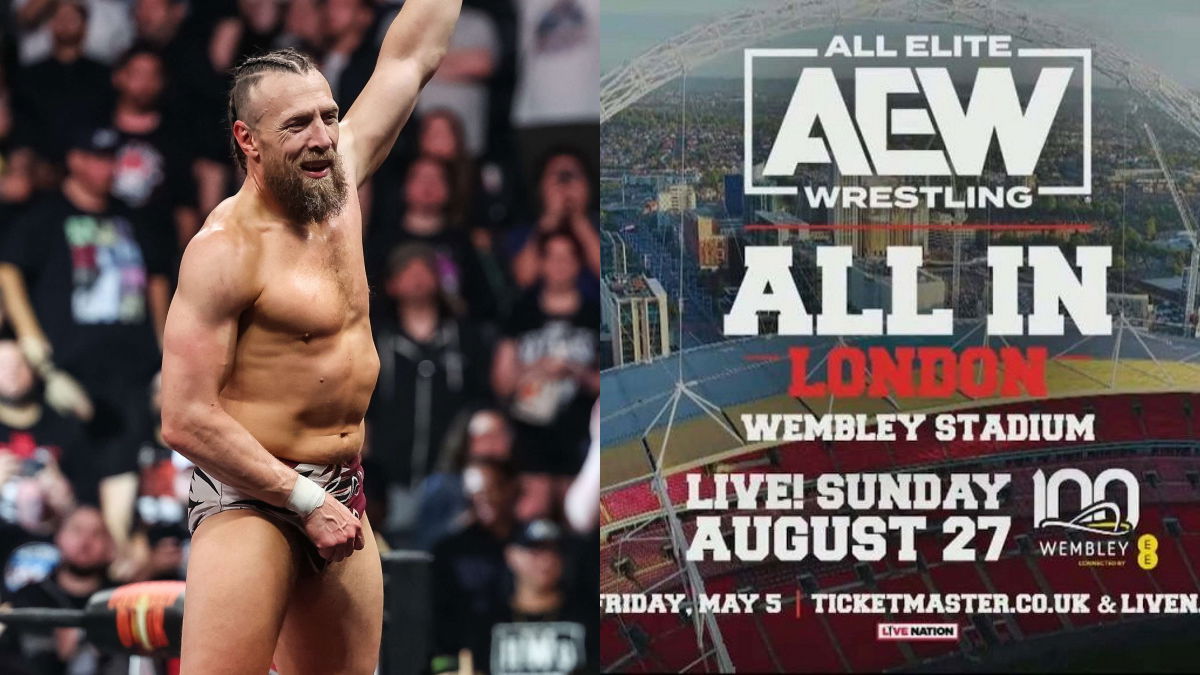 AEW star Bryan Danielson has addressed his injury status ahead of the historic AEW All In Wembley Stadium on August 27.
After suffering a forearm fracture in the main event of Forbidden Door against Kazuchika Okada on June 25, Danielson's status for the record shattering All In two months later was immediately in doubt.
While initial projections could have perhaps seen The American Dragon compete in London, shortly after Forbidden Door it was revealed that the extent of the injury was worse than initially feared.
Now, ahead of All In, Danielson has openly discussed his injury status on The Nikki & Brie Show, discussing with his wife Brie Garcia the disappointment of missing out on competing in front of over 80,000 fans.
Danielson first discussed the injury itself and how it ended up worse than predicted, before conveying his regret over the repercussions and missing All In.
Danielson said:
"He (Kazuchika Okada) did an elbow drop to me off the top rope and it ended up breaking my arm. Then I wrestled another 10 minutes with the broken arm, which the doctor said made it worse.
"But, that said, I find a certain joy in doing things that are hard and finishing them and even though it probably caused me a little bit more damage, I got more value out of it given that-that had happened, versus if it had not happened and even though I, in no way shape or form — if I could take it back, I would wish my arm never got broken and that I'd be able to be able to wrestle at All In in Wembley (Stadium).
"It's gonna be one of the biggest wrestling crowds in history on Sunday and I don't get to take part in it because my arm is still healing. But, despite that and I wouldn't ask for my arm to be broken if I could do it over again.
"But because it did happen and I couldn't control it, it almost gave more meaning to how I felt about the match itself and also, I did a press conference afterwards with my broken arm. Now, we didn't know how bad it was at the time.
"But I think there's — and I do this a lot when I'm fasting. There's a lot of health benefits to fasting, but when you put yourself in an uncomfortable position or you do something that's uncomfortable and you keep doing it, the thing is not, okay, yeah, I did it. It's can I do this?
"For example, while fasting or wrestling with a broken arm or doing a press conference with a broken arm. Can I do this and keep a good attitude while being in pain? While starving?
"And those are things that I think about myself or I think to myself when these things are happening so that's one of the matches that I'm really — if I'm looking back on something versus experiencing something in the moment."
While Danielson has plenty of experience in front of massive crowds whilst in WWE, he spoke of his excitement for the generation of wrestlers in AEW who haven't had that opportunity and what it means, two of which are the main eventers MJF and Adam Cole.
Danielson gave his verdict on the advertised main event for All In, saying:
"I really enjoyed that match with Okada and as far as who wins between MJF and Adam Cole, I'm just excited to watch it.
"I think the spectacle of All In as far as being in front of such a large crowd, nobody in our generation of wrestlers has wrestled in front of that many people before. So I'm just excited to watch it and watch part of history."
Despite Danielson openly discussing not competing at All In on August 27, a new report from Fightful Select has revealed that their may be plans for the Blackpool Combat Club frontman to appear in London for the event, click here for details.
Transcript courtesy of POST Wrestling
Think you know the most about wrestling? Join our Wrestle League predictions competition for free, and be in with the chance of winning $250 of Amazon vouchers. Make sure you subscribe to email notifications to make sure you never miss a show.