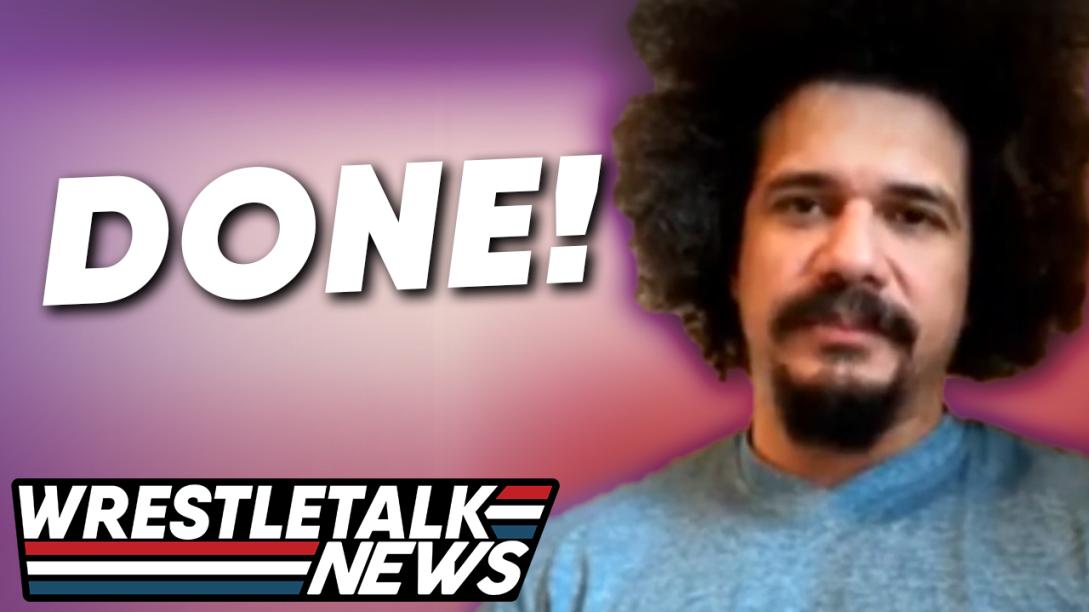 After a decade away from the company, Carlito finally made his long awaited WWE return in last month's Royal Rumble match. Ten years to comeback in, and he chooses the one time where he's not allowed to spit apples in the faces of people who don't want to be cool. That's like, his whole gimmick. 
Carlito received praise for coming back in incredible shape, and many fans of the late 00s era of WWE were excited this could mean he'd be back longer term – just like how MVP returned in the 2020 Men's Royal Rumble match for a then few week nostalgia pop, but he impressed everyone backstage so much, he was signed as a producer and onscreen talent, and is now doing some of the best work of his career managing the Hurt Business. In fact, it was actually MVP who lobbied WWE management to bring Carlito in for a similar three week trial.
Carlito was brought back the very next night on Raw, where he tagged with Jeff Hardy against Elias and Jaxson Ryker, although he was barely given anything to do in the match, and didn't even get the winning pin. And he hasn't been seen on WWE TV in the two weeks since.
In an interview with Joe 'WhattaDay' Lowry, Carlito revealed this year's Rumble match was actually the first time WWE had invited him back to wrestle, despite rumours every year since about 2014 that he would be a surprise entrant, and, crucially, when asked about what's next for him in WWE or AEW, he replied: "Right now, I'm on my own. I'm just open to whatever comes my way… Whatever great idea is out there, I'm willing to listen and see if I fit in there somehow" – hinting his three week trial with WWE hasn't amounted to anything, and he's back to being a free agent.
Are you disappointed WWE isn't bringing back Carlito full time? Let me know in the comments because I'll be replying to people FROM OUTTA NOWHERE.
But Carlito isn't the only wrestler WWE is seemingly 'done' with. 
Vince McMahon Given Up On WWE Stars
In early 2020, Raw was being built around a group of new stars that included Andrade, Humberto Carillo, Aleister Black, Buddy Murphy, Cedric Alexander and Drew McIntyre. This was because they were the latest class of Paul Heyman guys, who had been made Raw's Executive Director in June 2019. 
Heyman was fired from that position just a year in, and while Drew and Cedric have gone onto great success, the others have mostly disappeared.
But now Heyman is on SmackDown as Roman Reigns' counsel, it was asked on Wrestling Observer Radio whether he could use his backstage influence to help his guys out. And the answer, is no, no he can't. In fact, let me get the exact quote here. What was it. Oh yeah, they're all f*****".
Dave Meltzer revealed Heyman "doesn't have that kind of power right now" in WWE, and even if he did, "Vince does not see anything in Aleister Black or Andrade. When Heyman lost his position, I said the guys that are f*****. The only one who ended up not being completely f***** was Shayna because I guess they liked the idea of Shayna and Nia Jax so she got brought back. Pretty much everybody else, they are with Bo Dallas in catering."
That's right, Bo Dallas is still contracted by WWE. He hasn't been seen since November 2019, but we finally have an update…
Bo Dallas' last appearance was on a WWE house show in November 2019, almost a year and a half ago. But despite not being used for touring or TV, his name wasn't part of the mass talent releases WWE cut last April – which included his long time Miztourage and B Team tag partner Curtis Axel.
Meltzer is now reporting "it's a big mystery" why he's still with the company, but "You know how they say creative has nothing for him? In his case, that's actually true." Perhaps they're saving him for the often pitched team up with his real life brother Bray Wyatt down the line.
WWE very much do have something, however, for Damien Priest – who made his main roster debut in the men's Royal Rumble match last month, and has been featured prominently on TV alongside Bad Bunny since. Bunny's mainstream popularity has caused many of his YouTube clips with Priest to be the most watched Raw videos of the week, and the two are reportedly planned to tag together against Miz and Morrison at WrestleMania.
Could this be an NXT call-up Vince McMahon actually is high on?
Fightful Select has reported Priest is extremely well-liked backstage and has made a "positive impression" over the last two weeks. He was given a lot to do over his Rumble spot and Raw debut the next night, and he "did everything they could have expected from him after being thrown into the deep end."
Sean shared this story on his Twitter, confirming: "I am reporting that many important people in WWE are fans of DP." And why wouldn't you be? I love Drowning Pool. Let the bodies hit the floor. I used to wake up every Saturday morning and hear DP going on downstairs and I'd be excited for the Smackdown.
Go subscribe to Fightful Select.
And if you thought DP was more than enough, then stuff my hole: because WWE have reportedly signed a bunch of new talent.
More WWE Signings
Fightful Select is reporting that WWE have signed standout independent wrestlers Christian Casanova, a seven year pro they've been tracking for a while, who has worked for Beyond and EVOLVE, and Blake Christian, who has recently appeared in IMPACT's Super X Cup and New Japan Strong tapings. They join former IMPACT stars Eli Drake, who made his NXT debut as LA Knight on Sunday's Vengeance Day TakeOver, and Taya Valkyrie and Harlem Bravado, as reported by PWInsider. Bronson Rechsteiner and Parker Boudreaux also appear to have been signed.
Fightful notes that WWE have resumed signing talent again after holding off during the pandemic – which this recent spree definitely proves.
And it also includes one of my favourite British wrestlers Millie McKenzie!
TalkSport's Alex McCarthy, who you can watch every day on our Wrestling Daily channel, is reporting McKenzie has signed with NXT UK, and that the promotion has "high hopes" for her, planning to put her "at the top of the card in NXT UK along with fellow recent arrival Meiko Satomura". If you're not familiar with her work, you can check her out on Progress' Chapter 104 against Mercedez Blaze, who's also great, on the WWE Network this Saturday. 
Her long time intergender tag partner on the indies Pete Dunne congratulated her on the news by tweeting VOMIT EMOJI.
But we're all still waiting on Vince to sign off on that biggest talent deal…
AEW to WWE confirmed.
Tony Khan 'Begging' WWE to Invade AEW
Following Cody Rhodes telling the New York Post that AEW is definitely open to working with WWE if the deal is right, AEW president Tony KHAAAAAN has effectively called out Vince McMahon to the Wrestling Fetish podcast:
"They are more than welcome. As I've said before, the forbidden door is open anytime. Just come and knock. If they were to knock on the door, I would certainly be willing to let them in."
The hosts then discussed what that invasion could look like, and brought up DX's invasion angle of WCW Nitro in the 90s – which Khan reiterated: "Come in, please. I would love that. Come to Jacksonville, I'm begging you."
As promised, Khan really has changed the wrestling industry over the last few months, forging working relationships and talent exchanges with IMPACT Wrestling and New Japan, in addition to pre-existing partnerships with AAA and the NWA. And that spirit has spread beyond promotions just turning up on AEW, as New Japan's Juice Robinson and David Findlay showed up on last night's episode of IMPACT – confirming the two sides are now explicitly working together after New Japan reportedly banned the idea for a decade after Vince Russo booked Okada to be a comedy Japanese stereotype Okato in the then-TNA.
FinJuice called out the Good Brothers during their IMPACT appearance, and beat Reno Scum in a match. 
Interestingly, Dave Meltzer is reporting that New Japan actually turned down a deal to be on the same AXS TV channel as IMPACT Wrestling – preferring their non-exclusive deal with Roku, which they hope will be able to leverage them a better TV deal in the future.  
The Bullet Club's Tama Tonga wasn't to be left out of the interpromotional feuding, though, calling AEW "a midcard company" on his Twitch channel.
And what about AEW's Sammy Guevara, who reportedly has backstage heat on him in the company for turning down an idea about him showing up in IMPACT Wrestling? It warms him.
I watched the first round of AEW's Women's Eliminator Tournament. Here are my thoughts:
Maki Itoh is my everything. 
I thought she was going to be the most charismatic on the show. I saw her in EVE last year, and she was amazing. But I wasn't prepared for Ryo Mizunami to be even better. He facials and strong style somehow meshed great with Maki's comedy spots – and Mizunami advanced. It set up a meat clash against Aja Kong in the semis, who beat Rin Kadokura.
Yuka Sakazai will face Emi Sakura in the other semi-final – both names who have wrestled in AEW before, who went over Mei Surga and Veny in the first round.
While it was fun to see the Joshi talent, the production was incredibly poor, and explains why these matches were kept to AEW's YouTube channel rather than Dynamite on TNT – but even then, it makes AEW's YouTube channel look rinky dink. I didn't mind it, I'm used to watching indie matches like that. But, anecdotally from the person I watched it with, such low production values really do put off potential new fans.
QuizzleMania Featuring MELINA!
Today's QuizzleMania sees Andy Datson defending his trophy against Luke Owen, Denise Salcedo and former WWE star Melina! She was only on Raw last month. It's all to raise money for Childline, as part of the NSPCC and WWE's Call Out Bullying campaign – which will also feature a special Jam that Jam message from two NXT UK stars.
What are your thoughts on the above story? Let us know in the comments on Twitter or Facebook.