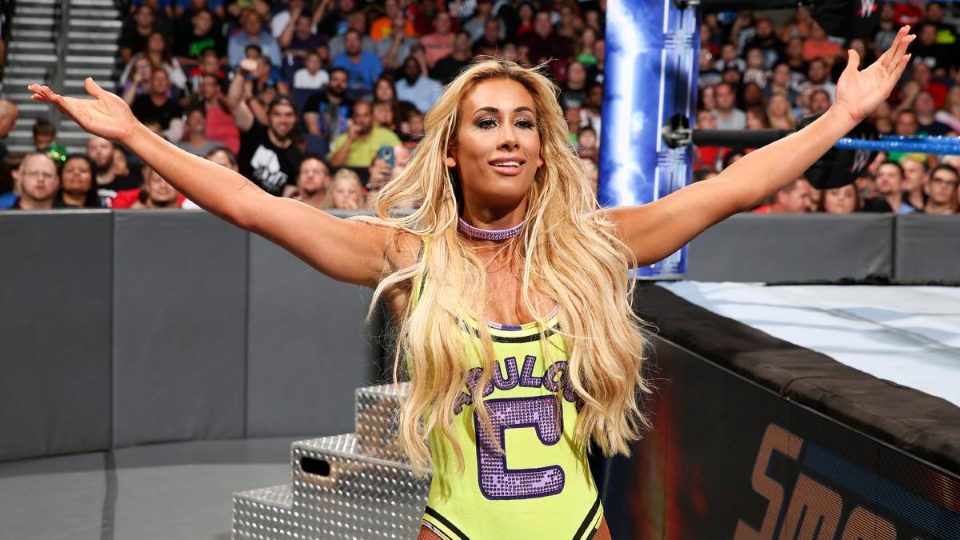 In an interview with the A Show podcast, former Smackdown Women's Champion Carmella discussed her role in the WWE women's evolution (or revolution, whatever it is these days) as well as her character's development over the past five years.
When asked who she wanted to face at WWE Evolution (WWE's first all-female pay-per-view on October 28, 2018) Carmella said it would've been "really cool" to face Trish Stratus. Stratus is currently scheduled to lock-up with Alexa Bliss, though with Bliss biting the injury bug, perhaps Carmella can have her dream match after all.
No matter who her opponent is, Carmella is excited about not only the show, but her contributions to women's wrestling.
"The women… are taking over the WWE.

"And to be able to be in the mix and [make] my own history in the middle of this evolution? I just want to pinch myself."
The 'Princess of Staten Island' mentioned being the first Ms. Money in the Bank, cashing in on Charlotte Flair, and, in case anyone forgot, beating both Charlotte and Asuka twice.
"If you asked anyone when I was the last draft pick in 2016 that I would do that.

"I guarantee they would've laughed. Now, I'm the one laughing, baby."
'Mella strives to continue proving critics wrong. Her development has shown, from her 2013 start and "barely having matches on NXT" to strong showings in both her title defense at Summerslam 2018 and against Charlotte in her title rematch on a recent episode of Smackdown Live.
"It's a testament to the [WWE] Performance Center.

"To know that people are finally giving me a little bit of the credit that I think I deserve is really cool, but, at the end of the day, I'm just here to do my best and keep improving."
She plans on being a multi-time Women's Champion. For now, however, she's enjoying moonwalking and echoing R-Truth's gruff rhetorical questions. She says this is a fun next chapter in her character's development.
"I feel like I've been able to show all these different sides of Carmella. I was a manager in NXT for Enzo [Amore] and [Big] Cass, I did my own thing for a little bit on Smackdown Live, I had James [Ellsworth], then I was champ, and now I get to hang out with R-Truth and rap and, right now, I'm just having the time of my life. I feel like I've had so many different storylines and have shown so many sides of my character that most people don't get. I feel very lucky."
Do you think 'Mella is 'Money' or pocket change? Let us know in the comments below, on Twitter, or on Discord.