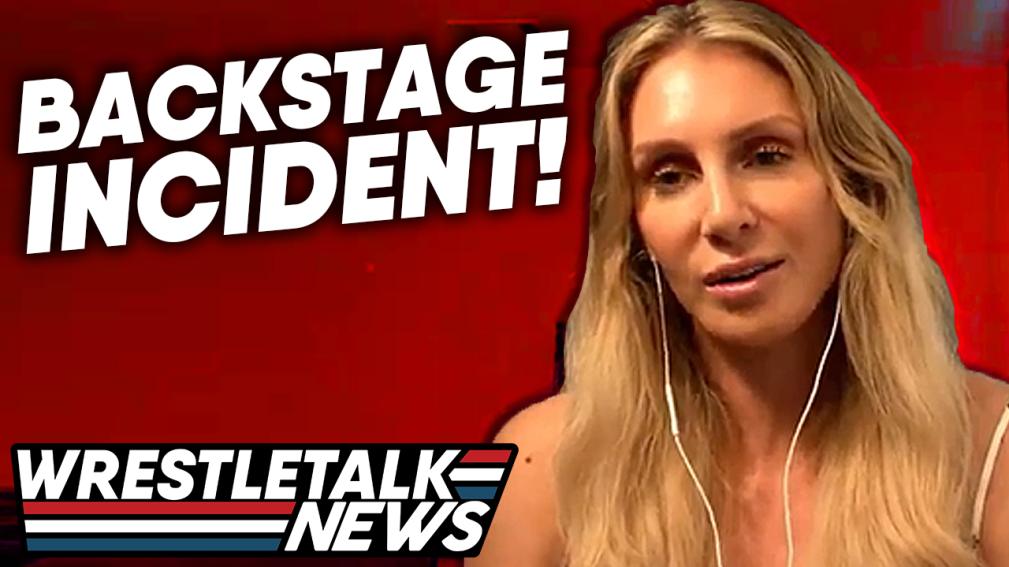 When it was announced that former WWE star Andrade would be doing his first tell-all interview with Lucha Libre Online, many people expected the same sort of stories we've heard from other 'former WWE star chats with Chris Jericho' podcasts. But this one was very, very different.
Andrade spoke about a variety of topics – including his multi-million dollar earnings, being cleared to wrestle in November but creative having nothing for him, how there are a lot of talent backstage who are unhappy with their positions but won't speak up about them, and even that Angel Garza was told to cut his hair because he was in line for a push… that never happened.
But the most explosive stuff came from questions about his relationship with Charlotte Flair.
Andrade said there are a lot of "backstage problems" between Flair and some other members of the women's roster in WWE, claiming that there is "a lot of jealousy towards her". He said, "They look at her as just the daughter of Ric Flair. I know she's a good wrestler and she has earned her spot in WWE. There is a lot of jealousy. After matches, a lot of people say she works stiff." He also added that some of the talent backstage can't handle things like their time being cut, even though "only 3 or 4 can wrestle for 20 minutes," and that, "a lot of them complain about [Flair] getting the opportunities."
We complain… we complain too.
Perhaps far more damaging, though, is that Andrade revealed a member of the women's roster in WWE took a photo of Charlotte Flair changing in the locker room without her consent. He said, "We know who, but [Flair] didn't want to say anything and WWE didn't know about it." 
As the host of the interview Hugo Savanavich pointed out, that is a federal crime.
Andrade also took issue with the doctor backstage in WWE who flagged him for violating the Wellness Policy last year, and is now claiming that same doctor is part of the reason why Charlotte Flair isn't on the WrestleMania card anymore.
According to Andrade, it wasn't her positive COVID test that got her removed, but a misdiagnosis from the doctor that Charlotte was pregnant. Andrade says that Flair took her own tests at home which all came up negative, but WWE pulled her from all her storylines because they believed the doctor. Andrade adds that they have not been given an apology once they proved that she wasn't pregnant, and that the doctor simply told them again that she was. Apparently, according to Andrade, this isn't the first time it's happened in WWE as a few other women have had this same experience.
Andrade adds that there are other reasons for Flair being pulled from WrestleMania, but wants to keep them quiet as it could affect her stance in the company.
In a statement to Alex McCarthy of TalkSPORT and Wrestling Daily, Charlotte Flair's team said: "What [Andrade] said about the pregnancy test in today's interview is true, but a significant amount of context is lost in translation and we'd like to clear that up as best we can. A few weeks ago, Charlotte received a call from WWE medical telling her that her HCG levels had come back high and she was being medically suspended for pregnancy. That day, she took several home tests that all came back negative. A few days later, blood work and ultrasound confirmed there was no pregnancy. This was before any issues with Covid (she is currently medically clear). This put a lot in context for her, mainly how small a woman's career window is. The men are able to work well into their 50s while the women are seen as "older" in their early 30s even. For an athlete in her prime, these years mean everything."
WWE Raw Review
But now it's time to review the WrestleMania go-home go-home Raw… in about 5 minutes.
The show opened on the Hurt Business coming out to the ring in full force, looking awesome all back together again, wearing their suits. It's not just the mastermind MVP and the WWE Champion Bobby Lashley. It's the former tag team champions Shelton Benjamin and Cedric Alexander, all together as an unstoppable, incredibly badass unit at the top of Monday nights. 
So they broke them up.
Just as I feared several weeks ago when Cedric and Shelton weren't being used in Lashley's segments, WWE never cared about the Hurt Business. They care about Bobby being a Greek God. Dat ass. So because Cedric and Shelton lost in a handicap match against Drew the previous week, and totally unceremoniously lost the tag titles the week before that, MVP and Lashley threw them out the group and declared the Hurt Business is over. Which was solidified later on when Bobby squashed Shelton in a singles match.
They broke up the Hurt Business, a faction that was more than the sum of their parts, my favourite thing about Raw for the last year, and a huge reason why Lashley's title reign had so much potential, barely two weeks out from WrestleMania – when, surely, you want as many heel minions as possible for McIntyre to overcome, to either make his victory more impressive, or his loss justified. Why? Almost aware of their own meme of disappointment: WWE revealed Baron Corbin to be why.
The other night long storyline was Lashley putting a bounty on Drew's head. Anyone who takes him out will get his title shot against Bobby at WrestleMania. Drew spent the night storming around backstage asking people if they were going to do it where, mostly, their response was variations on 'nah, I don't care about the WWE title actually, I'm facing Shane McMahon. Or I'm facing Sheamus. Or I'm facing the New Day.' Because heaven forbid someone have two simultaneous storylines. More on that later.
Sheamus, meanwhile, who would surely be a No. 1 guy to take out Drew considering their recent feud, was too busy continuing the Sheamusanissance with the match that arguably began his tear of in-ring form last November: him vs Riddle. 
They had a good match as you'd expect, with a White Noise on the apron, which Sheamus eeked out a victory – lazily setting up a US title match between them at WrestleMania.
Riddle seemed to care in the post-match, but it's nothing a bit of the drugs won't fix. He spent the rest of the night inconsistently goofy backstage, including one actually genuinely amazing bit, where he seemingly forgot his line to Asuka – possibly because he was about to tell a 'Japanese people sure are shorter than the average Western peoples height' joke – and just walked off like my uncle at a party he's just discovered is more woke than he'd have liked. 
But Riddle didn't even walk. He scooted away from controversy. If only his lawyer thought of that technique last year.
In one of the most painful midcard Mania feuds I can remember, the latest segment in Braun Strowman vs Shane McMahon saw Shane expose Braun's difficulties at school, showing a fake report card with all Ds, flanked by Elias and Jaxson Ryker… oh no, dear God. Run, Elias and Jaxson Ryker. It's Shane's new Midcard of Evil. Nothing can escape the pull of Shane McMahon's midcard vortex! [SHRINK SKIT]
At least that's the only midcard vortex we'll get on this episode.
Shane is a buh buh boring promo. Braun squashed Jasxon Ryker with choo choo sound effects. I turned 33 yesterday, so I now feel 23 years to old for this s***. Wish me a happy birthday in the comments down below.
Braun then made it a steel cage match between them at Mania. Because he presumably forgot to say Hell in a Cell.
The Miz and John Morrison debuted the music video for their new Bad Bunny diss track Hey Hey, Hop Hop. I'm ashamed to say I laughed at this more than I should've. Morrison has built up a really weird comedic presence. Bad Bunny laid out the heels afterwards and said the word 'bitch' because it's serious.
Randy Orton is also serious, fighting a man who just came back from being burnt alive, and Alexa Bliss said he'll die at WrestleMania, with The Fiend on the swing next to her. This needs to be a cinematic match.
The New Day hosted AJ Styles and Omos in a games night, where Omos refused to play charades and pictionary, but didn't mind doing a modelling photoshoot for H&M.
This turned into AJ vs Woods, which Styles lost via DQ when Omos got physical, throwing Kofi over the barricade, and laying out Xavier in the ring. They tried to finish serious, but the feud still feels like throwaway comedy.
Naomi beat Shayna Baszler because Lana threw Nia Jax into Mandy Rose and Dana Brooke at ringside to set up a match at WWE: I Don't Care.
Rhea Ripley's not ready for Asuk-oh no wait, she totally is, she threw a table in her face. But how will the WrestleMania opponents co-exist when they have to face Nia Jax and Shayna Baszler on Raw next week? I don't know, maybe watch SmackDown, where Sasha Banks and Bianca BelAir are doing the exact same storyline.
Great Khali, RVD and Kane are going in the HOF 2021, along with Bischoff and Molly Holly. 
And the main event saw Ricochet step up to face Drew, and get thrown around loads. It was very good action for the 2 minutes they were given. And then McIntyre beat Ali right after. Because that's how WWE can make sure hardcore fans won't boo Drew at Mania. Book him to beat all their favourite wrestlers in a row.
Lashley came out for a brawl to close the show, and who should be his back-up – not the excellent Hurt Business faction, but their original midcard of Evil leader, SmackDown's Baron Corbin. Presumably in the Wild Card crossover invitational, three times a year, but only when the moon is at half-crescent whackbat rule. 
Not even the main event program on Raw can escape the pull of Baron Corbin's midcard vortex!
It's classic WWE anti-booking. Oh no, we've stumbled onto a hot act with momentum with the Hurt Business. But rather than go with that, they stick to the plan: Drew winning in front of fans at Mania and getting cheered. So they need to flatten out Bobby as much as possible. Take away his cool faction, and replace them with Corbin. It's actually genius, in an incredibly depressing way.
What did you think of Raw? Let me know in the comments below, and vote in our Poll on a Pole match on the community tab, where 87% of you voted for 'They actually broke up the Hurt Business 2 weeks from Mania.'
Often, when I'm away from wrestling for a week, I come back with fresh, naive eyes and I enjoy WWE more than I usually do. It's the holiday ratings bump. But this episode was so bad, long, with terrible booking decisions, I absolutely hated it. And that everything is this lacklustre two weeks out from Mania makes it worse. This week's Raw is 1 out of 5.
What are your thoughts on the above story? Let us know in the comments on Twitter or Facebook.