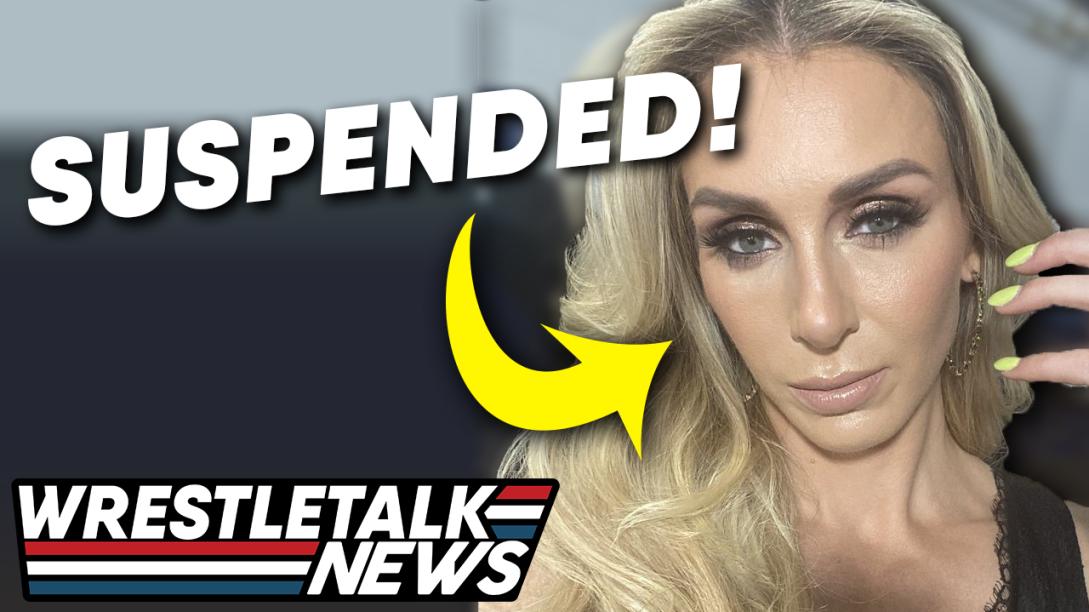 Before we get on with the news of Charlotte Flair being suspended and my review of last night's Raw, I've just been told there's some new Fiend merchandise. Let me get it up here to check out. He's one of my favourites no matter how terribly they book him.
I see nothing wrong with that slogan placement at all.
WWE Suspend Charlotte Flair
One of the only good things on last week's Raw After WrestleMania was the return of Charlotte Flair as an out-and-out heel, like she should've been from the start, immediately getting involved in the Raw Women's Championship scene. The OmniFlair.
The storyline continued in last night's main event where she faced off against Asuka, and lost. Yeah, that's right. Charlotte Flair lost. To Asuka. Way to get that Mania 34 win back 3 years late!
It was because Rhea Ripley broke up a Figure 8 behind the referee's back, so Flair brutally attacked the official after the match in the show-closing angle – laying elbows to the back of his head as other referees tried to break it up.
On Raw Talk immediately following the episode, definitely not General Manager Adam Pearce confirmed Charlotte has been indefinitely suspended and fined $100,000 for unprofessional conduct.
This is most definitely storyline, and not a way to write Flair off TV for an extended period, like she was before WrestleMania, as WWE appear to be building to a three way fo the Raw Women's champion at WrestleMania…'s Backlash next month. 
But it's also very possible they have no idea what the follow-up will be, as it turns out Vince McMahon changed everything at the last minute yet again.
Vince McMahon 'Significantly Late' To Raw Creative Meeting
Sean Ross Sapp of Fightful Select is reporting the Chairman "was said to have arrived at [Raw's] creative meeting 'significantly late'", and immediately started to change the show – like scrapping the already announced 'first time ever' match of Braun Strowman vs Randy Orton, which was still being promoted by WWE's own social media up until the episode began. 
Fightful Select adds McMahon made "tons of changes to last week's show as well", but that was mainly due to WWE being "short handed" following WrestleMania 37. There's no word on why so many wrestlers were absent – with new tag team champions AJ Styles and Omos not having been seen since WrestleMania, and both the Fiend and Bobby Lashley not being present this week. Sapp notes it's very unusual for Vince to be so late to a Raw meeting.
Perhaps one of those changes involved the 'surprise draft superstar shake-up wildcard three times a year invitational whackbat' rule.
Two Raw Wrestlers Moved To SmackDown
Following the break up of Retribution last month, PWInsider and POST Wrestling are reporting both Reckoning, formerly known as Mia Yim, and Slapjack, formerly Shane Thorne, have been moved to the SmackDown brand – while T-Bar and Mace are staying on Monday Night Raw. It's not yet known whether they'll keep their Retribution gimmicks, but Yim in particular could be very beneficial for the brand as a challenger to Bianca Belair, especially if they play off their history in NXT together.
Fired Wrestler Shoots On Release
At least they still have their jobs, as WWE released 10 wrestlers last Thursday on the anniversary of their mass post-Mania cuts last year. One of these was Mickie James, who has retweeted a Simpsons quote, calling it 'live footage' of her release – where Millhouse's dad asks upon being fired 'So, that's it after 20 years? 'So long. Good luck'?' and his manager replies, "I don't recall saying 'good luck'." – implying John Lauranitis, the man who reportedly released talent over the phone, came across very ruthless.
Almost a third of you watching right now aren't subscribed, so please support WrestleTalk, give us a subscribe and enable notifications to 'always on' so you get the WrestleTalk News as soon as it goes live. Like my review of last night's episode of Raw, in about 5 minutes!
WWE Raw Review
After being laid out by the fearsome new faction WrRetriHurtion last week, Drew McIntyre cut a promo saying this is all MVP's masterplan. So MVP came out and said, nope. Nothing to do with me and Bobby Lashley. I don't know what's going on.
If that doesn't sum up the way Raw books feuds, I don't know what does.
The two guys who definitely aren't part of the Hurt Business or Retribution, then, Mace and T-Bar, attacked McIntyre and then listed off a bunch of animals backstage to Generic Backstage Interviewer No. 7, like 'porcupines, hedgehogs' – before ending on 'sabre-tooth tiger'. Which is extinct. They both agreed that's what they're going to make McIntyre. Also extinct. I have no idea what they were trying to achieve here.
Drew got definitely not Raw General Manager Adam Pearce to book him in a handicap match against him, who he handled as easily as Miz and Morrison – way to get over the big guys, Vince – so Mace and T-Bar beat him up so much the referee DQ'd them.
This brought out Braun Strowman for the save, not because of any character sense, just because WWE needed another big guy – because that's always what they teach you in writing classes: everything should be driven by plot, not character. Character's massively overrated – and we got a tag team match players where Drew tore Mace's mask off: which made the referee DQ Drew. 
This company still manages to do 50/50 booking even with disqualifications. 
The one shining light here is that Braun also ripped off T-Bar's mask – meaning him and Mace might be able to leave the Retribution looks behind from next week. If only Braun could've ripped off their names too.
The Viking Raiders are back, remember! I wonder what big feud WWE have planned for their return. Nope, not anything with new tag team champions AJ and Omos who are still nowhere to be seen. Just another match against the team they beat last week, Cedric Alexander and Shelton Benjamin, to beat them again.
After Randy Orton told Pearce he wanted a match against the long haired blonde guy who rides around on a scooter he didn't know the name of – way to put over your former US champion – we got Orton vs Riddle instead of the actually advertised Orton vs Strowman. Because screw what you promised fans, right?
In this case, though, we definitely got the better end of the 'card subject to change' deal. Orton seemed motivated to make Riddle looked good, and put him over in a surprise win. Which begs the question, why have Lashley squash Riddle last week if he was going to beat Orton here, who beat The Fiend at WrestleMania? But that's to infer anything matters in WWE. 
Somehow the worst thing in WWE right now, though, is the women's tag division. This week, Nia Jax left Shayna Bazsler in the ring to be beaten by Naomi and Lana because Mandy Rose and Dana Brooke played three rubbish clips of them getting the better of Jax last week.
Brooke and Rose come off as heels. Nia looked like she actively doesn't care. And Baszler, the best wrestler in all of this, got pinned again.
But wait, there's more!
After Generic Backstage Interviewer No. 6 asked Rose and Brooke if it was "appropriate behaviour" to distract Jax, which is one of their lamest questions ever, the babyfaces ran away when Jax came into shot. They're sending a message by cowardly fleeing, smart move.
This brought in Shayna Baszler, who shouted at Nia to focus 'or else'. Then Angel Garza slid into Nia's DMs to ask 'what do you see in her?'
So here's my prediction. Vince McMahon obviously finds the idea of any man being with Nia absolutely hilarious. Enzo Amore, Reginald. Because she's not like most girls, she's bigger. Ha, ha. Nia and Shayna will split, and Garza will be Jax's cuckold boyfriend by the next pay-per-view.
So we can break up Nia and Shayna by then. What other teams can we split? Oh, Miz and Morrison!
John was nowhere to be seen in the next segment, which was entirely built around promoting Miz and Mrs, with Maryse out for Miz's match against Damien Priest. Thankfully, they actually made Priest look good, overcoming the heels' cheating and getting his win back.
Elias beat Kofi Kingston clean. This company never did and never will see anything in Kofi ever again.
Alexa Bliss explained that her doll friend Lily – HI I'M LILY – has been with her for a very long time, creepily photoshopping it into old childhood photos. It was actually really effective. Lily made Bliss hurt other girls back then because she didn't like them. And now, guess what, she doesn't like any of the Raw Women's roster.
This definitely seems to end any relationship between Bray Wyatt and Bliss. They're just off to do their own things. 
Gangs of New Sheamus said he's not going to do the John Cena US title open challenge gimmick, but then totally did, inviting anyone to come out and get some.
It was actually a really fun heel rouse, as he then proceeded to beat the crap out of Humberto Carillo before the bell.
And then main event saw Charlotte vs Asuka, which you know what serious, because Asuka called Flair a bitch earlier on.
They had an intense match from the start with Rhea Ripley watching on from ringside, breaking up Flair's Figure 8 and letting Asuka get the roll up win. That's where we had Charlotte flip and beat up a referee – which is a pretty major angle by WWE standards, who don't often assault officials these days.
What did you think of Raw? Let me know in the comments and vote in our Poll on a Pole match on the community tab, where 74% of you voted for 'A DQ Finish Built TO Another DQ Finish'.
This wasn't as bad as the all time terrible Raw last week, nor the two rubbish weeks before that. Well done, WWE, you've managed to lower the bar so much that this boring, repetitive, all-over-the place episode is only 2 out of 5.
What are your thoughts on the above story? Let us know in the comments on Twitter or Facebook.