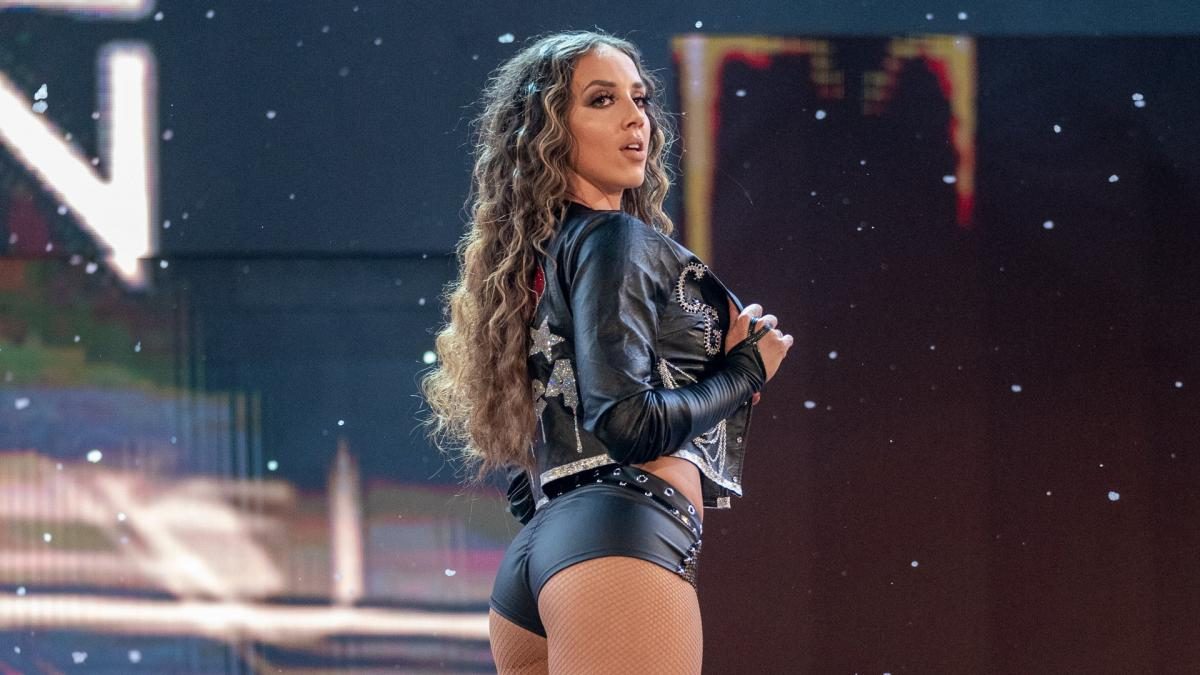 Former WWE star Chelsea Green has been the subject of a lot of criticism on social media in recent weeks, which she's now addressed.
The most recent example was for a tweet after Bray Wyatt had been released, in which Chelsea Green wrote: "Me waiting for @WWEBrayWyatt to come to the dark side " with an image of her in her 'Hot Mess' gimmick.
Many people suggested Green had tried to make Wyatt's release about herself and that she hadn't waited as long as she should have before tweeting it.
She did post a follow-up tweet afterwards, clarifying she meant it in a positive way and was excited about what Wyatt could do next in his career.
In a new interview with Ring The Belle, she said:
"I'm forever canceled. Someone is always trying to cancel me. I don't like feeding into the cancel culture, so I try not to respond, but I tweeted something nice and supportive, and people are taking it so negatively. The irony of it is that two men in the industry, if not more, tweeted almost the exact same thing and were not canceled.

"I'm not, like, super feminist, but when it comes to stuff like this, that's where I think the line is crossed a little bit with the Twitter fans, is that they come for somebody and they all want to dogpile that person, and I just don't support that and I don't think it's right. Luckily I mentally am strong and I don't let it affect me, but it really worries me – how do other people take this stuff?

"At the end of the day, I know that Bray Wyatt is somebody who I've had personal conversations with, who I like, his wife is someone who I have personal conversations with, who I like. So I know that they know what I mean, and that's really what matters, is that I support him."

If you use this transcription or any portion of it please credit WrestleTalk.com and link to this page
This all came just a week after Chelsea Green received a lot of hate for an image she posted online of a bloody hotel room after Matt Cardona's GCW deathmatch with Nick Gage.
On her latest Green With Envy podcast, she clarified Cardona had a nap in the bed before she even arrived there, and that she did 'everything she possibly could' to clean it up. She said:
"Holy s**t, when he woke up from this nap you guys, the bed in the hotel room was soaked. It was terrifying. I came prepared – I came with BandAids and gauze and Neosporin and NewSkin and things like that, but I did not know how bad it was. I thought I was just doing some little patch-up work because I knew that after this deathmatch he had gotten a couple of stitches, so I thought he was taken care of. (Laughs), Wowwww. I walked into a f**king crime scene.

"It was not just a little patchwork – it definitely wasn't enough to be taking him to the emergency room and getting more stitches – but there was a lot of little cuts and a lot of blood. And unfortunately, the blood was even coming from the stitched up wounds. So, yeah, I took care of that, and actually I've taken care of his back every day since, and it's so much better. Even four days after, it was not even comparable to what I dealt with in that Universal Studios hotel room.

"Oh and also, a lot of people came for me on Twitter, basically jumping to the conclusion that I would ever leave blood all over this hotel room. Okay, let me just put it out there people. First of all, shut the f**k up to the Karens who were saying that, and worry about your own life.

"And second of all, I'm a grown-ass woman. I stripped the bed, I stripped the towels, I put everything in a pile, I wrapped it up in a clean sheet, and then I called housekeeping and I let them know every single thing that happened, where all the blood was, and to come in with gloves. So, come on!

"Some f**king guy was like, 'There's no way she cleaned that up'. Well, you're right, I didn't f**king put it in the laundry machine, I didn't go and hand-f**king-wash it in the Goddamn shower, but I did do everything that I possibly could. Jesus Christ."

If you use this transcription or any portion of it please credit WrestleTalk.com and link to this page
It's an important message that targeting and attacking people online is something that happens way too often in the wrestling fan community and sooner or later it's probably going to have a nasty ending.
Please just keep that in mind before the next time you're about to tweet something hateful to any wrestler, or anyone at all for that matter.
Chelsea Green has been making a lot of moves despite all the hate she's been getting, working with IMPACT, the NWA and ROH since her WWE release earlier this year.
Very confused why me being supportive of what Bray Wyatt does next, pisses people off. Lol oh Twitter! You never cease to amaze me.
But really though… I can't wait to see what he does next / where he goes / what character he creates next. ? https://t.co/AK4HLdkLR9

— CHELSEA GREEN (@ImChelseaGreen) July 31, 2021
To make sure you stay updated with all the latest wrestling news, add WrestleTalk.com to your Google Discover feed and follow us on Twitter!