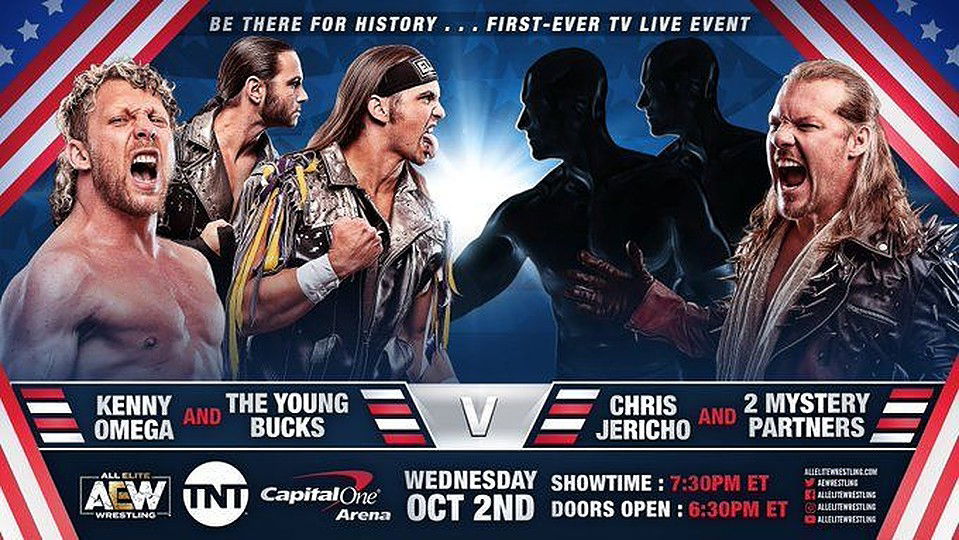 Tonight on Countdown to All Elite Wrestling: Dynamite, Chris Jericho's partners for the main event of AEW's debut show have been revealed.  Much to very few's surprise, Santana and Ortiz will be tagging with Jericho on Wednesday night's show.
While many fans guessed these would be the partners, it doesn't matter.  This match could be fantastic.
TOMORROW!!!! #AEWDynamite goes LIVE! Are you ready? pic.twitter.com/LjiksgMvnu

— All Elite Wrestling (@AEW) October 1, 2019
The former LAX members are one of the world's best tag teams.  Being showcased against the Young Bucks on the first AEW show will give the world a chance to see how incredible this tag team is.
AEW is hosting a tag team tournament to determine their first ever tag team champions.  Santana and Ortiz are not in the tournament.
However, the expectation is they will get involved.  They attacked The Lucha Bros at All Out.
THEY HAVE ARRIVED! #AEWALLOUT – Available on @BRlive https://t.co/bi2xiRzUST #AEW #AllEliteWrestling pic.twitter.com/Zw0vbIFiAz

— All Elite Wrestling (@AEW) September 1, 2019
It wouldn't be surprising to see them attack Pentagon and Fenix again costing them their match in the tournament.  On the other hand, they could also take out The Young Bucks as a follow up to tomorrow night's match.
Either way, AEW's tag team division is shaping up to be one of the most stacked tag team divisions in today's wrestling world.  Who knows? In 10 years we may be talking about it being one of the best divisions in the history of tag team wrestling.
WrestleTalk will have all the live coverage during the TNT AEW: Dynamite tomorrow night.