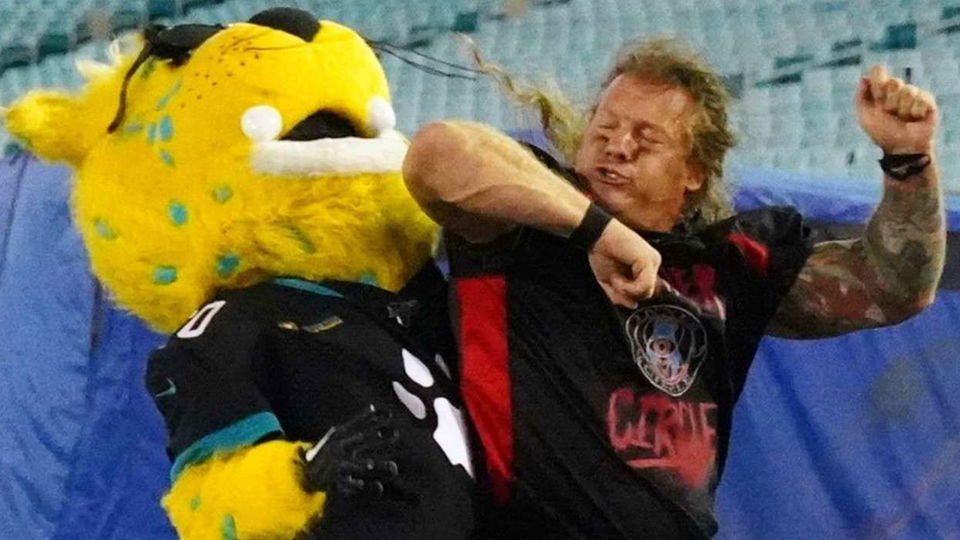 The Stadium Stampede match was tremendous fun and exactly what the world needed at that moment. The main event of AEW Double or Nothing saw the Chris Jericho led Inner Circle take on The Elite inside a football stadium.
One of the best moments of the match was when Jericho hit the Judas Effect on a mascot. Jacksonville Jaguars mascot Jaxson DeVille was the recipient of the attack, however, there was pushback from the NFL. During an interview with the SDR Show, Jericho discussed the spot and the match as a whole. Here is the quote:
"That was one of the best things I've ever done in 30 years in the business. That was just 10 guys with different ideas, banging it out, not having to worry about so and so approved this. The only thing I had to get approved was knocking out the Jacksonville Jaguars mascot. The only reason I had to get it approved was the NFL didn't want us to do it, but Tony Khan said do it anyway…everything was kinda free form. It's just how creative do you want to be and how successful do you want to make the segment you're in."
Sure enough, Chris Jericho elbowed the hell out of that mascot. This also goes to show what the creative process behind matches like this is like in AEW.
What did you think of the Stadium Stampede? Let us know on Twitter!