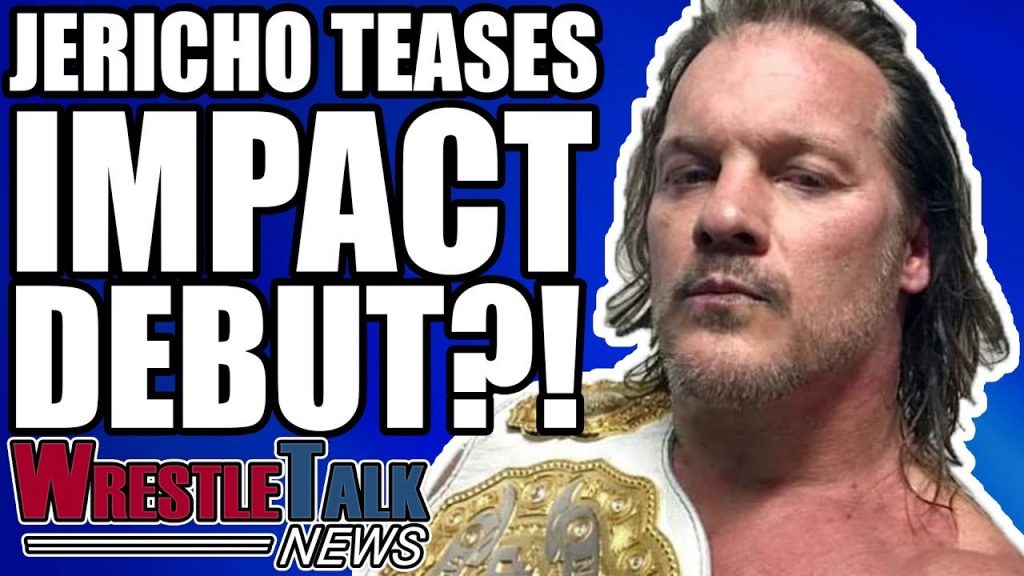 Chris Jericho's New Movie
Chris Jericho has had a pretty busy 2018 thus far. He's wrestled at New Japan's Wrestle Kingdom 12 and Dominion, appeared on Raw 25, was part of the Greatest Royal Rumble, released a new album, debuted on Being The Elite, continued his podcast empire and arranged Impact Wrestling vs. Ring of Honor for his Rock N Wrestling Rager At Sea.
As if he didn't have enough on his plate, it was revealed yesterday by filmmaker Kevin Smith that he can add actor and cameraman to his resume.
The man behind Jay and Silent Bob posted an image of he and Jericho from the set of his horror anthology movie Killroy Was Here, where Y2J plays a YouTuber called The Gator Chaser. Smith said of Jericho filming his own scene:
https://www.instagram.com/p/BmgLOfeATjd/?utm_source=ig_embed&utm_campaign=embed_loading_state_control
And if Jericho's 2018 has been busy, it looks like his 2019 is set to be even bigger.
Chris Jericho A "Free Agent In 2019?
Since he faced Kenny Omega at Wrestle Kingdom 12 earlier this year, there have been questions over Jericho's WWE status. He has said in interviews that his appearances at Raw 25 and Greatest Royal Rumble were done on handshake deals, and that he hasn't been officially contracted to WWE since WrestleMania 33.
He also said that while he didn't need sign-off, he called Vince McMahon himself to tell him about his Alpha vs. Omega match at the Tokyo Dome – which Jericho said McMahon was very happy with. However according to the Wrestling Observer Newsletter, McMahon was less than thrilled with his return to New Japan to face Tetsuya Naito at Dominion.
Which has only become more interesting when he cryptically tweeted recently:
2019 is gonna be an interesting year…. #FreeAgentJericho

— Chris Jericho (@IAmJericho) August 15, 2018
Sounds like his next acting gig. Free Agent Jericho, reporting for duty, ma'am. So where will Free Agent Jericho be going?
Chris Jericho To Impact Wrestling?
Kenny McIntosh of Inside The Ropes spoke to Jericho earlier this year about shows like All In, which Jericho said he wouldn't do because it was in North America which he views as Vince McMahon territory. Here's what he said.
This has come into question recently when there have been lots of rumours of Jericho debuting for Impact Wrestling – which is currently being co-run by his good friend Don Callis. Jericho himself has teased a move to Impact, and when a fan pointed out he wouldn't go because it was in McMahon-land, Jericho replied, "Not necessarily.."
Dave Meltzer wrote in last week's Wrestling Observer Newsletter: 
"While nobody will say anything, there is a lot of belief within the business than Jericho is destined to be [in Impact Wrestling] and the not wanting to do anything that would get Vince mad doctrine isn't nearly as strong as it was months ago."
And who was there to quickly swoop into Jericho's mentions following his "not necessarily" comments but Matt Jackson of The Young Bucks, who replied with emojis of a bag of money and a contract being signed, with Cody replying to insinuate he's been tossed the ball and he should run with it.
Or, knowing Jericho, these cryptic tweets are just there to let us know he's signed a multi-year deal with WWE and will be a surprise entrant in the Royal Rumble.
Petey Williams On Chris Jericho In Impact
Someone who also feels that Jericho in Impact Wrestling is a sure thing is former X Division Champion Petey Williams. The Canadian Destroyer was recently on Wrestling Perspective Podcast and said that he "wouldn't be shocked" if Jericho came to Impact, and added that the company could use him as a bargaining tool to get on a bigger TV station.
"When it comes to negotiations, right now if we go they were like, 'here's our stars'… [and] they'll be like, 'Ah I don't really know any of those people'. They might say, 'Ah I know a couple', whatever. You have Jericho on there, you present it to [a network] and they're like, 'Oh yeah! Chris Jericho.'"
Williams even recalls when TNA got their TV deal with Spike, Raven was their champion  – but they switched the belt to Jeff Jarrett on a house show just before their first episode because, "he was our most recognizable person for us to go onto Spike TV with."