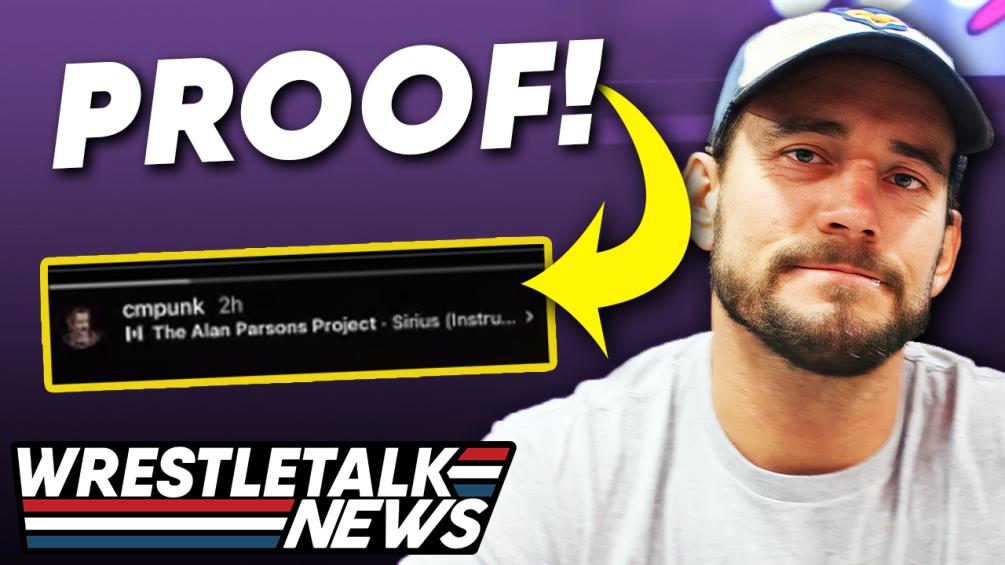 The biggest week of wrestling news continues to gather momentum as now The Rock's WWE return date has been revealed! CM Punk to AEW seems ACTUALLY confirmed, Oli will be very pleased! And even more on why Daniel Bryan signed with AEW. So give the old subscribe button a running knee and we'll chant YES for you. YES, YES, YES. Bet this is playing havoc with the mic.
The Rock WWE Return Date REVEALED
With CM Punk and Daniel Bryan reportedly on their way to AEW it's almost crazy to think that at the beginning of the week we were just chatting about John Cena and Goldberg coming back to WWE.
And that was only meant to be the start of it because we've been having the teases of Becky Lynch returning for a while, Brock Lesnar reportedly in talks and all that talk of one Great One set to electrify the fans once again.
Of all of them The Rock seemed like he would be the hardest to nail down as his acting career is chock full of the sort of caveats that keep you out of the ring – like insurance, legally binding contracts and global shoots.
But if this new report is to be believed then The Rock could be back before the year is out. 
It's been reported previously that the tentative WrestleMania plan is for Rocky to face down his cousin Roman Reigns at WrestleMania  38, and now it looks like they are giving it plenty of time to set up the match.
According to Andrew Zarian on the Mat Men Podcast the current plan for WWE is to have The People's Champ return at Survivor Series 2021.
Zarian said he had heard this from three separate sources within WWE, but had no details on whether Rock would be wrestling or simply making an appearance on the show – considering it's five months out from Mania and he's likely shooting 25 films in that time he's probably not wrestling.
Which also raises the likelihood of this build being scattergun rather than sustained, as it's unlikely they'd be able to book out Rock in the same way they have say Cena.
But if he does appear on the show, which traditionally takes place in November, that leaves lots of time for him to drop in on random Smackdown episodes to further the slow burn feud of the family.
It was also reported on the podcast that the Barclays Center in Brooklyn, New York was tentatively being thought of to host this year's Survivor Series.
CM Punk To AEW ACTUALLY Confirmed?
So this week brought with it the news that CM Punk had reportedly been in talks for an in-ring wrestling return and AEW was looking like the likely landing spot for that.
Now a new report from Ringside News is claiming that the Punk signing is "a done deal"
CM Punk to AEW confirmed. I mean I don't want to jinx it, but you also don't want to miss the moment. I feel like that guy who just wanted to start the slow clap in Not Another Teen Movie.
Ringside News has been pretty reputable of late, but this claim doesn't make clear if Punk has signed on the dotted line or just whether significant progress has been made towards an agreement.
New AEW Trademark Punk Related?
Adding fuel to this already frankly out of control hype fire though is a recent AEW trademark. Back on July 19th the company filed to trademark The First Dance for entertainment purposes.
Then yesterday Punk posted on his Instagram story a black screen with the song 'Sirius' by The Alan Parsons Project.
Eagle eared listeners recognised that this song was the theme for the Chicago Bulls basketball team, and what is the most famous bit of Bulls related media of the last year or so? That's right, Michael Jordan's mastubatory documentary The Last Dance.
Last Dance, First Dance, there's either a link here or someone is coming to AEW with a wedding gimmick.
It could also be Punk cryptically playing to the crowd and stoking the flames a bit, as he's definitely done before.
Another Sign Punk Has Signed With AEW
Dave Meltzer also waded in to fan the flames some more on the Wrestling Observer Forum noting that the way people are talking behind the scenes in AEW, if Punk hasn't officially signed a deal yet there is an understanding that he is 'with them'
He wrote: "Things going on behind the scenes as far as talks about certain dates and such make me think if this isn't signed, they have an understanding and unless [there is] a blow up, it's happening.."
Do you hear that? Somewhere in London Oli just fainted.
ROH Made Play for Punk Return
But it turns out that AEW weren't the only people reportedly making a play for Punk – there's a word for that, what is it.. Oh yeah duh.
Burt according to Fightful Select Marty Scurll back when he was Ring of Honor's head booker reached out to him about heading back there.
The talks didn't go very far but word for ROH was that story, opponents and general plan were reportedly more important to Punk than money. Vince was like "you want a plan? Then sorry we're out."
AEW Sign Top Female Star
While everyone talks about AEW getting the Best in the World and the actual best wrestler in the world… after Kenny… they've actually signed one of the best female wrestlers in the world.
AEW announced on Twitter yesterday that Thunder Rosa is now officially All Elite. Rosa has appeared on AEW TV since 2020 and had this year's standout women's match against Britt Baker, but has technically been a sort of NWA exchange student.
Rosa has been open before that he deal with the Alliance ends at the end of this year and I think we can all agree that barely any bones were made about the fact that she would likely end up full-time at AEW in 2022, but this signing comes sooner than most were expecting.
According to Fightful Select, AEW bought out Rosa's contract from NWA meaning she could be brought to AEW far sooner.
The report also states that Tony Khan is being careful not to tamper with contracts and often works very directly with Billy Corgan on their collaborations.
Why Daniel Bryan Signed With AEW
Also one hundo P signed with AEW according to reports is Daniel Bryan. Which is just CRAZY.
On Wrestling Observer Radio Dave Melzter dived into the news revealing the key reason that Bryan, which I'm using as his first name at this point in time, chose AEDUB.
Meltz said the decision came down to which company would allow to wrestle with New Japan while signed, before his WWE departure Bryan, surname this time, made it quite clear that his desire was to go out and wrestler for promotions around the world. A sort of wrestling rumspringa.
After Bryan's departure it was revealed that WWE President Nick Khan had entered talks with NJPW to become their exclusive US partner, a move partly undertaken so D Bry could wrestle some dates with the promotion.
And from some reports it feels like it was known internally at WWE that Bryan couldn't be coaxed back.
WrestleVotes on Twitter said that:
"Regarding the Daniel Bryan rumor since I've got a TON of questions on it: I don't have many direct AEW contacts, however, I did ask my WWE contacts when's the last time Bryan's name has been brought up within creative or even talked about? "Months" was the answer. So that's that."
Real Reason Bray Wyatt Off WWE
Someone I'm sure needs no coaxing back is Bray Wyatt who has been awol since just after WrestleMania this year.
Reports have surfaced a few times speculating what the issues could be with PWInsider's sources stating that Wyatt is not out because of a creative issue or Vince wanting to save his return for live events.
Instead Ringside News say their sources have told them that Bray is out over a medical issue, but as he has been advertised for a show on August 9th it looks like his return is imminent and he could even be squeezed onto the old SummerSlam card if he comes back then.
WWE Planning Queen of the Ring Tournament
Also potentially making a comeback with a twist is the King of the Ring Tournament.
According to Wrestling Inc, who haven't been exactly firing on all cylinders recently so a pinch of salt is required, WWE are reportedly planning to hold a Queen of the Ring tournie at some point this year.
The report states that the show will be a main roster event hosted on peacock, rather than Raw or Smackdown. WWE has only held five King of the Ring tournaments since 2002 when the titular pay-per-view was dropped.
The last all-women's event WWE hosted was Evolution back in 2018, there has been significant demand for a follow up show from a sector of the fanbase and especially from a lot of the female talent within WWE, but the company has so far seemed reluctant to hold one – according to Meltzer the internal thinking being that "why add that pay-per-view when it wasn't a big hit?"
If someone wins QOTR are they going to be known as Queen Whatever for until the next tournament? Which if it's for the women will never happen, but what will Charlotte think about that gimmick infringement? 
To make sure you stay updated with all the latest wrestling news, add WrestleTalk.com to your Google Discover feed and follow us on Twitter!