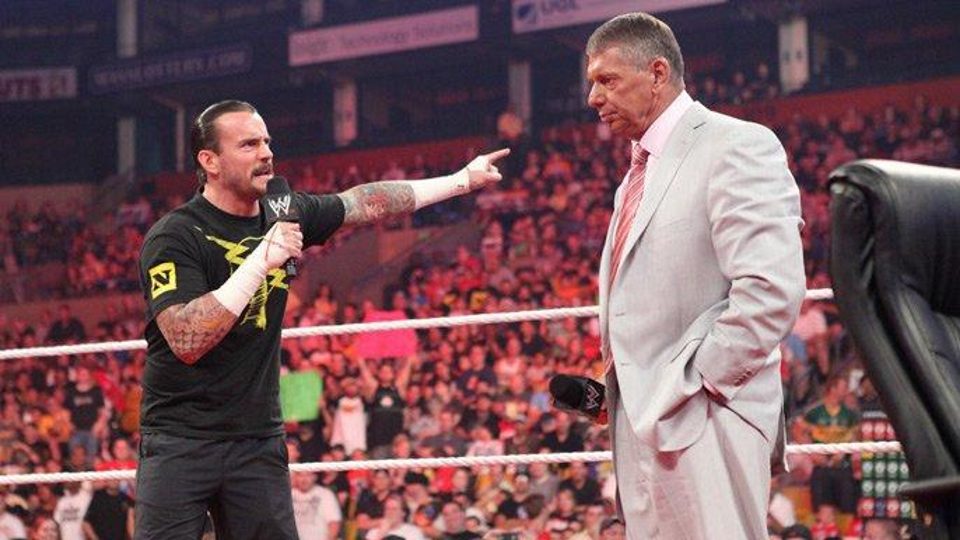 Have you ever been at work and your boss starts yelling at you and you wish you could just hit the mute button until he stops?
I'm sure you answered yes, but I'm less sure that you had a headset and were therefore able to do just that.
It is well-known that WWE commentary is largely regurgitating what Vince McMahon says in your ear, unless you're Michael Cole because you're basically a robot by this point.
CM Punk appeared on the latest episode of Renee Young's excellent new Oral Sessions podcast, and he spoke about a time when he was forced to mute his headphones so that Vince would stop yelling in his ear.
"I remember the first night on commentary, Vince started yelling in my headset.  I elbowed Lawler.  I wrote a note to him asking which one is the volume bottom.  He pointed to it and I turned it all the way down.  When we took the headsets off after the show, I asked him, 'Did you not know you can do that?'  He said, 'We are going to get yelled at.'  Vince never said a word to me."
The Vince yelling has been spoken about by many former commentators, including Young herself, who has admitted in the past that she felt out of her depth at the commentary table.
Thankfully, she's a brilliant interviewer and you should definitely check out the new podcast here.
What are your thoughts on the above story? Let us know in the comments on Twitter or Facebook.