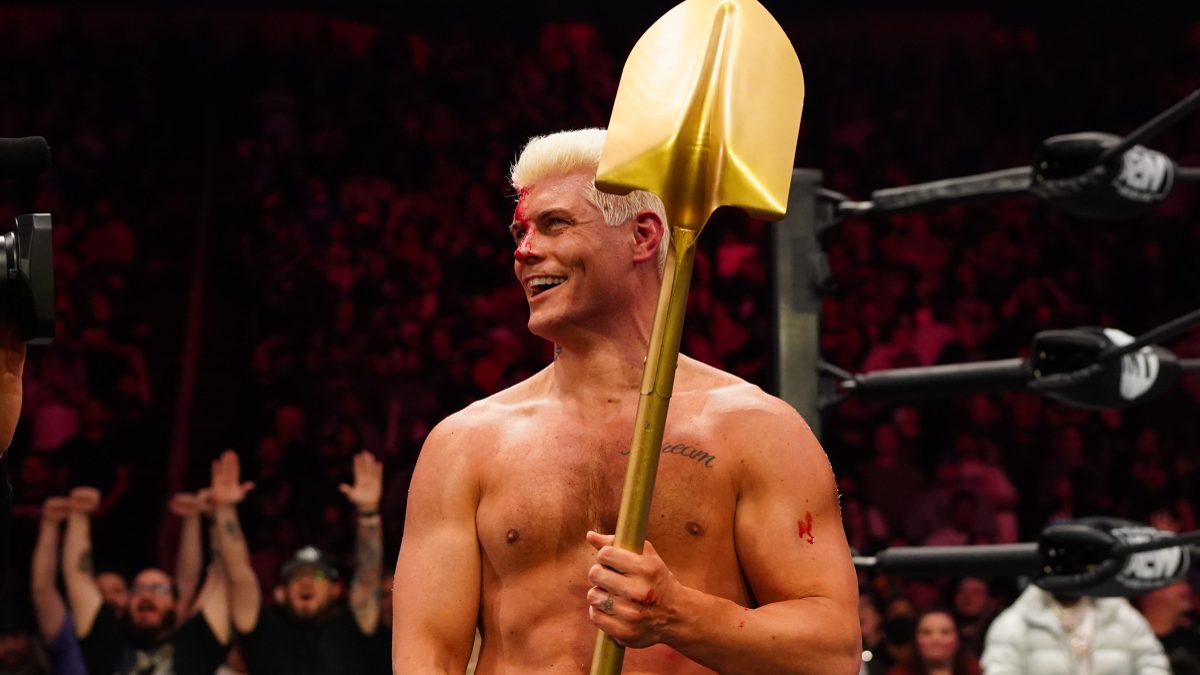 The Cody Rhodes vs the world saga continues, another WWE star has requested his release, more potential Royal Rumble spoilers, and more.
It's Wednesday morning, which thankfully means it's nearly the second half of the week, and it's time to get caught up on the latest wrestling news. I'm Liam Winnard for WrestleTalk.com, and this is our audio news bulletin for January 26, 2022.
Listen to this morning's round-up here:
Cody Rhodes AEW Backstage Heat
One of the most compelling stories in recent months has been that of AEW Executive Vice President and current TNT Champion Cody Rhodes, who, as of last word, had been working without an AEW contract since the end of last year.
During 2021, there was quite a lot of talk about possible backstage heat involving Rhodes stemming from his tendency to get involved in outside projects rather than always being around at AEW as a consistent full-time wrestler.
Well, it sounds like that may not have died down. Rhodes returned to TV last week, and before setting up his match for tonight's show, performed quite the monologue about how he helped build AEW and won't turn heel because the fans were cheering him when he was in the process of doing just that.
However, the fans apparently aren't the only people that Cody has rubbed the wrong way, and the supposed backstage heat hasn't died down.
On the latest Jim Cornette Experience podcast, wrestling historian Brian Last said:
"I heard from people in the company that said, 'What did you think of that f**king promo?'. And I said, 'Oh I thought it was hysterical, he's the funniest guy in the world!'. And their reaction was quite opposite. It was, 'God we're sick of this guy. He's out of his mind'."

If you use this transcription or any portion of it please credit WrestleTalk.com and link to this page
While that might sound like a broad claim, it isn't difficult to believe there are at least some people in AEW who aren't particularly high on Rhodes right now, especially after all the rumors from last year.
Rhodes will be in action on tonight's Dynamite, defending the TNT Championship in a ladder match against Sammy Guevara.
Brian Kendrick Requests WWE Release
It's been well-documented that Mustafa Ali requested his WWE release a couple of weeks ago and the company doesn't plan on letting him leave, but it's now been reported that he's not the only name that wants out of the company.
According to PWInsider, Brian Kendrick requested his release recently, and has been waiting to be let go for "at least six weeks".
Kendrick had been working as a producer in NXT, but hasn't been at any tapings "for some time".
He actually appeared on NXT 2.0 TV on December 14 to set up a match against Harland for December 28, but that match never took place and Harland beat Andre Chase instead.
Kendrick's last match was way back in October 2020 before he transitioned into the backstage producer role.
More Royal Rumble Entrant Spoilers?
Some more possible Royal Rumble entrant spoilers have emerged – I don't really know why you're listening to this if you're trying to avoid such things, but this is your warning to leave now if you don't want to know them.
As we covered yesterday, WWE has discussed plans for Ronda Rousey potentially entering the Rumble match or at least being on the show to kickstart something for WrestleMania.
In an update on that, PWInsider has provided more details. Sources who were aware of plans for the Rumble said that the ball is very much in Rousey's court at this point as to whether she wants to pull the trigger on making her return, because WWE obviously does want it to happen.
At least one WWE official flew out to California to meet with Rousey last week, and her makeup artist is scheduled to be at the Rumble and next week's Raw.
Becky Lynch reacted to all the talk of Rousey possibly returning by tweeting: "Was wondering if you'd show up again. I've still got her and she's doing great", referencing the Raw Women's Championship.
In other surprise return entrant news, Fightful Select is reporting that there are several talents in WWE who are of the belief that Asuka is set for a comeback this coming Saturday.
Fightful hasn't confirmed that to be set in stone, but was able to confirm that the idea of her being an entrant in the match has at least been discussed.
Asuka has been out of action since last July due to an arm injury.
In a couple of other loose updates, PWInsider reported that King Woods is set to be back on the road as of this coming Friday's episode of SmackDown, which in theory could mean he could be at the Rumble. However, it's unknown whether he's actually been cleared to wrestle after injuring his Plantaris Muscle a couple of weeks ago, or whether he's just back to make appearances.
Also, Dave Meltzer said on Wrestling Observer Radio that there are several NXT talents scheduled to be at the Rumble, although some of them may only be there as alternates in case someone needs to pull out, rather than confirmed entrants.
Other Stuff
In other little bits of news…
Meltzer said that WWE management is currently "very high" on Shawn Michaels and the job he's been doing with running NXT 2.0.
He also mentioned that there's been quite a lot of talk about NXT returning to doing house shows, and also having more veterans on the brand to help the younger talent gain experience. Maybe it would have helped if they hadn't released all the veterans they had, but anyway.
According to WrestleVotes, Johnny Knoxville's Royal Rumble appearance is only going to be a one-off, but WWE is working on another celebrity appearance for WrestleMania.
PWInsider reported that the current plan is for NXT Stand & Deliver to take place on the same day as night one of WrestleMania 38, just earlier in the day.
In regards to the Hall of Fame ceremony, the plan is for that to air on the WWE Network on April 1, which is the Friday before WrestleMania weekend, and the idea is for it to air after SmackDown. It's currently unknown whether the ceremony will be live or pre-taped.
LA Knight and Roderick Strong are scheduled for this Friday's SmackDown again having been at last week's as well as this past Monday's Raw, but this Friday, Io Shirai and Dakota Kai are set to join them according to PWInsider.
It was said on the latest Fightful Select Q&A that people in WWE believe Rok-C is on her way to the company after she attended tryouts in December, but it was pointed out that AEW was interested in her too.
Nick Khan told Sports Business Journal that WWE isn't actively looking to sell and isn't in any ongoing conversations currently, but has had calls from companies looking to buy it.
On last night's NXT 2.0, we learned that the former Saurav (Gurjar) of Indus-Sher is now named Sanga, S-A-N-G-A, after being repackaged as Grayson Waller's bodyguard.
And set for tonight's episode of AEW Dynamite – which is being advertised as the Beach Break special – is the aforementioned Cody Rhodes vs Sammy Guevara TNT Championship ladder match, Chris Jericho, Santana & Ortiz vs Daniel Garcia & 2point0, Red Velvet vs Leyla Hirsch, and Orange Cassidy vs Adam Cole in a lights out match.
Be sure to stay tuned to WrestleTalk.com throughout the day to keep up with all the news from the world of pro-wrestling, and I'll see you tomorrow morning for another round-up.