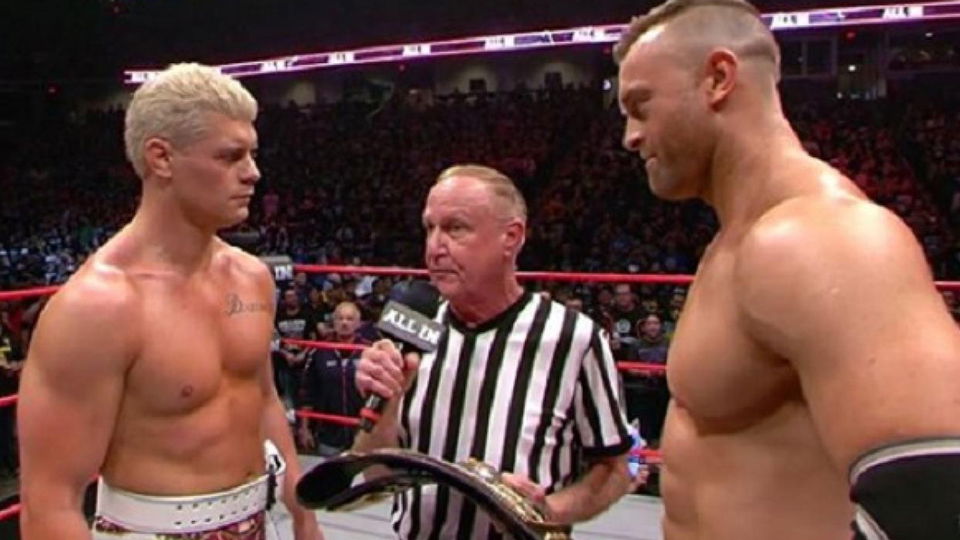 The most emotional match from All In was unquestionably Cody Rhodes vs. Nick Aldis. Their match for the NWA Worlds Heavyweight Championship was great as was Rhodes' celebration.  Now, Rhodes has commented on the possibility of a third match between the two.
Rhodes spoke on the AEW media call today where he said he thinks it is best to leave things at two matches. However, he also said to never say never. Here is the quote, courtesy of Fightful:
"The doors are open. The bridges are down. One thing I'm pretty sure, I don't think we'll ever do a cross-promoted show where we're running two different banners. We're very proud of our own identity. It doesn't mean we won't cross over or they won't cross over. I will say, the more that Billy and Tony talk and the more you see that NWA presence, I've often brought it up, 'Well, the lingering question is going to be when, how, where' with a Nick Aldis vs. Cody 3. If anyone knows anything about how the second match went down and if anybody knows anything about the general nature or atmosphere of that, it's probably best if we leave it at two [matches]. We had a great experience.

One of my favorite memories of my life was the opening, 30 seconds, first minute of All In and sharing that moment with Nick. Nothing but respect and love for Nick. I would bet you though, it would be very difficult for that third match to happen. The parties involved are very particular about the other party involved. It's not impossible. We did it once before and it was a beautiful piece of business. I'm glad they were able to take that moment at All In and parlay it into more success for themselves. That's the beauty of wrestling. We're all lifting one another up or at least that's the point. But I don't know if you'll ever see that third match. If it happens, I would be quite blown away if it happens. But never say never."
The first match the two had was at the aforementioned All In event. Cody Rhodes got the win at the show, picking up the NWA title in the process. Less than two months later, Aldis recaptured the title at the NWA 70th Anniversary event.
What are your thoughts on the above story? Let us know in the comments on Twitter or Facebook.