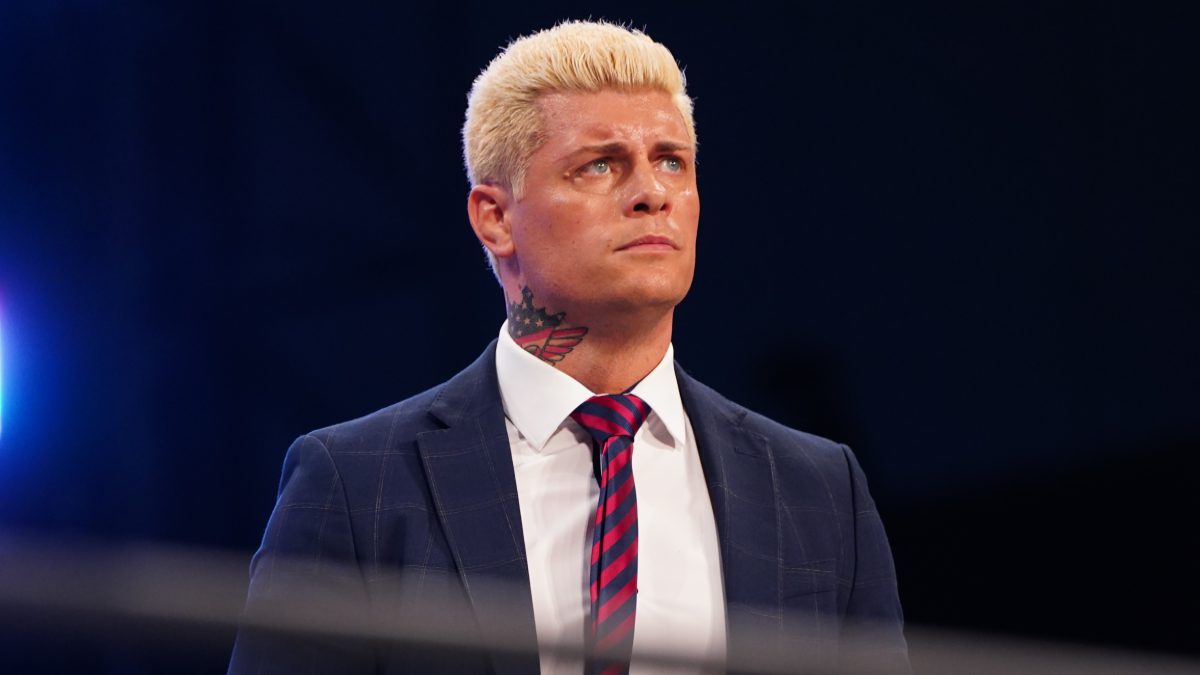 Cody Rhodes is a free agent, details on AEW's backstage reaction to that news, scrapped big plans for Mustafa Ali, and more.
It's Tuesday morning, and it's time to get caught up on all the latest wrestling news. I'm Liam Winnard for WrestleTalk.com, and this is our audio news bulletin for January 18, 2022.
Listen to this morning's round-up here:
Cody Rhodes Free Agent
In news broken by Fightful Select yesterday, AEW's TNT Champion Cody Rhodes is currently working without a contract.
His deal was said to have expired at the end of 2021, and ever since then, he's been working without one.
The report states that some sources had known this for a number of weeks. Fightful also said that some of the other AEW contract lengths that had originally been reported are actually different from those original reports, but there are no specific details as of yet.
Rhodes has yet to wrestle a match for AEW in 2022, but was scheduled to at Battle of the Belts on January 8 before he had to pull out due to a COVID-19 situation in his family.
Some people have questioned the status of Rhodes' title as an AEW Executive Vice President, and while there are no firm details on that yet, AEW's website does still have him listed as such.
AEW Backstage Reaction To Cody Rhodes News
Dave Meltzer provided some interesting insight on the Wrestling Observer message board about how people in AEW have taken the news getting out.
Meltzer wrote:
Okay, this is the situation

Almost everyone is avoiding me today there, so either it's true and they are all mad it's out or it's a work and they don't want to lie to me.

One person near the top told me they thought it was a publicity stunt but stressed they didn't know for sure. But one would think if it was a big story internally they would know. But that's the only person who would even talk to me today.

Remember as far as technical goes. If there was a new contract offered starting this year, Cody has not been there. If they expected to ratify it on 1/5, he was to be there, came to Newark, got the call and flew home before going to the building and hasn't been back. I know the health reason within his family was legit. So Sapp's story could be correct, I'm guessing it is, but that's the situation.

If he's not there Wednesday it's a story.
As of now Cody Rhodes is still being advertised for tomorrow night's episode of AEW Dynamite, and the idea certainly seems to be to build to the match between he and Sammy Guevara that was originally planned for Battle of the Belts.
Scrapped Mustafa Ali Plans
As we covered yesterday, Mustafa Ali requested his WWE release over the weekend after getting into a "heated argument" with Vince McMahon a few weeks ago.
There's no direct update on that release request as of yet, but Kofi Kingston has revealed some interesting news on scrapped plans for Ali.
In an interview with Metro, Kingston explained how he and Ali were on course for a match at WrestleMania 37 last year, but management decided not to go in that direction.
Instead, Kingston and Xavier Woods lost the Raw Tag Team Title to AJ Styles and Omos, while Ali wasn't on the show at all.
It would have been an interesting full-circle type scenario considering how it seemed like Ali was on course to challenge for the WWE Championship at WrestleMania 35 in 2019, but that spot ended up being occupied by Kofi Kingston himself due to Ali's injury, and KofiMania was born.
Other Stuff
In other little bits of news…
In the same Toronto Star article that contained WWE's controversial statement about the AEW women's street fight, Eric Bischoff criticised Tony Khan for not having the balls to run a show directly head-to-head with WWE. Khan called Bischoff's comments "irresponsible" because the TV network decides when the shows air, not Khan himself.
WWE officially announced the Elimination Chamber would be taking place in Saudi Arabia on February 19 as had been reported previously.
AEW's Peter Avalon is now opting to take indie bookings, but Leva Bates has stated that he is still with the promotion.
Pete Dunne and Tommaso Ciampa worked the pre-Raw Main Event tapings for a second straight week. This time they flipped opponents, meaning Ciampa beat Akira Tozawa, and Dunne beat T-BAR.
Eddie Kingston is currently out of action with a fractured orbital bone according to Dave Meltzer, and is hoping to be back in about three weeks. The injury puts Kingston out of the upcoming GCW pay-per-view.
Be sure to stay tuned to WrestleTalk.com throughout the day to keep up with all the news from the world of pro-wrestling, and I'll see you tomorrow morning for another round-up.