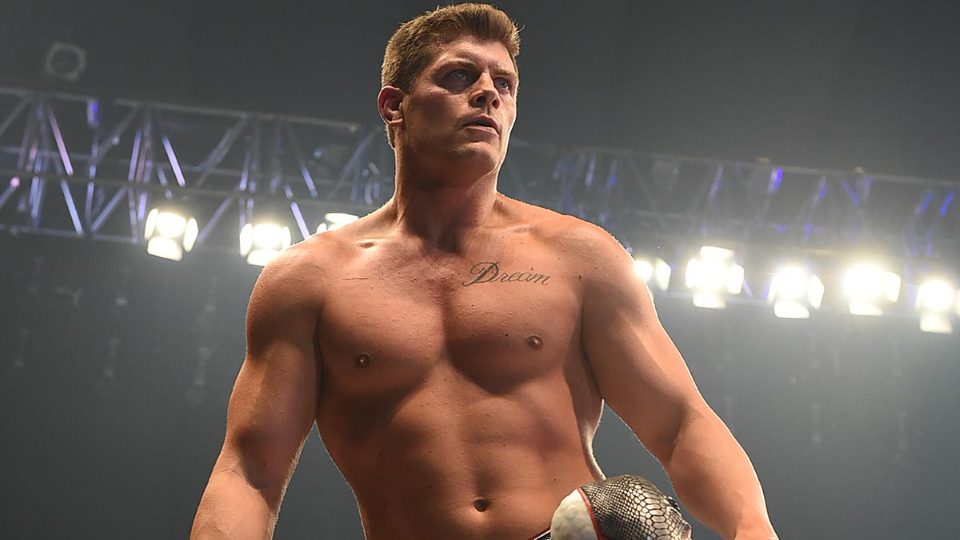 Cody Rhodes was a guest on the Joe Cronin show.  Cody addressed the AEW chants during the Hell in a Cell match between Seth Rollins and The Fiend.
Fans chanted refund, bulls**t, and AEW during the end of the Hell in a Cell match that appears to have ended in a no contest or DQ.  At least we've moved on from CM Punk.  (CM Punk return confirmed.)
"I wasn't watching the pay-per-view, but when those come up, your phone starts blowing up and your social starts blowing up."
At least Cody was spared from watching the debacle Sunday night.
"Whenever the crowd chants something,…, it means they want to be rewarded with something.  That's just kind of when you're in the ring wrestling 101 and we know we want to reward them."
Rewarding what the fans want.  Strange concept.
Obviously, you can't give the fans what they want all the time.  At some points in wrestling, you have to create a scenario to allow the fans to want something.  You know build anticipation.
In WWE, fans were eagerly anticipating a Fiend win on Sunday.  Apparently, Vince has forgotten the basics of wrestling 101.  Instead he just gives himself what he wants.
"It was flattering.  I wouldn't be one to gloat about it only because I know that one of the guys in that match got concussed and this job ain't that easy…whenever we hear those chants, it's more validation that what we're doing and what we've been saying about this market existing, it's real."
Again, we're one week into AEW's television show.  We've seen 4 pay-per-view events and a bunch of stuff on YouTube.
The 0ne week of television was far from perfect.  However, there were signs pointing to AEW having the view of pleasing its fans.  
Riho winning the Women's Title is a great example.  AEW had the chance to make a political, social statement by putting the title on Nyla Rose.  However, they went the route of giving the title to the crowd's choice.
We'll have to see how AEW continues to take advantage of the lapsed and frustrated WWE fans.