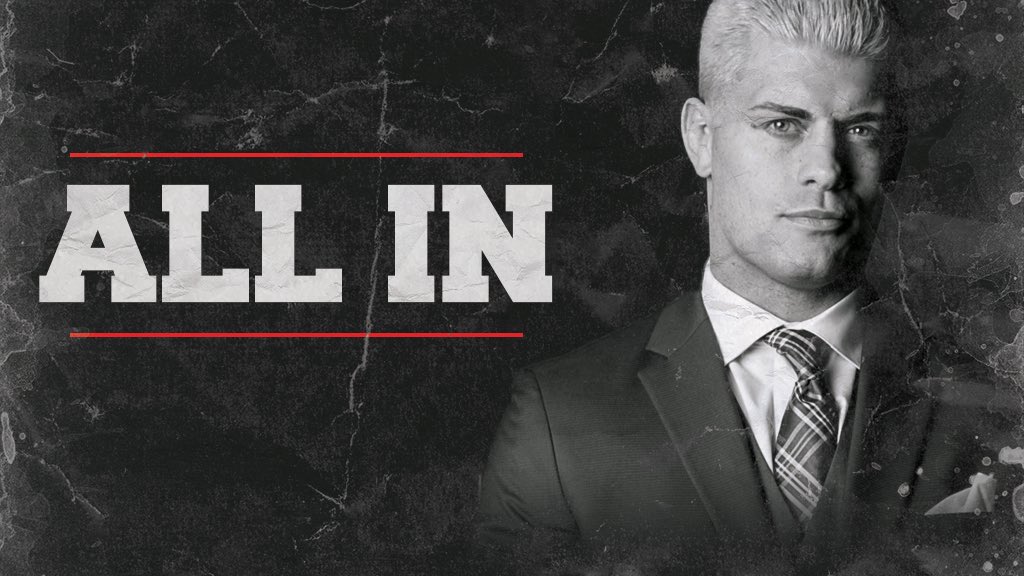 Cody Rhodes recently had a sit-down interview with Ray Beasock of TheLedger.com. During the interview, many topics were touched upon from the late great Dusty Rhodes, the "Golden Age of Wrestling", ROH's next big show Bound By Honor: ROH Champions vs. Bullet Club, and even the self-promoted show, along with The Young Bucks (Matt and Nick Jackson), All In.
This is currently one of the most exciting times to be a fan of wrestling. With the reach that social media has. All wrestling promotions, no matter how big or small will be seen by any number of people. That also means that you don't have to be in a top promotion to be a household name anymore.
 "I think it's the best time to be a wrestling fan since maybe 1998. It's absolutely the best time since then. It's the most challenging time to be a wrestler in a very long time. I've been telling people, perception is no longer reality with what we do. Reality is reality. In 1980 you could say you were the best in the world. Then you had another guy saying it two states over. Now you can't do that. You've got to be brought to the level of the highest performing wrestler."
Cody also talked about All In, a self-promoted event funded by The Young Bucks and himself, taking place on Sept. 1, 2018, in Chicago.
"It's really, really exciting. Everyday it's something new. I have no complaints about the experience. It's going to be arduous, because we [Cody, Matt and Nick] have different ideas about what we like. We try to have a three-thumbs up vote for something to be on the show. I try to channel my inner Eddie Graham, and my inner Dusty Rhodes to see how can I make this two or three hours the most exciting wrestling I can give to these people."
But before Cody and the gang go all in, they have an ROH event in Lakeland, FL this weekend, which Cody says:
"Obviously Florida means more to me than so much more… I'm billed from Marietta, but the thing about that is I'll never feel like I have a hometown show. Some of the closest I get to hometowns is places like Lakeland because of the history. Had Eddie Graham not given birth to the American Dream there then nothing happens. He doesn't battle with Terry Funk, spearhead pay-per-views, nothing happens without Florida. They get my best and then some."
What are YOUR thoughts about this "Golden Age of Wrestling"? Are you #ALLIN? Let us know down in the comments below or on Twitter here.