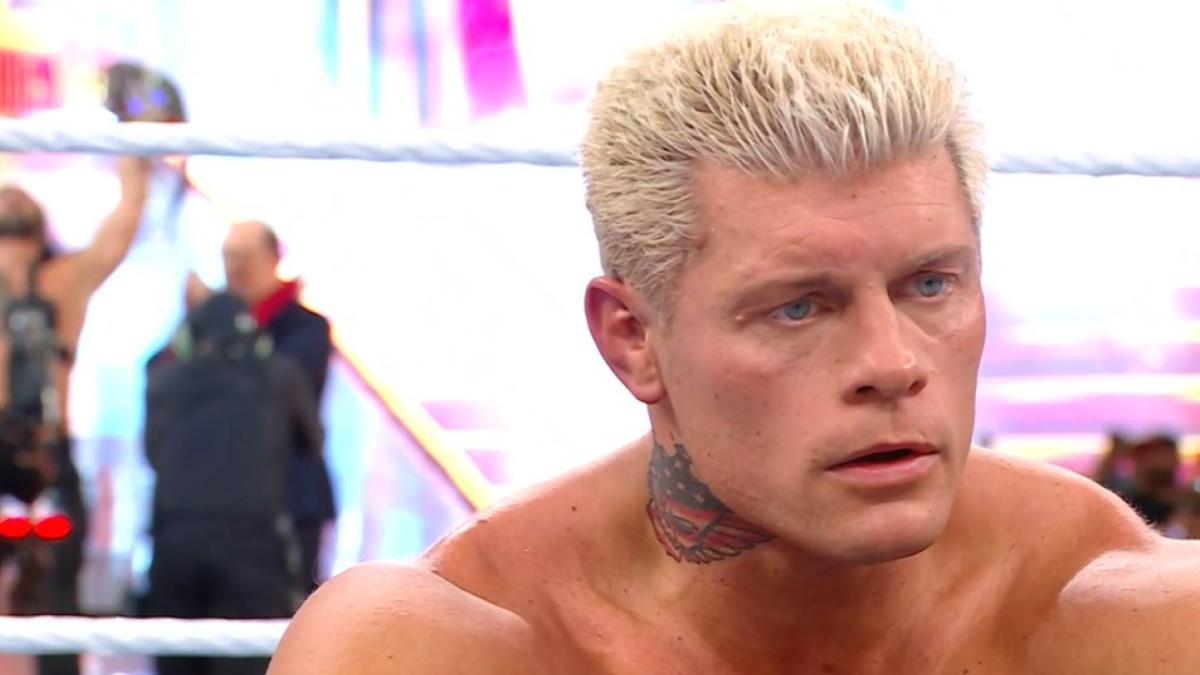 Cody Rhodes has shared his honest thoughts on his match against Roman Reigns at WrestleMania 39, explaining why he hasn't watched the match back.
With Rhodes winning the Royal Rumble, many expected the American Nightmare to finish the story and defeat Reigns for the WWE Undisputed Universal Title on April 2.
This didn't happen however, with the Tribal Chief retaining his title in a decision which split the WWE fanbase.
Speaking on My Mom's Basement, Rhodes admitted that he hasn't rewatched this match.
Explaining that he doesn't tend to watch his matches back, Rhodes explained:
"If someone asked me specifically to watch it back, I will. I'll watch it back. Or if I blew something. Like if I knew something stunk. Yeah. Then I'll watch it back to see what you were thinking.
"What were you doing? What happened here? But if it's if you're feeling it, whether it's you're under or you're over, if you're feeling it in that moment of something I learned from Shawn Michaels, you really don't need to watch it back.
"You don't really need to. It was magic. Yeah, And it's the same when guys come back. How was it? How was it? Usually, if it was for me, I describe everything in baseball terms. That was a double. That was a triple.
"But when it's a home run like we don't need, there's no conversation. We need to have like that was a home run. That's a that's how I look at everything.
"And for Mania, I didn't want to watch it back, not because of how it ended, but also because my family was in the front row and I don't know if I can take looking at their faces.
"They were filming them as much as they were filming me. I don't know if I want to see my mom go through that, especially with how excited she was to be there. But yeah, I haven't watched it back."
Sharing his thoughts on the match four months on, Rhodes recalled:
"I'm in the ring, and they've left Romans up the ramp. I hear the pyro. It's the shot you've seen. But in my mind, I didn't know how close he was. And I was just sitting there with my hands draped across my knees.
"And you can see me telling myself I verbally told myself to get up. And the only thing I learned from being a WrestleMania main event and I know everybody was like, Oh my gosh, the WrestleMania main event, hardest match to get into.
"Oh, your dad never did that. All that stuff. The only thing I learned was, Well, you gotta get back. Yeah, I got to get back and. And I got to win. I can't. I can't call it. I got to win.
"And that was…I mentioned that to Sam, but bittersweet. I mean, more bitter than anything. The only thing I was trying to do was look at as many fans as I could and let them know, going to be okay. Yeah.
"You had a great time, right, guys? This didn't end the way we thought, but you had a good time, and it did. It was a very tense, awkward, cold feeling at WrestleMania 39. So it opens up opportunities for WrestleMania 40, perhaps to be a different feeling."
Reigns most recently defended his gold against Jey Uso at SummerSlam, defeating his cousin following interference from Jimmy Uso.
For an update on WWE plans for a Jimmy vs Jey Uso match, click here.
Transcription via WrestlingNews.co. 
Think you know the most about wrestling? Join our Wrestle League predictions competition for free, and be in with the chance of winning $250 of Amazon vouchers. Make sure you subscribe to email notifications to make sure you never miss a show.