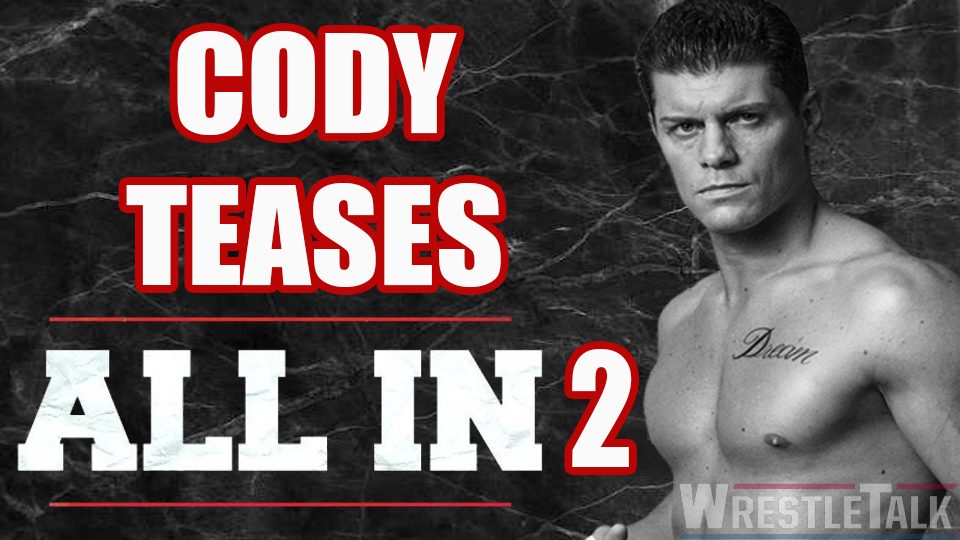 Following on from last night's smash hit, All In, new NWA Worlds Heavyweight Champion Cody took to the microphone after the event had gone off air to tease a sequel.
Standing in the ring with the Young Bucks, who co-produced the event, Cody listened to Matt Jackson ask the audience if they wanted more. Cody took the microphone amidst "All In" chants and stated:
"I know when you make a bet, sometimes you go double or nothing."
Cody Rhodes with the All In 2 "Double or Nothing" tease #AllIn pic.twitter.com/zAgd91UwOz

— Justin Barrasso (@JustinBarrasso) September 2, 2018
Cody handed the microphone back to Matt Jackson who as good as confirmed a follow-up was in the works for 2019:
"We have no graphic, we're not making any announcements. Just something we're brainstorm, just spit-balling. But if you guys want it, you want more pro wrestling from the cast of Being the Elite. Then my family, my great friends, my cast of bandits, we will give you more of this because we couldn't of done this without you."
It would seem that last night wasn't just a one-off. There are plans in place for a second helping and everyone is All In to make this an annual happening.
WrestleTalk would like to hear your views on All In, Cody's championship victory, and the idea of another show. You can contact us on Twitter and Discord today.