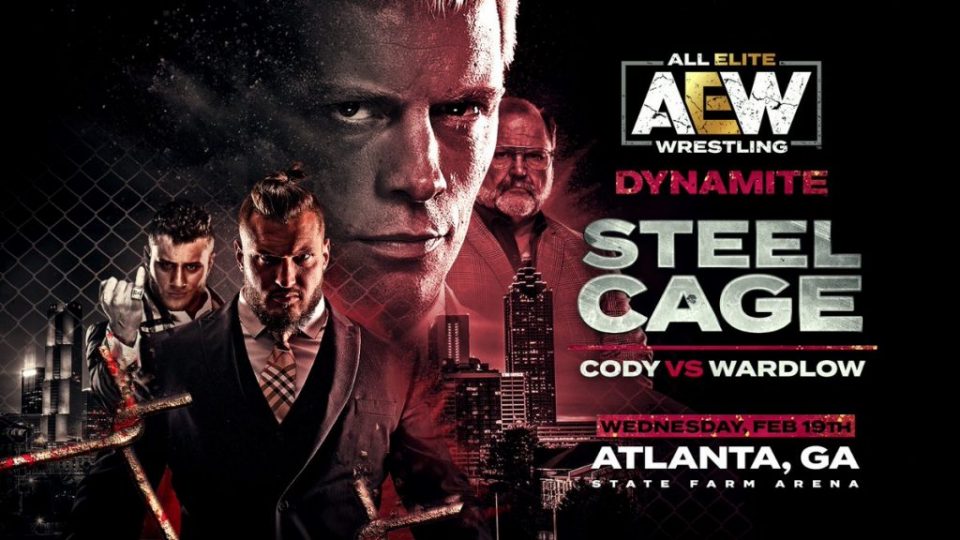 Two weeks ago on AEW: Dynamite, MJF laid out his stipulations for accepting a match with Cody. Tonight [January 15, 2020], Cody accepted those stipulations.
One of those stipulations was facing off against Wardlow in a Steel Cage Match. Cody said during his promo that he had the perfect place to have the fight.
It was later announced the Steel Cage match would take place in Atlanta on February 19, 2020.  They are trying to announce big matches for shows right before tickets go on sale.
#AEWDynamite Wed, Feb 19th @StateFarmArena @CodyRhodes vs @RealWardlow inside a Steel Cage
Get your tickets now – https://t.co/UN1cNiJJrQ pic.twitter.com/rDUyn8EDdb

— All Elite Wrestling (@AEW) January 16, 2020
He went on to talk about how he wouldn't touch MJF until AEW Revolution. I'm guessing will get some annoying heel segments with MJF taunting Cody trying to instigate some trouble. By annoying, I mean MJF annoying Cody not annoying to the audience.
Cody also accepted the 10 lashes stipulation. During the promo, Cody promised to give MJF a scar of his own.
It will be interesting to see which direction AEW goes here. Cody and The Elite have been accused of being to giving with big angles.
#https://www.youtube.com/embed/videoseries?list=PL3V-cB-kGk916fId_K4DRY-Tej2hEtR33
Will Cody get the win? This would set up a pathway for MJF trying to get revenge on one of the most over babyfaces on the roster.
The other option would be to put over MJF through underhanded tactics. If he cheats to win, Cody doesn't lose much and MJF gains a ton.
Which one has more return on investment? Either option seems like a positive direction for the feud to move in.