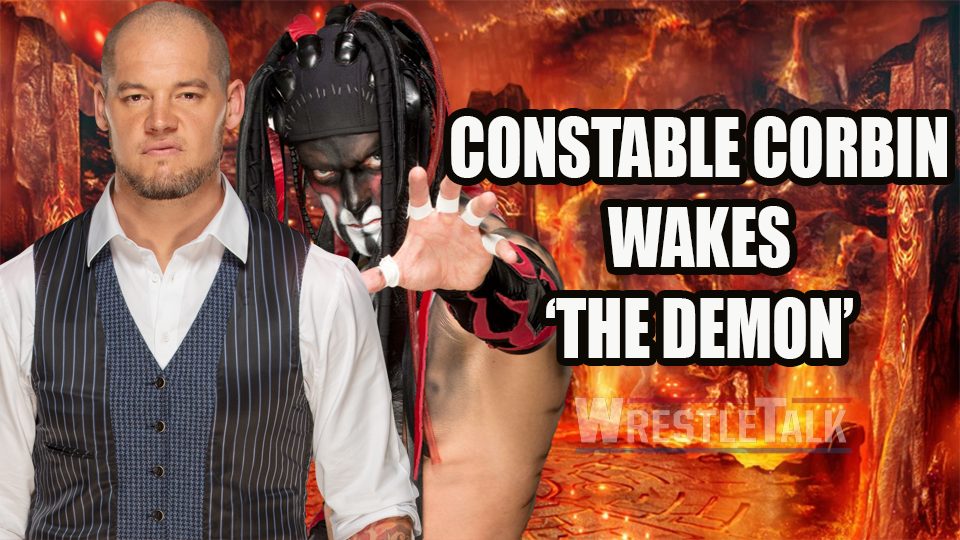 Baron, or should that be Constable Corbin, has taken the war of words he had with Finn Balor on Raw – and the exchanges they've had for weeks – one step further this week and straight into the famous modern day gladiatorial arena we know as Twitter.
I gave you the opportunity to apologize. And you proved everything I knew about you.
You're a coward.
You're a cheat.
You're a problem.
I'll make sure we fix that.@FinnBalor #Raw

— mayor of jackpot city (@BaronCorbinWWE) July 3, 2018
Seemingly taking their cue from Braun Strowman and Mustafa Ali who had their own verbal joust on the social media platform, Monday Night Raw's new authority figure took to his keyboard to call out 'The Demon' and set-up what will undoubtedly lead to a full-on physical feud over the coming months.
Finn Balor, however, wasn't going to shy away from such a fight and hit back, quite hilariously, with his own set of put downs and on and on it went.
You sound like that Meredith Brooks song….
you know the one I'm taking about ??
'B*tch' https://t.co/SiHXjnY888

— Finn Bálor (@FinnBalor) July 3, 2018
Big words from a small man. Just remember that you and your "club" are on MY show now. Remember who you're talking to tough guy. #TheLaw https://t.co/VSWj07Uzpj

— mayor of jackpot city (@BaronCorbinWWE) July 4, 2018
I know exactly who I'm taking to…
a guy that was getting release from football teams while I was winning WRESTLING tournaments in Japan #BOSJ https://t.co/7Ebcxs8azo

— Finn Bálor (@FinnBalor) July 4, 2018
That's as impressive to me as winning an over 40 church basketball league mvp award. It took you 10 years to get to the WWE, me I made a phone call. When i am done with you 205 will be waiting. You will fit in much better. https://t.co/j3RUvlm4mM

— mayor of jackpot city (@BaronCorbinWWE) July 4, 2018
It didn't take '10 years to get to WWE'
I was forging my own path on a 16 year journey learning from the best.
You said you made 1 phone call?
I didn't make any.. they called me! https://t.co/0mDYPlNajl

— Finn Bálor (@FinnBalor) July 4, 2018
Sadly, it seems Corbin is better on the computer than the mic and at some point in future we're clearly destined for a brand new pay-per-view labeled 'WWE Twitter War', which will undoubtedly be a special on the network. Putting that aside, this has been an enjoyable spat on the PC screen with some amusing jabs from both parties. One hopes they can take this type of charisma into Monday nights and between the ropes when the inevitable match rolls around.
What do you think about wrestlers going head-to-head on social media? Would you prefer they didn't stick to kayfabe and were themselves? And what are your thoughts on a Finn Balor move to 205 Live if it ever happened? Let us know on Twitter and Discord, where you can chat with all your favorite writers.