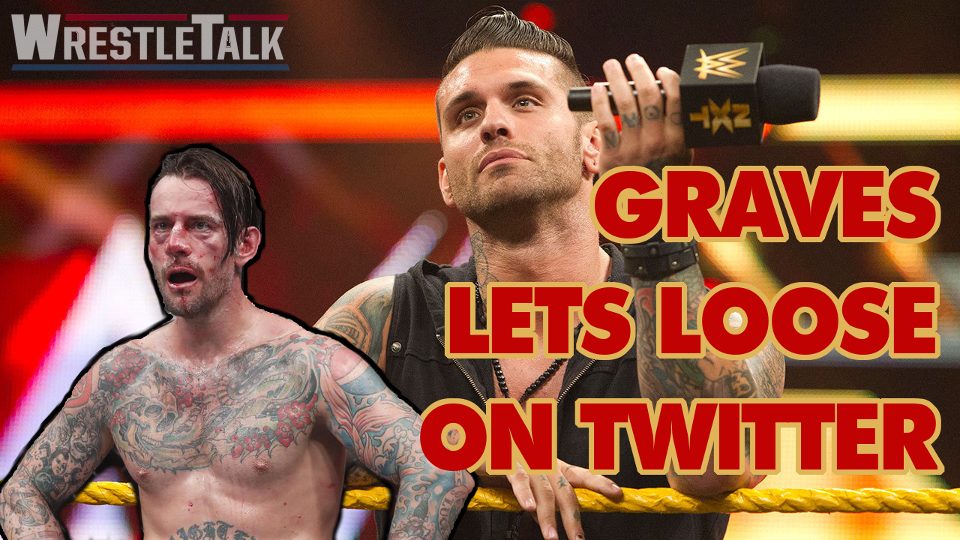 Corey Graves seems to be at it again, stirring up more controversy on social media.
This time his anguish seems to be directed towards his longtime friend CM Punk.
Last night, Punk ate his second loss at UFC 225 to Mike Jackson and while many took to social media to congratulate him on an outstanding effort in the octagon, Graves did not.
Instead, the Raw and SmackDown Live color commentator barraged twitter with a handful of seemingly cryptic tweets which was later revealed to be aimed towards CM Punk.
Maybe abandoning everybody who stood by your side, even when we weren't supposed to, only to have you turn your back on us wasn't the right move after all? No anger. Only sadness.

— Corey Graves (@WWEGraves) June 10, 2018
Awww. Seems the "fans" are disappointed. Maybe you guys should know that "That Dude" held my first son before I did because I was on tour and I trusted him.

I had dinner with him the week after he quit.

— Corey Graves (@WWEGraves) June 10, 2018
The first rule of "punk rock" is loyalty, and this guy betrayed it all.

I still love you, "friend" and I'm sorry you got lost.

— Corey Graves (@WWEGraves) June 10, 2018
Don't worry, hey @VinceMcMahon this has nothing to do with you.

You either @TripleH

This isn't corporate. This is real life.

Calm down internerds.

— Corey Graves (@WWEGraves) June 10, 2018
My loyalty? Oh, would you like the BEFORE? Or AFTER? I've got both.

I mean, one can only be shit on by their "best friend" for so long before they smarten up, no?

But it's cool. I'm sure you love Kenny Omega. And you know more about this business and friendship than I do. ?

— Corey Graves (@WWEGraves) June 10, 2018
Dude, I'm far from distraught. I'm in a good place. I'm just really bummed that I had a true friend turn his back on me for no other reason than the company that employs me.

— Corey Graves (@WWEGraves) June 10, 2018
It would seem that Punk and Graves' friendship hit rocky terrane after Punk's departure from WWE back in 2014.
The pair had been wrestling together as far back as 2002 and remained close friends ever since. However, after a tweet that was sent back in 2016 regarding CM Punks first UFC fight, where Graves wished him "Nothing but Respect," the pair have since cut off all communication.
Nothing but respect. #UFC203

— Corey Graves (@WWEGraves) September 11, 2016
Sean Ross of Fightfull.com reached out to the Savior of Misbehavior for an explanation of his twitter rant.
"It kinda shocked me when I texted him about grabbing dinner because we were in Chicago and he told me he no longer had any interest in being friends with me or anybody related to WWE."

"I respected his drive, and him doing his own thing. He sent me the text shortly before his first fight. Part of me just thought he was in a zone and I didn't take offense. I texted him the day of his FIRST fight something along the lines of "I know life is nuts, I still love you good luck" Probably not verbatim, but you get the idea."

"What really set me off was this week when he essentially disowned the business that made him. My only issue with him was that he turned off people that actually loved and supported him. Beyond "the business" and he never wanted anything to do with us…yet continued to present himself as this "Punk" hero."
Graves was also asked if this had anything to do with the court case that surrounded Punk.
"Dude, this has ZERO to do with court, or testimony or any of the above. Nothing that I tweeted was corporate. I'm simply hurt/pissed off that a guy that I looked like as a big brother-type has turned his back on me and everyone that loved and supported him only because of the name on my paycheck. I'm definitely not the only one. I won't name names, but there is a large group of us to this day that inexplicably lost a solid friend because of where we work."
Even after all the harsh words and hurt feelings, it would seem that Graves hasn't burnt all his bridges with his former friend. Sending him love in amongst all that anger and hurt:
Hey @CMPunk, call me tomorrow. I still love you.

— Corey Graves (@WWEGraves) June 10, 2018
What do you make of the whole situation? Let us know in the comments below or on Twitter.