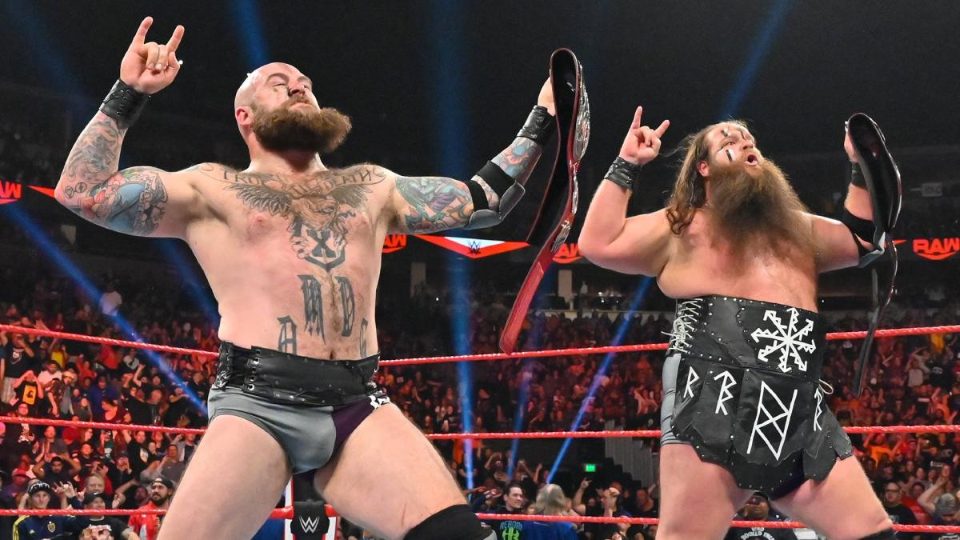 On the latest instalment of the After The Bell podcast, WWE SmackDown commentator Corey Graves criticised WWE's booking of the Raw Tag Team Champions, the Viking Raiders.
Despite becoming Raw Tag Champions on October 14 defeating Dolph Ziggler & Robert Roode, Erik & Ivar have still just been repeatedly squashing jobbers on TV.
Here's what Graves had to say:
"I'm calling it a waste. I'm not calling them a waste. I'm calling what I see of the Viking Raiders on my television is nothing but a massive missed opportunity. Yes, they are the Raw Tag Team Champions. These are two outrageously talented dudes. The Viking Raiders are one of the best tag teams on the planet earth and are capable of awesome matches night after night. I don't think it's doing them, or the Raw Tag Team Titles, any favors having them beat the Long Island Polo Boys. It's cartoony and silly. You have two legitimate badass athletes. Let them shine. Give them a chance. Maybe start a hashtag. That's how things change, right?"
Despite the podcast being a WWE production, this hasn't stopped Corey Graves from giving his true opinion, which has genuinely been really refreshing and makes for a very entertaining listen each week.
He's also openly criticised the Rusev/Lana/Bobby Lashley storyline, and pushed for the likes of Cesaro and the Revival to be given more of a spotlight to show what they are truly capable of.
Back to the Viking Raiders, they will actually be defending the Raw Tag Titles against Zack Ryder & Curt Hawkins on Monday's episode of Raw.
With that, their place on the Survivor Series card in a three-way against New Day and Undisputed ERA is also at risk.
Thanks to Fightful for the transcription