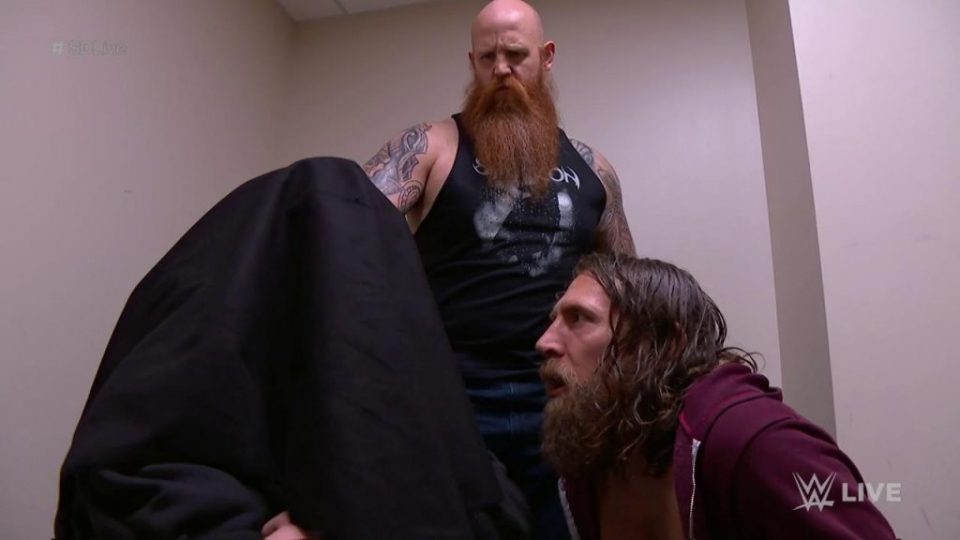 One of the major storylines on Smackdown Live was to be who Daniel Bryan and Erick Rowan would reveal as the Roman Reign's attacker.  Early in the night, Bryan and Rowan brought in a person under a hood.  They claimed they would reveal the attacker later in the show.
.@WWEDanielBryan & @ERICKROWAN have found the culprit…

…but who is it? #SDLive ??? pic.twitter.com/1cqjL3ddxT

— WWE (@WWE) August 21, 2019
Throughout the night, we saw several clips of the person under the hood.  Roman Reigns also confronted Buddy Murphy again.  Murphy said he thought he saw Rowan backstage.
As part of the story, Bryan and Murphy also had a match and what a match it was.  The crowd was majorly into this match.  Both men did a great job.  There were big spots and close calls throughout.
This #BellytoBackSuplex has GOT to hurt! @WWE_Murphy has been BRINGING IT on the blue brand! #SDLive @WWEDanielBryan pic.twitter.com/ojQ3e92TKQ

— WWE (@WWE) August 21, 2019
In the end, Buddy Murphy picked up the huge win over the former WWE Champion.  After the match, Bryan and Rowan attacked Murphy backstage.
Finally, at the end of the night, we got the backstage segment where the big reveal would happen.  Who would it be?  Luke Harper?  The Fiend?  CM Punk?  Nope.  We got this guy:
Are we seeing DOUBLE?!

The man on left, and NOT @ERICKROWAN, is the one who attacked @WWERomanReigns. #SDLive @WWEDanielBryan pic.twitter.com/MzL1fBE8aP

— WWE (@WWE) August 21, 2019
We got some fellow who looked a lot like an older version of Erick Rowan.  Roman's face said it best.  Huh?  Who is this guy?  We'll have to see where the story goes next.  The good news is Buddy Murphy is getting a push out of this.