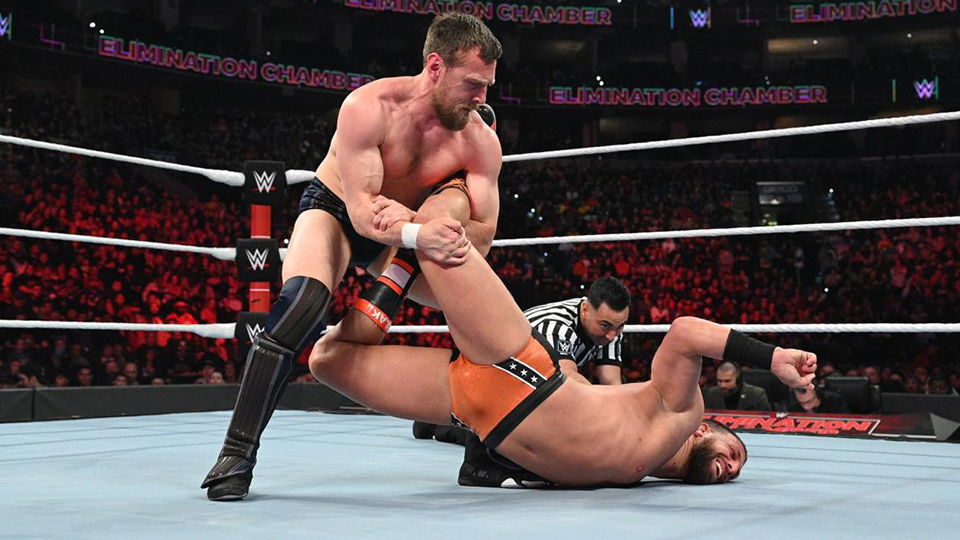 No topic is safe when you go on the Bella Twins Podcast, as Daniel Bryan found out when he appeared on the pod this past week.
Some of you may have seen during his match with Drew Gulak that one of Daniel Bryan's testicles made a guest appearance, something Bryan says he didn't even notice until the day after, when a few friends texted him about it.
"Tt's really interesting because that's the reaction that women have and I think it's because whenever it happens to women it gets overly sexualized and then it's like 'oooh I saw this or whatever.' I didn't find out about it because … when I came to the back mostly people were saying 'woah, aww man that was great' or they were concerned for my neck. Several people were very mad at me concerned about my neck. So, not a single person mentioned it. I went to sleep last night not even knowing it was a thing. I didn't feel anything. That's a sensitive area, you'd think you would feel a breeze or something like that, you know."
He continued:
"It wasn't a thing until I landed and I got two text messages from friends." Bryan added, "When I got two text messages from people saying, 'dude I saw your balls' and I was like 'what?' I didn't know what was going on. Your first reaction is a little bit of embarrassment. Then I just thought it was funny … I didn't see when I looked on social media, nobody said 'balls, yay!" He added, "I think that's the difference, people sexualize it for [women] where for me, and I wish it wasn't this way, but it's just like a ball out. Nobody is like 'I want to see some pictures of balls.'"
Speak for yourself, Daniel.
Despite the mild embarrassment, Bryan hopes the wardrobe malfunction could lead to a new career as the face of balls being sexy.
"[Never] in my entire life have I been a sex icon, right? So maybe I can be the face of balls becoming sexy.

"It's just so bizarre that if you take this one thing that happens to both men and women. If it happens to a guy, it's either funny or insignificant. If it happens to a woman, it's a completely different thing."
And for anyone wondering, here are Daniel Bryan's balls.
Daniel Bryan was out there putting on a classic with his out and all! Talk about a legend! pic.twitter.com/FGAYamN7YQ

— Vindictive (@TheVindictive) March 9, 2020