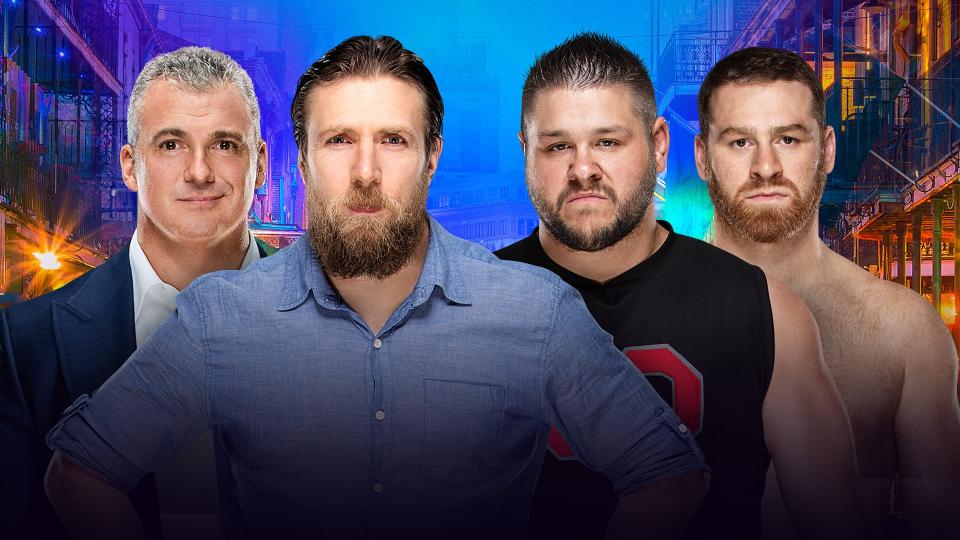 After announcing he was clear to wrestle for the first time in years last week, SmackDown Live General Manager Daniel Bryan announced last night that his return will take place at WrestleMania 34 where he will team up with SmackDown Live Commissioner Shane McMahon against the team of Kevin Owens and Sami Zayn.
The story between these four men has been a very long, and sometimes slightly monotonous one, but for it to be paying off in a match at WrestleMania, including the return of Daniel Bryan, makes it all worth it.
The story really started way back in the summer, when Kevin Owens was feuding with AJ Styles over the WWE United States Championship, and Owens constantly blamed Shane for his shortcomings.
Eventually, this spiraled into a Hell in a Cell match between Owens and Shane McMahon at the Hell in a Cell WWE Network special, wherein Owens enlisted the help of once-best-friend-come-bitter-enemy-come-best-friend-again Sami Zayn to get the win.
For the months since, Owens and Zayn have caused havoc on SmackDown Live, including Owens attacking WWE Chairman and Shane's father Vince McMahon.
More recently though, Owens and Zayn have launched ambushes on both Shane McMahon and Daniel Bryan, leading to a storyline injury to Shane McMahon; a situation which translates to real life, as Shane is currently suffering from an illness.
This issue could mean McMahon might not be able to compete on the 'Grandest Stage of Them All' this year, leading to speculation as to who Bryan might choose as a replacement. Either way, as it stands on WWE.com, the match is still scheduled to be Bryan and Shane vs. Owens and Zayn at WrestleMania 34.
Are you looking forward to Daniel Bryan's in-ring return?  Let us know in the comments below or on Twitter here, and as always, have a spiffing Rusev Day.