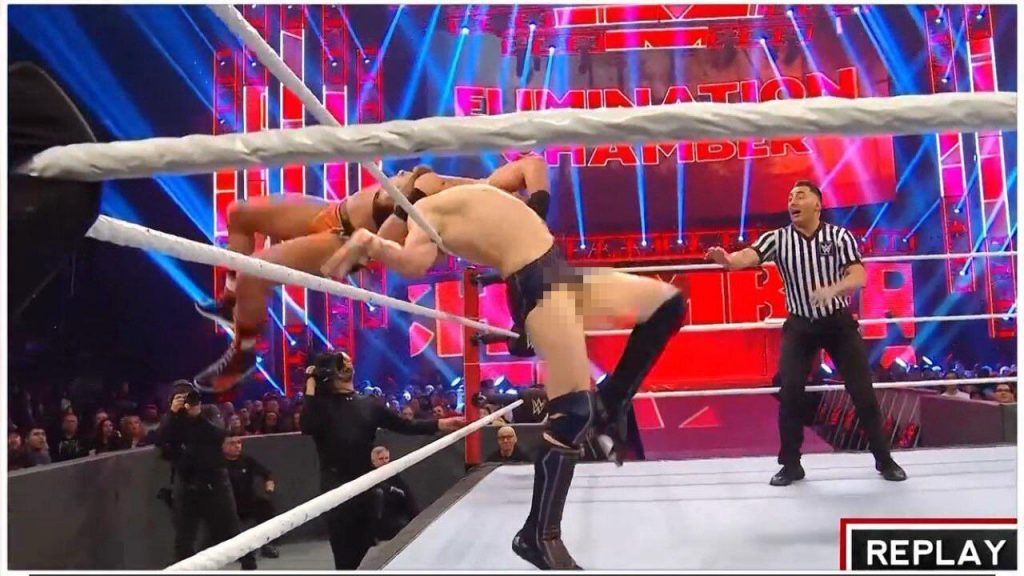 In what was one of the best matches of the night, Daniel Bryan was teste-d by Drew Gulak in a bruising encounter which included Bryan landing hard on the back of his neck after a suplex.
Bryan fell like a sack of potatoes to the canvas, but unfortunately for him another sack is making the headlines.
Eagle-eyed fans on Twitter spotted that Bryan's Lebell-end appeared to be sticking out of his trunks during the match, as you can see from the photos below.
Daniel Bryan was out there putting on a classic with his out and all! Talk about a legend! pic.twitter.com/FGAYamN7YQ

— Vindictive (@TheVindictive) March 9, 2020
If you look closer, which I definitely didn't, it was a friend who showed me, I don't look at possible balls I swear…you can see that it appears to be the flesh-coloured underpants wrestlers wear under their trunks that is sticking out. Either that or Daniel Bryan has the world's smoothest scrotum.
It was really ballsy performance by Bryan, who most people expected to win the match far more easily than he did.
Anyway, let's try not to focus on his Insemination Chamber for too long, because what's important here is that Bryan and Gulak knocked it out of the ballpark which a great match which will hopefully lead to a push for Gulak going forward.
Testicles.