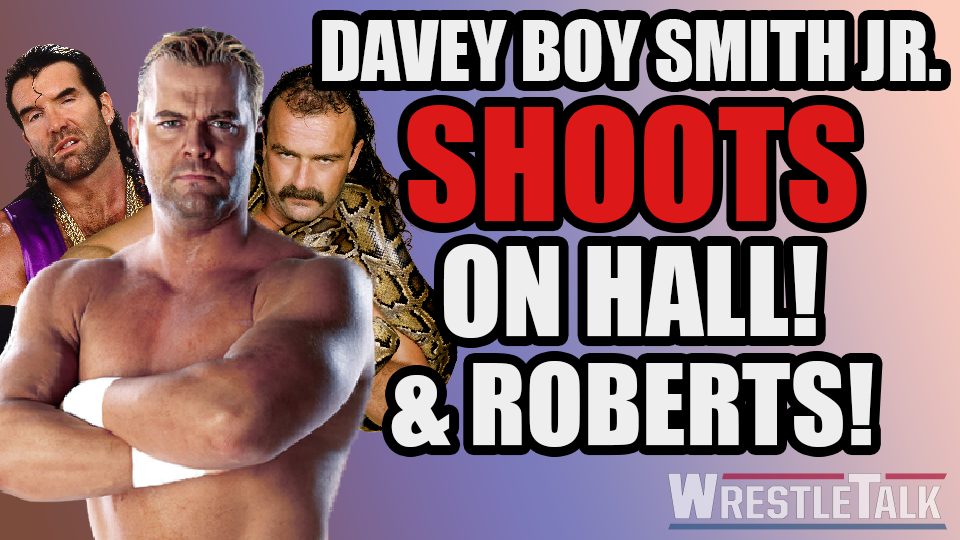 Davey Boy Smith was a beloved wrestler and his unfortunate passing came at the young age of 39. The 'British Bulldog's son, Davey Boy Smith Jr., seeks to continue his father's legacy and as a former three-time IWGP Heavyweight Tag Team Champion alongside Lance Archer as the Killer Elite Squad (K.E.S.) in NJPW, I'd say he's definitely making headway in the right direction.
Hannibal TV (transcript via WrestlingInc.com) recently spoke with the 'Son of a Bulldog' as he was attending Owen Hart's induction into the George Tragos/Lou Thesz Professional Wrestling Hall of Fame, where he opened up about previous issues with both 'Razor Ramon' Scott Hall and Jake 'The Snake' Roberts, the latter of which he had an altercation with at WrestleCon on April 7 of this year.
"I got no problem with Jake. We buried the hatchet and I talked to him. He dropped whatever charges he had."
When pressed further about how the altercation came about, Smith Jr. elaborated:
"A guy in England told me that he was trying to talk to Jake about his current sobriety and his path of that, [Roberts] turned the whole interview into burying Davey and he told me that [Roberts] said Davey was pretty much Charles Manson. I was offended, [the journalist] said he wasn't even going to put the interview up. I was mad about that. I confronted [Roberts] about it and he didn't want to apologize and he kinda threw his arms up like, 'that's the way it is, kid.' I wanted to talk to him diplomatically and he didn't and I was prepared to fight him and he didn't want to fight me, but he wanted to mouth off to me. [Roberts] said something like, 'f*** you, f*** your dad' — he said something about my dad and I saw red there. Anybody who would be in my boots would have done the same thing so I just threw coffee at him and then his daughter was the one that attacked me and she got mad. [Roberts' daughter] called the cops and the cops came and I left because she was killing my merchandise sales."
It's a good thing the pair have settled their differences because those are some strong words from the 'Snake.'
"Long story short, I talked to Jake and we had a good conversation and he apologized and he said he wasn't going to bring up Davey's name anymore in interviews. He was very cool, you know? He said he understood where I was coming from with his father Grizzly Smith being in the business. He said he didn't want me to get in trouble for this. So he asked me to apologize publicly and I'm a man of my word and I did it."
But Davey Boy Smith Jr. hasn't just had issues with one WWE Hall of Famer, as he also opened up about problems with another: 'Razor Ramon' Scott Hall.
"[Hall] had made some stupid comment on Twitter, of course, I don't know if he was under the influence of something if he was drunk but — [he said] that Davey and Lex Luger are jobbers and I think my mother made a post on Twitter. He explained to me that he and Davey used to rib each other, he would say, 'oh Davey you'd be nothing without Lex, cause you're a jobber.' Then [Davey Boy] would go, 'Razor, you'd be nothing without The Kid [Sean Waltman], you're a jobber' and they'd go back and forth. I went, 'okay man that's cool. If you could have just said that in a message I would have said, 'alright.' I just told him not to let that f****** happen again."
It seems even wrestlers aren't immune from some online misunderstandings – if this is true. However that 'rib' does sound incredibly tame and much unlike any other 'ribs' I've heard of from that time period which almost always involve near-death experiences, people getting arrested, or both. Either way, it seems that 'The British Bulldog's legacy is a subject his son takes very seriously, and rightfully so. Hopefully, he can continue to forge a path in NJPW and the recently revived WOS Wrestling in his quest for greatness.
Related Content
What do you make of these altercations? Do you think Davey Boy Smith Jr. is justified in his anger? Let us know in the comments, on Twitter, or on Discord today!