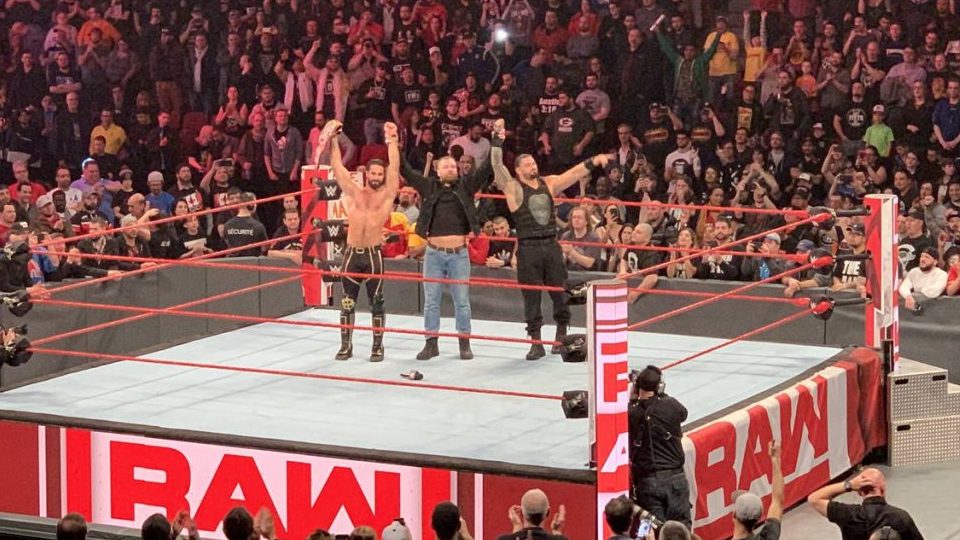 Following last night's episode of Raw in Montreal, Seth Rollins and Roman Reigns celebrated their victory over Lashley, Corbin and McIntyre alongside stand-in partner and Raw newcomer AJ Styles.
Like last week, Rollins then cut a promo putting over his "brother" Roman Reigns before saying he wanted to bring someone else out: Dean Ambrose. Rollins said that although he doesn't want to come out, he has no choice because his wife Renee Young is Canadian.
SR put over RR and said he wanted to bring somebody else, but that person didn't want to. He told him he had no choice since his wife is Canadian. DA showed up, huge pop, said WWE comes to Canada so often cause of the crowd. He ended with « Merci beaucoup, Montreal » #AfterRaw pic.twitter.com/AF1ivh1YBW

— Pat Laprade (@PatLaprade) April 16, 2019
Ambrose received a huge ovation and cut a promo putting over the Canadian audience and saying his goodbye to the fans in his final WWE appearance in the country.
Dean Ambrose came out after Raw to talk to the fans! #SuperstarShakeup #WWE #Shield pic.twitter.com/nocA5JBGck

— Jim Parsons (@TalkingRaw) April 16, 2019
It was announced yesterday that Ambrose – who wrestled his "last" WWE match last week on Raw – will be teaming with Shield buddies Reigns and Rollins one final time on April 21 in a special house show bout that will air on the WWE Network.
Ambrose's WWE contract expires in late April and he has already confirmed that he will not be renewing his deal. His next move after that remains uncertain.