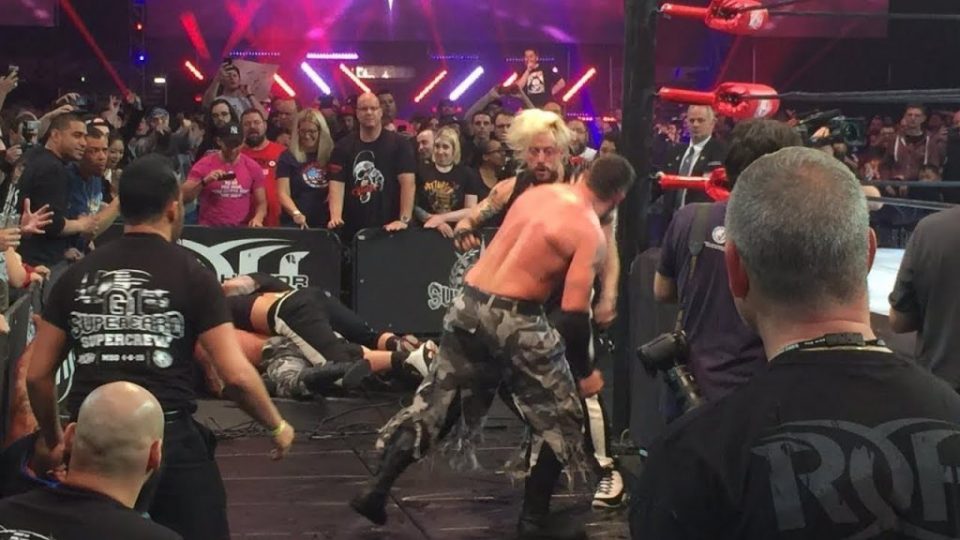 One of the most talked about happenings to take place over WrestleMania Weekend was the worked-shoot angle involving WWE exiles Enzo Amore and Big Cass at the ROH/NJPW join show G1 Supercard at Madison Square Garden.
Following a four-way tag match that saw GOD become the ROH World Tag Team Champions, Enzo and Cass seemingly invaded the show, getting into an altercation with the Briscoes and Bully Ray at ringside. Cameras made sure to cut away from the action in an attempt to make the angle look like a shoot and evidently even the New Japan wrestlers in the match were not smartened up about it beforehand.
The fairly lengthy segment that occurred was actually not the original plan for the angle. According to Dave Meltzer in the Wrestling Observer Newsletter, Enzo & Cass were supposed to do a very brief segment with Mark Briscoe in the corner by the guardrails. Enzo was supposed to grab Mark, Mark would shove him and then security would take Enzo away.
The idea was that the segment would be over so quickly due to security and wrestlers intervening that it would appear to be a shoot and would play off Enzo's genuine invasion of WWE Survivor Series last November. Even if it was not shown on TV – which was the idea – the belief was that it would create a buzz.
From there ROH would decide whether the buzz translated into a follow up. However, it got out of control and there was a lot of negativity towards the promotion for booking the angle both internally and externally. Neither man was at the recent ROH tapings and they have not been given any future dates going forward.
Meltzer notes that Bully Ray and Joey Mercury are gaining influence on the booking team with head booker Delirious losing some of his power, and that there are "different viewpoints" on how to proceed with the angle and that it is "not clear how the wind will blow."
Issue 9 of WrestleTalk Magazine is available NOW worldwide. Order your print or digital copy or subscribe to the next six issues at this link