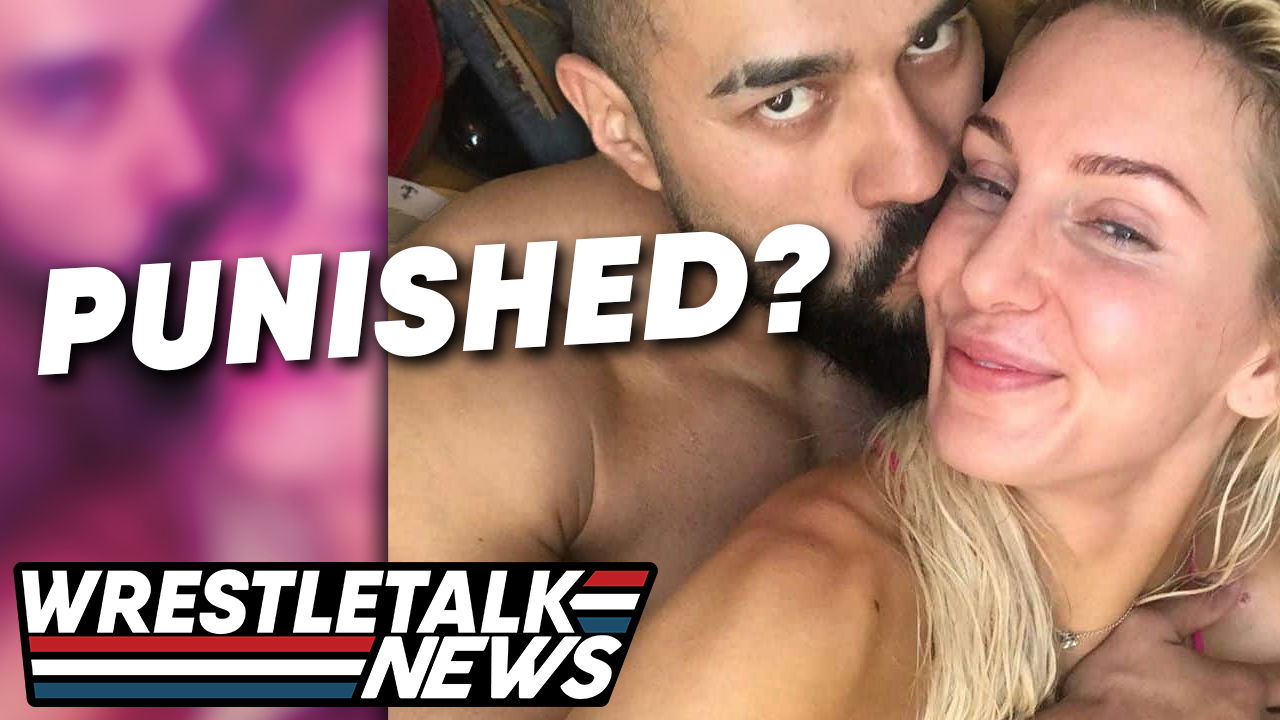 Breaking news: after AEW Dynamite's massive 1.2 million rating last Wednesday, they've just advertised how they're going to put butts in seats tonight. Literally – tweeting out:
"JR sits down this Wednesday night 8pm on TNT."
AEW is just going to give away JR sitting down on free TV?!
I feel Tony Khan's gotten a bit complacent now he's not going up against NXT.
This was, of course, a botched tweet, published before the rest of the tweet could be finished.
Speaking of butts in seats!
We are currently under 1,000 subscribers away from 800,000, where once we pass that milestone… I will do a whole episode of the WrestleTalk News in Maki Itoh cosplay. Kawaii.
So please support WrestleTalk and give us a subscribe for daily wrestling news videos, and enable notifications to know when they go live first.
Rumored Heat On Charlotte Flair Backstage
Charlotte Flair has had a weird year. After returning as a babyface back in December, she immediately won the Women's Tag Team Championships with her best friend Asuka. It was seemingly building to a Raw Women's Championship match at WrestleMania, initially meant to be against Lacey Evans, who was storyline banging her dad. But then Lacey got pregnant in real-life – not via riding Space Mountain, which is genuinely what Ric Flair calls having sex with Ric Flair – so WWE started building to Charlotte vs Asuka for the title.
But then, according to Andrade, WWE thought Charlotte was pregnant too, and pulled her from the WrestleMania plans, opting for the Plan C of Asuka vs Rhea Ripley. Thing was, though, Charlotte wasn't pregnant. It was just a medical mix-up.
This was all revealed by Charlotte's real life fiance Andrade, who was granted his release by WWE while all this was going on, who immediately gave a shoot interview to the legendary Spanish commentator Hugo Savinovich.
And now in an interview with WrestlingInc, Savinovich is claiming WWE didn't just remove Charlotte from WrestleMania because of the pregnancy concerns, but because of Andrade's release – arguing why pull her from Mania for just medical reasons, to have her return the very next night on Raw, especially when WrestleMania was significantly lacking in star power?
"Maybe we'll send a message that because you favor your Latino fiancé, maybe it would send a message to the other people, 'Hey, anybody steps out of line, we don't care if you're The Queen Charlotte or you are Andrade or whatever. We're going to take you out of the card.'"
Savinovich, who was once married to WWF Women's Champion Wendi Richter, explained that while they were both working for Vince McMahon in the 80s, they were always concerned if management got upset with one of them, they'd "probably fire the two of us."
With Charlotte, Savinovich said the price for WWE being annoyed with Andrade's departure "was to miss WrestleMania, and then the next day, it was like nothing happened."
This is different from the backstage heat on Charlotte Andrade initially described in his interview, where he said other members of the female locker room were jealous of the opportunities she was given. The heat Savinovich appears to be talking about on Flair is from WWE management.
And now, on this week's Raw, she's been 'indefinitely suspended' following a kayfabe attack on a referee – seemingly writing her off TV just a week after her return.
What do you think is going on backstage with Charlotte Flair? Let me know in the comments down below, because I'll be replying to people FROM OUTTA WOOOOOO-WHERE!
Major WWE Debut Soon?
With Charlotte potentially being suspended from Raw for at least three days, the main roster could do with an influx of talent from NXT… to immediately ruin.
Following her Women's Title loss to Raquel Gonzalez at Stand and Deliver two weeks ago, ending a 34 day reign, it was presumed Io Shirai would be one of the favourites to get called up. But she returned to NXT on last night's episode – full review with Tempest coming shortly – to have a sitdown interview with Beth Phoenix, where she revealed she's taking some well-deserved time off to heal up. The recently debuted Franky Monet – the former Taya Valkyrie from IMPACT – interrupted her to heelishly promise she'll take care of the division while Io is away.
This doesn't seem like the usual way NXT writes off wrestlers before they're called up to the main roster, and instead seems to be a genuine way to give Shirai some time off. The Wrestling Observer reported at the start of last year Io was "not necessarily happy" in WWE, as she was making more money in her previous promotion STARDOM, and was away from her fiance, New Japan wrestler EVIL. STARDOM, which is now owned by New Japan, has since made both her and Kairi Sane open offers to return. Sane was amicably written off of Raw last Summer, where she's since transitioned into an ambassador and trainer for WWE's branch in Japan.
So if Shirai isn't coming up to Raw, maybe we'll be getting the Bruiserweight Pete Dunne.
Dunne has kind of already debuted on the main roster – making a random cameo appearance on Raw back in November 2017 to wrestle Enzo Amore at a UK show. That was in the 205 Live division, which isn't a huge vote of confidence for how Vince McMahon sees one of the best wrestlers WWE currently has under contract.
Despite being NXT UK Champion for nearly 700 days since then, and being featured on NXT, the reported decision was to keep him and Tyler Bate away from the main roster to establish the UK brand. "Plus, with their size and promo ability, as good as they are, they aren't the type of guys that Vince would traditionally push."
Triple H, however, is said to be a huge fan of him. Which might be why Dunne has answered the US Title open challenge.
After the champion Gangs of New Sheamus tweeted: "Open Challenge to anyone willing to step in the ring & take my #USTitle.. ANYONE! tag a legit fella you think is stupid enough to have a go "
Dunne replied with a gif of him shrugging in acceptance.
What do you think is going to happen with Io Shirai and Pete Dunne? Let me know in the comments.
WWE Raw Outbreak
It's not like it matters, because unfortunately there's no way McMahon books either wrestler to the extent their abilities deserve. Yet despite Monday Night Raw being on its worst run in years right now – with CM Punk calling WWE TV "awful" in an interview yesterday (CM Punk to AEW confirmed) – 1.9 million viewers still tuned into Monday's episode. Despite it being almost exactly the same show as the previous week's.
It might've come out why McMahon tore up so many plans shortly before the show started, though, as Dave Meltzer has reported there's been another outbreak of coronavirus in the company, saying: "I don't know who it was, because they won't tell you, but yeah there was."
This might not necessarily mean people have tested positive. They could be self-isolating because of coming into contact with a positive case, per the quarantine protocols. 
Remember to subscribe to the WrestleTalk Podcast channel for Tempest and Chopper's live NXT review today. But for now, here's Tempest reviewing last night's episode… in about five minutes.
What are your thoughts on the above story? Let us know in the comments on Twitter or Facebook.