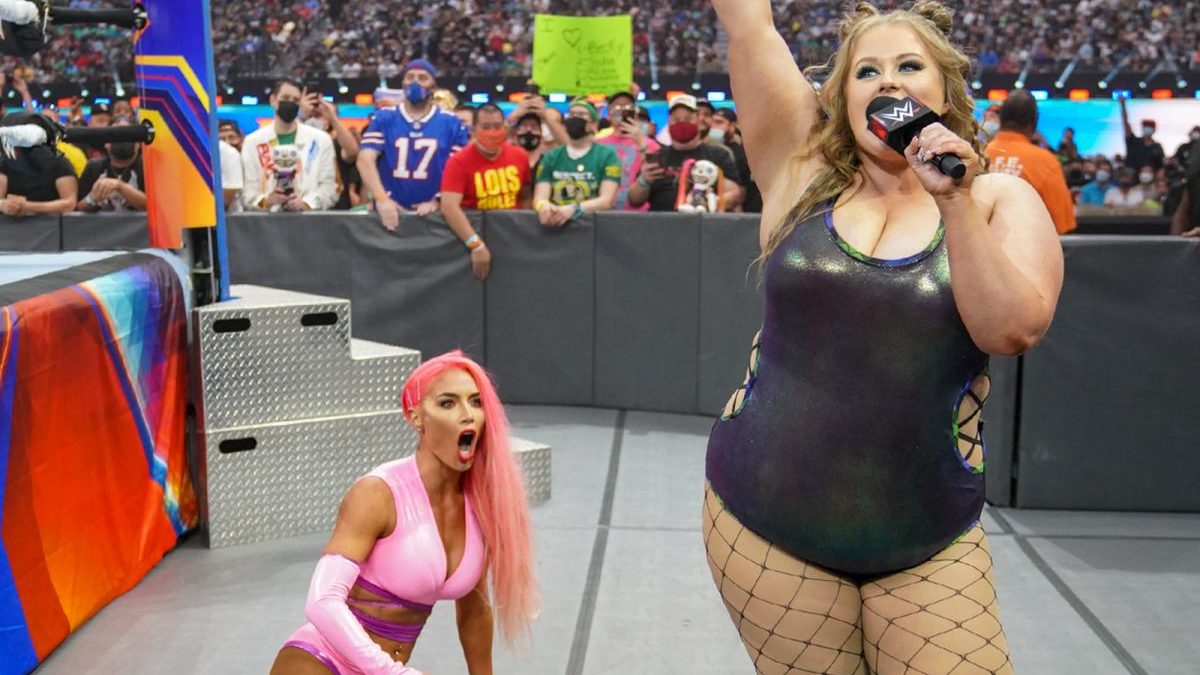 Piper Niven was one of the most dominant wrestlers in WWE during her time in NXT UK.
Unfortunately, she's now called Doudrop and she's in a feud with Eva Marie on Raw. Despite this, Doudrop feels she now understands why she was given the character and her entrance music.
Speaking to TQ's views, Doudrop said:
"It took me a minute to maybe understand it. I was kind of like, 'huh?' What really cemented it for me was actually when I got to debut my new entrance theme. Seeing the kids dancing and doing the dewdrops, I was like, 'this is what it's about.' It's bright, popping, colorful, and fun for the kids. As soon as I saw that, I watched it back, and saw all the kids dancing I was like, "I finally understand who Doudrop is' and became comfortable with it."
She was then asked whether she knew what her character was going to be ahead of her debut.
"The feeling was more, 'who is Doudrop?' I think she is like a karate kaiju, which means an adorable monster. It's something that's new and generally things that are new can be a bit hard to find your feet because you don't know what to lean into. I feel that's on brand for me. Soon I was like, 'this is what I'm going for and I'm going to lean into it.'"
She then revealed she was given a choice of two different entrance themes for her main roster run, and that she had to convince the production team to use the first one, because they preferred the second.
"The titantron, I didn't hear the music two weeks before, but I saw the titantron come up because they were running through things to make sure they got everything. I was like, 'I guess that's for me, that's pretty cool.' The actual music I heard for the first time last week," she said. "They gave me two options. They played the first one and I was in Gorilla and they were playing it and I knew straight away that it was it. I loved it and loved the little intros and drops and thought, 'this is brilliant.' They played me the second one and I was like, 'Hmmm, it's nice, but I don't like it as much as the first one.' Apparently, when it came to a personal entrance, 'Just want to let you know, the TV truck actually doesn't like the first one and they want to go with the second one. When you do this entrance, you need to sell it.' I'm like, 'Okay.' I ran out and ramped up and was loving my life like, 'I hope they like this because I want this one.'"
Thanks to Fightful for the transcription.
To make sure you stay updated with all the latest wrestling news, add WrestleTalk.com to your Google Discover feed and follow us on Twitter!